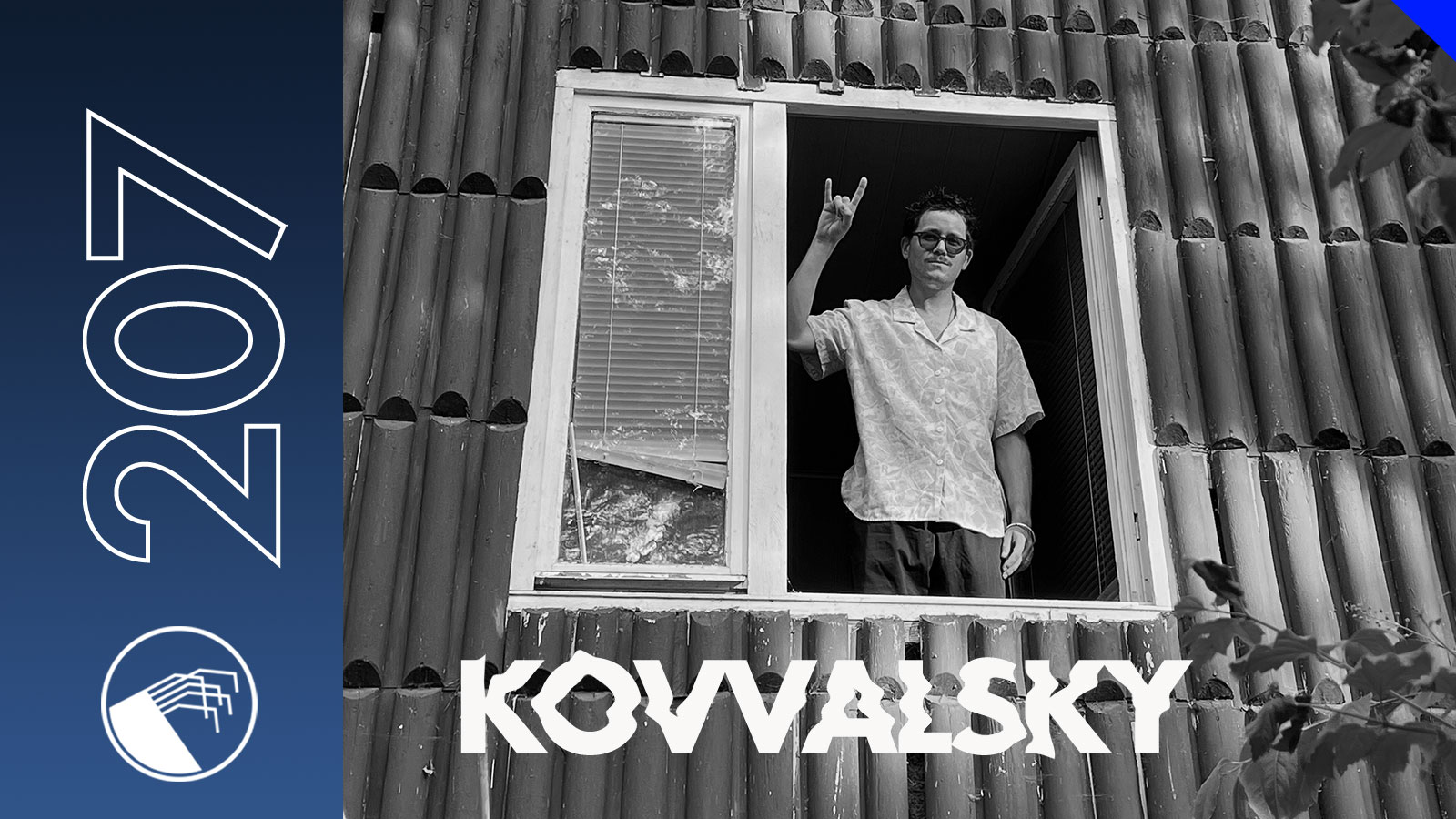 Tracklist:
01. Powell + LCO - 20.25
02. Anatolian Weapons - Vortex (Ayaz Remix)
03. Eusebeia - Auspice
04. Omen Wapta - Xayomia
05. Black Merlin - Hole
06. Konduku - Damla
07. Full EFX - Skytel Pager
08. VC-118A x Privacy - EHA
09. Fallbeil - Sattla
10. Henzo - I Can See the Fatigue in You
11. Pleasuredome FM - Piston Riddim
12. Mana Abundance - Aki Aki 163 MB
13. Aleksi Perala - F13AC2385020
As DT CAMP 2023 draws near, we are thrilled to present another installment of DT Podcast with a featured artist. This time we host Jędrzej Kowalczyk a.k.a Kovvalsky, a true maverick of the Polish underground that has been making inspiring waves in the last decade. As the founder and art director of Jasna 1, a major underground music institution in Warsaw, Kovvalsky possesses an exquisite ability to curate music and weave captivating narratives for those who truly appreciate the art of listening. No matter what the genres are.

Hello Jędrzej. It's great to catch up with you in the middle of June. How has the beginning of summer been for you? What have you been up to these days?

Hey Justas, thanks for the invite. The start of summer has been treating me well so far. I just returned from an incredible cycling trip with Chino in the Pieniny National Park. It's definitely my favorite way to spend my free time during the summer.

Take us back to the beginning of your relationship with music. How did it come into your life, and what were you listening to during your formative years?

I got into music right from the start, listening to it since I was a kid. My dad has a very nice taste in music, and our family house was always filled with jazz (lots of Miles Davis, as my dad is a true fan), rock, and good pop like Prince. It greatly influenced my current perception of music and my sense of musical aesthetics.

At what point did you realize that DJing or being involved in the electronic music scene was something you wanted to excel at?

It was super smooth, as I already mentioned, I was listening to music from a very young age. Then at primary school, I started doing some kind of music compilations on CDs, which I was sharing with my friends. The next natural step was to start playing music at parties. First, by using a laptop and some type of controller, secondly, I bought my first CDJs (CDJ200, still have them!, anticipating a very frequent question: yes, I haven't started with turntables) and slowly started to professionalise my hobby.

First gigs often leave lasting and vivid memories in our heads, whether they were a complete mess, a proper blast, or a combination of everything. How do you remember your first experiences behind the decks? What kind of music did you play?

I played my first real DJ gig when I was 16. It was in the infamous Club 55 in the Palace of Culture and Science in Warsaw, an iconic gift from Stalin. I have to say it was a good night, of course, I was kind of nervous, but in the end, I really enjoyed my performance. In my teenage years, I was into new rave and fidget house. It was a party called Sorry Ghettoblaster, one of the coolest in the city and a big inspiration of mine. At the age of 17, I had my debut there.

I would describe your sets as organic, where you eloquently introduce different styles and slowly develop a particular mood without relying on big-time bangers. It seems like you aim to cater to listeners who appreciate stability and extended build-ups. Would you say that's true?

When it comes to podcasts, mixes and parties with super-smart audiences, it's true. However, it varies depending on the context. I'm super diverse in terms of the music genres and like to adapt as a DJ, so you can hear me djing in multiple versions. I love playing slow - when you play slow, you have much more time for dancing. But, frankly, it's really hard to share this kind of music in Poland. Unfortunately, people here are still close-minded, and clubs mostly book techno and tech-house acts.

When you look at the crowd from behind the decks, what are you looking for or trying to gauge?

This may sound a bit pompous, but I'm really looking for real emotions and connections. It's very important to me to feel that the audience is enjoying my set as a whole story I'm trying to tell, not just individual tracks.

Subjective as it may be, what are the good signs that a party is going well?

When I'm playing a warm-up slot (which I really enjoy), and I see the room gradually getting packed in an easy way, that's definitely a positive sign. Of course, a long line outside the club is a classic indicator, but for me, the most important thing is seeing people who are genuinely into the music, even if the party isn't crowded enough.

You are an art director at Jasna 1, one of Poland's most prominent and vibrant nightlife institutions. Can you talk us through how you became a part of it and how your involvement evolved over the years?

Hmm, I've been working at Jasna from the very beginning. The owners proposed me to build this place from scratch. Mainly I'm responsible for bookings and artistic vision of the place, but I'm involved on many levels as well. I was even designing the floor plan and the DJ booths, as I'm a trained architect.

How would you describe the current state of the Polish underground scene and people's attitudes?

Unfortunately, as I have already mentioned, in general, the Polish electronic music scene is definitely not in good condition, the scene is totally overwhelmed with generic techno. People are not open to the music, they're going for the techno, not for the music. Happily, we have a super nice group of underground artists, small music labels and grassroots initiatives that are the beneficial counterweight to the general trend. I would like to point here: Up To Date Festival in Białystok run by dear friend dtekk, Syntetyk record label, which you know well, and, last but not least, my little child, Jasna 1 club.

In recent years we had signs of rejuvenation of trance, drum & bass, and dubstep. What, would you say, would be the next such thing in electronic music?

I'm not a fortune teller, but I'd like to believe that the real house music movement is coming.

Imagine there is a last party on Earth, and you have the chance to organize it in the way you want. Where would you arrange the party, and who would you invite to play?

The party would be definitely based on my close friends and family. Dream bookings wouldn't be important in this scenario.

With the many responsibilities and thoughts that come with both bookings and DJing, if you had to choose one to stick with, which would it be?

Definitely DJing.

I noticed you shared a post of yourself cooking pasta for a wider audience. Could you provide more context about this occasion? And why pasta specifically?

I'm obsessed with cooking Italian pasta. Feeding my friends with a lot of gluten is my passion. I got the proposal from "Pod Gigantami" restaurant in Warsaw to have my own popup pasta night once per month. I found it super interesting and decided to do it. It's an extremely nice experience to cook for a wider audience, to feel the pressure of the checks coming to the kitchen, to turn off your head and be focused just on cooking. It's almost like a form of hypnosis that really helps me clear my mind of unwanted thoughts.

Cooking and DJing may have some similarities. Is there a common approach you take when it comes to both of them?

I enjoy a freestyle approach in both activities. I almost never prepare my sets, like putting tracks in the exact order before the party, I'm just buying new music, doing a big playlist and that's it. As for cooking, I'm currently more strict because of my limited experience. I really like adding some additional, non-obvious ingredients, for example, a little bit of fish sauce to classic Ragu alla Bolognese.

What kind of music do you listen to in your private time? Does functional dance music have a place in your personal time?

A lot of stuff, in general, radios like NTS and Noods are my daily music background. I enjoy jazz, dub, ambient, synth-pop, electro, leftfield house, techno, psychedelic rock, disco, Italo, EBM, experimental music and many more. Strictly functional dance music is not my preferred choice for personal listening.

I also noticed you have quite a record collection. What would be the weirdest or most unusual record among them?

To be honest, I was thinking quite for a long how to answer this question with some unique story behind one of my records, but I really can't find in my head this special one right now :)

Is there a record, composition, or release that has really touched your heart recently?

26 Lives by Powell and London Contemporary Orchestra is really amazing, one track from this album is the intro of my DT Podcast.

Before your DT CAMP 2023 debut, you've also recorded a set for us. Could you tell us more about the concept behind this set?

The concept is straightforward: I selected my favorite slow-motion tracks from last month and tried to create the most interesting story I could from them.

What are your plans for the summer?

A lot of cycling, cooking and djing.