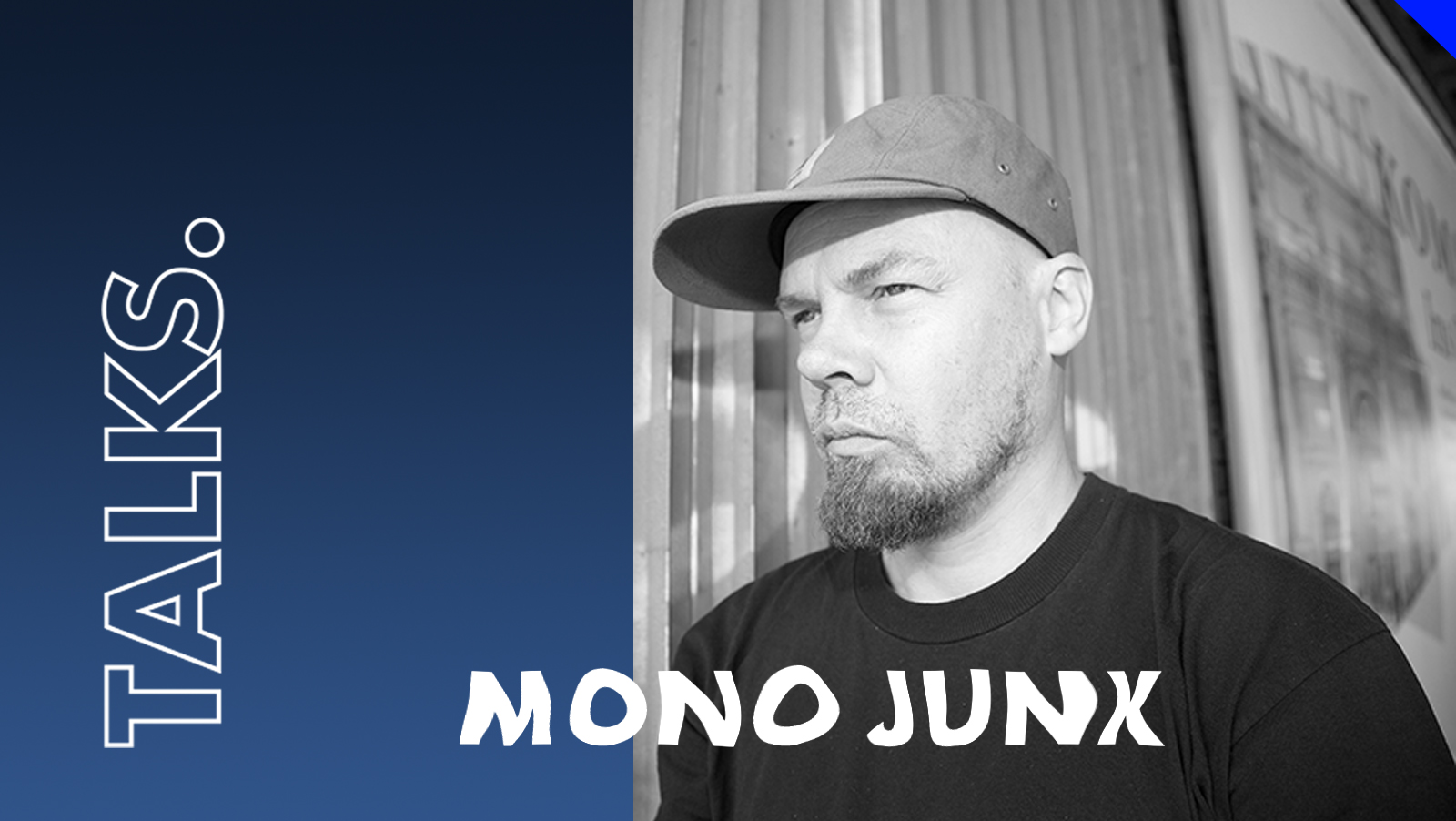 I just tried to do techno that sounded beautiful to me, I think it's nice if can recognise something of myself and the cold and isolation of Finland in the music I create.
Kimmo Rapatti, a.k.a. Mono Junk is famous within techno circles for being one of the very the first Finnish DJs and producers to create electronic music which acknowledged the lineage of Chicago and Detroit. Unafraid to try new ideas Kimmo's music took the themes common to American machine funk and reinterpreted them in unique ways to create a cold and highly minimalist techno sound that reflected the particular conditions of Finland, whilst avoiding and transcending the usual stylistic musical concerns common to his homeland at the time. Beginning in the very early 1990s Kimmo's DUM Records platform was the first Finnish label, (alongside Mika Vainio and Tommi Grönlund's Sähkö Recordings) to provide an outlet for this new approach to techno and begin to export it to a global audience. Kimmo has been working deep in the trenches of the European techno movement for well over two decades and he recently witnessed something of a career renaissance with releases on Forbidden Planet and Skudge White, here he gives us a little insight into his world:
Please tell us your story of how you first came to find techno. The 1980s were well before the internet and it's unlikely you heard the Wizard playing on Detroit's WJBL, were you attending techno parties somewhere or did you stumble across the records randomly in a record shop for example?
My older sister knew a local DJ who had started to buy old Detroit and Chicago records abroad, I remember that I heard Rythim Is Rythim's Nude Photo and Phuture's Acid tracks when they were brand new. There were some illegal warehouse parties in the city of Turku before any clubs from the end of eighties where I could hear the sounds too, but we had to drive 400kms by car from my home town of Imatra to get to them. You also had chances to find some records from the record shop Street Beat in Helsinki, where the town's number one DJ Jokke was working. Jokke also played my first record: B-Rock - 'My Mind is Goin', at Club Berlin in Helsinki when I moved there 1990.
What was it about the techno you heard that drew you toward the sound and made you want to start producing it yourself?
I really liked the Detroit stuff because of the deep melancholic feelings, the touching strings and the wicked basslines. I also really liked the Chicago type stuff because of the minimal repetitive 303 and the cool vocals.
Did you make a conscious effort to create a techno which sounded different to that which was coming out of Detroit at the tim
e?
I don't know, just tried to do techno that sounded beautiful to me, I think it's nice if can recognise something of myself and the cold and isolation of Finland in the music I create.
You've been on the scene since the very early 90s, you must have played in some interesting venues for a wide range of different people, is there any particular venue or party that stands out for you during your times as a DJ and live electronic music performer, a favorite personal memory?
It's hard to say one but it was nice playing together with Sähkö guys at the Love Parade in Berlin, I also enjoyed playing in the UK between 1993-95. There was one time where the Sähkö guys blew the fuses of a club in London, I can't remember the name of that club but that story made it in NME. JD Twitch organised all our Scottish dates, one was with Orbital at Glasgow's Barrowlands, I also really enjoyed playing at
Pure
[the most mental club in history according to Twitch] in Edinburgh too.
Do you have any thoughts on the renaissance of the harder techno sound that began to gain wider recognition around 2006/2007, following the success of the likes of Marcel Dettmann, Ben Klock and Sandwell District?
I haven't followed much techno this century though I have tried to investigate more music lately, but I don't really know don't know many artists. I feel the best techno tracks were made in 1990's, like the best Italo stuff was made in the 1980's.
I did love it when people started to use more and more analogue synths again though, hard and dark, it's all about how you see it, I mean deeper stuff is harder music to me. I would like to hear more synth sounds and basslines in contemporary techno.
You've released two widely acclaimed E.Ps on Forbidden Planet now, how did it happen that your music was released on that label, did you know label boss Jurg Haller personally before the releases?
Jurg sent me an e-mail and asked if I have some new tracks for a release. I'd recorded a few new ones and sent him some older ones that hadn't been released and we got an EP together. 'With You' for example was recorded around something like 2005 and I had thought that only I would like that track very much, I'd never played that one to anyone else before. I didn't know Jurg personally either... I haven't even met Thomas Heckmann who released my records on
Trope
.
What was it about Forbidden Planet that made you think, 'ok I'm happy for my music to be released on this label'?
I really liked their artwork, actually it was first mono junk 12" with picture sleeve too. I'm glad if someone feels my music like I do... The time was just right, it was the same with Elias [Landberg] of Skudge.
Looking at your releases across all your aliases I can see that your output rapidly peaked in the early 90s whilst in the early 00s you seemed to turn your attention toward your New York City Survivors project with Irwin Berg. What were the reasons for the decline in your musical releases after 2006 until your releases in 2014 onwards?
I made some sound installations for art galleries, for example I created a loop that ran for 3 weeks continuously for an exhibition at the
Museum of Contemporary Art in Kiasma
.
I lost passion to make techno music, once I even said to a friend that I would never create "music" anymore but gladly I got the passion back.
The last release featured on Dum Records was the Nolla3Nolla EP under the Mono Junk moniker in 2007. Are there any plans to resurrect the label?
Yes, the next Dum release is out the 14
th
of September and it's new EP by
Coopers
, I recorded new stuff with Jukka Kaartinen this spring, 21 years after our first EP was released hehe... There will be other new stuff I hope as well.
Do you have any other releases planned or projects in the works that you would like to tell us about?
There will be coming re-released records including tracks from Melody Boy 2000, Mono Junk, Kim Rapatti and Detroit Diesel. I have also produced remixes for Klakson and Bercuese Heroique,
Rat Life
are also going to be releasing some tracks of mine.
You're playing at the Digital Tsunami party in London along with Chicago Floatation Device and Greece's Morah, are you looking forward to the party, do you have anything special in store for the dancers that night?
Well, everything I do I try to make it special, so... but it's also very nice to come and play to London again for sure.