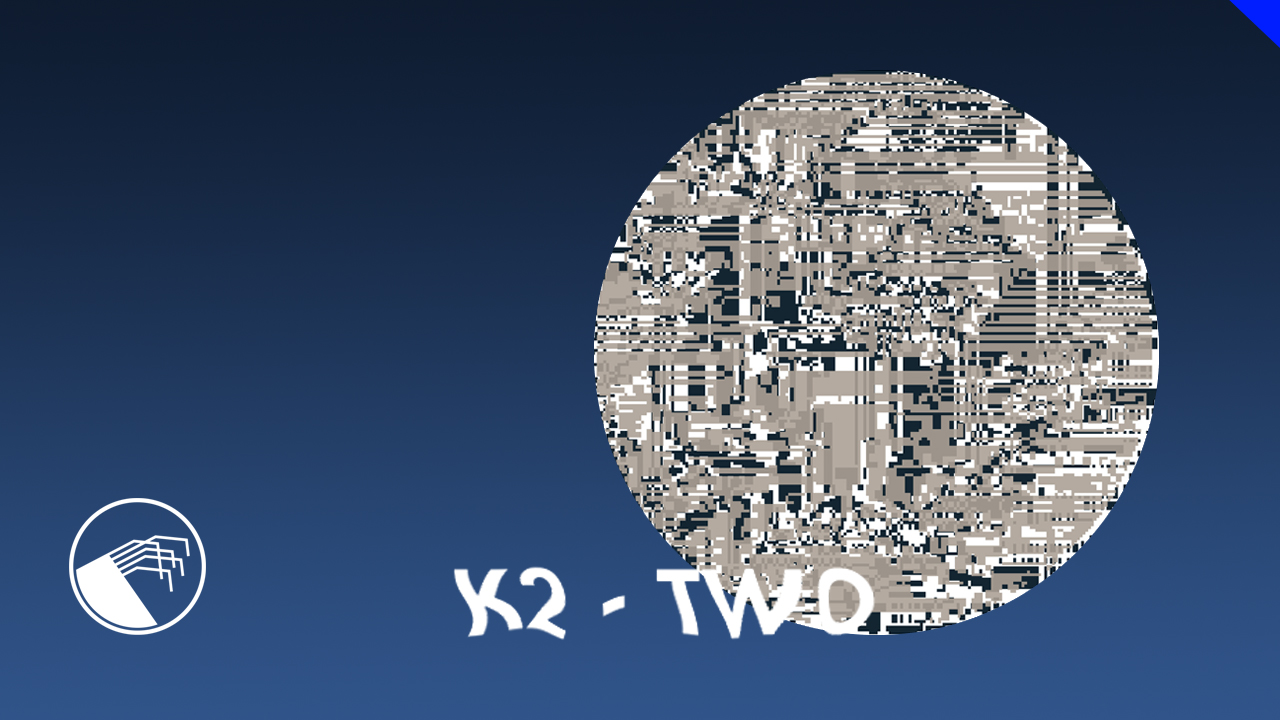 Artist:
K2 aka Kero / Kyle Hall
EP:
Two
Year:
2015
Cat Nr:
DU23/AVPG1
Label:
Detroit Underground US
BUY
Larry the Mutant sat on a mound of blasted silicate and looked out across the desert watching dust devils spiral up into the sky. The hot wind howled through the rotting bulkheads strewn about the plain. Great beetles swarmed over Larry's legs, their tick ticking scratching little patterns across the tympanic membrane of his ears. Beneath his feet the Earth tremored and groaned, as if a giant factory still rumbled somewhere down deep below. Taking one of the beetles in his fist Larry squeezed and rich blood spat out and collected congealing on the floor in gaudy corporate logos. When you have to replace the broken biosphere with in-vitro animals it always pays to add value. All across the fired expanse land crabs scuttled, waves of them up and over the dunes between the rusting hulks, logos across their shells, carapaces naturally blotted and blemished with the icons of the Vesta Mining Corporation. Larry spat on the floor, damn this. Perhaps he'd been made in a lab once upon a time too. Up he stood and lumbered off, his scavenged metal legs lurching him across the desiccated bay.

K2 is Detroit whizz Kyle Hall operating alongside counter-culture battler Kero, descending from just over the water in the neighboring Canadian city of Windsor. Hall's story is well told whilst Kero, for those that might not know, is head of Detroit Underground a multi-disciplinary arts collective working out on the fringes of representation, confidently unconcerned with widespread recognition or commercial viability. K2's first E.P. 'Zug Island' channeled the atmospherics of its epithet, a heavily industrial manmade island left to rot on Detroit's river Rouge. 'Two' continues in much the same vein, blasted mutant house music made of noxious fumes, ferric oxides and heavy metal decay.

Containing Hall's reputation for experimentation and innovation whilst reflecting Kero's penchant for the counter-culture and willful artistic expression 'Two' is not an easy record by any means, yet despite these qualities it is a record built for dancefloors, consisting of a collection of tracks that demand to be heard in the mix. 'Riverside Connection' is perhaps the most straightforward piece shivering with tension as a big splodgy acid line is beset from all sides by crushed abrasions, over time a glittering little melody rises up out of the conflict and engages in its own disputes with increasingly bellicose drum lines. '126BPM No Name' is all wonky strut and lopsided funk as an acid line slowly unfurls against percussive ticks and random emissions recalling a broken manufacturing plant. The final track 'Polydextrose' builds tension over its run time, a repeated refrain modulating against an acid line lying deep in the mix, intermittently Hall's signature sonic bit crushes rise up in searing howls. It's a builder, a grower that could perfectly set the scene for a storming banger on one of the planet's more open minded dancefloors. This is Detroit music then, and all the usual descriptors apply, and yet its Detroit music so vivid in its execution recalling broken industry and life amongst the remains that it transcends the city and its history altogether, envisaging the destruction of the future rather than the past and having a boat load of fun whilst it's doing it.
Published on: 31 March 2017