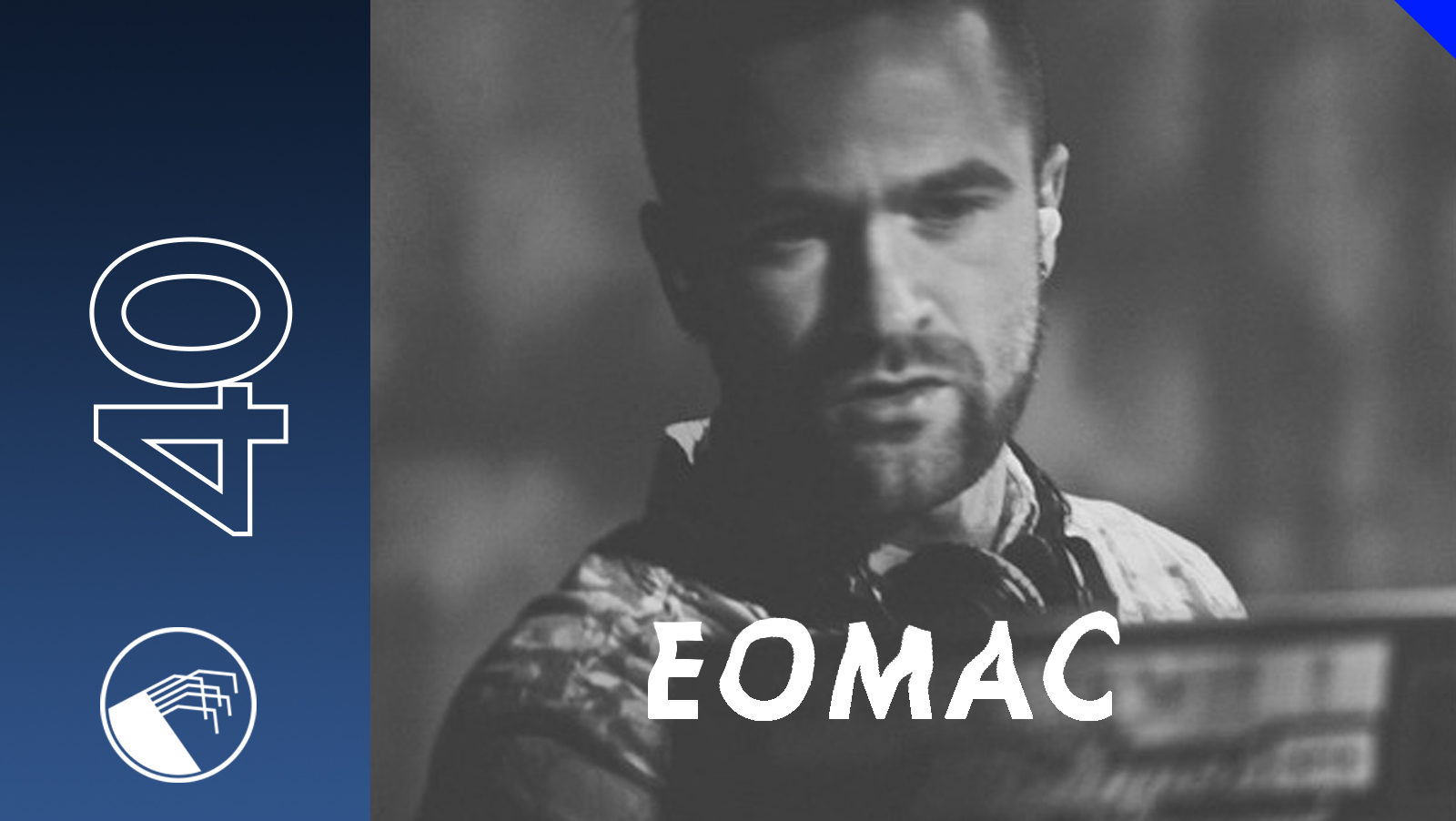 Tracklist:
01. Lakker - BRRRRR [Unreleased]
02. S.Maharba - Pianomouth [World Around Records / UK / 2008]
03. Eomac - Hilliard [Unreleased]
04. Kodiak - Spreo Superbus (Actress Remix) [Numbers / UK / 2012]
05. Aisha Devi - Hakken Dub [Danse Noir / Switzerland / 2014]
06. Silverman - Icantstandtherain [One4Ho / UK / 2010]
07. Eomac - Hither, Pappy [Trilogy Tapes / UK / 2013]
08. Lakker - Tuc Tuc [Unreleased]
09. Scrase - Another (Lakker Remix) [Forthcoming Love Love Records]
10. Beneath - Bored 2 (loop) [PAN / Germany / 2014]
11. Kastil - Binary Star (Eomac Remix) [Forthcoming On Soul Notes]
12. Eomac - Untitled [Unreleased]
13. Eomac - Forget The World [Unreleased]
14. Eomac - DF8 [Unreleased]
15. Lakker - Untitled [Unreleased]
Eomac is one half of electronic duo Lakker, but is also a DJ and producer in his own right. His eclectic style is reflected in both his productions and his DJ sets - expect anything from blistering techno, haunting 2-step and hip-hop to the darkest depths of dubstep and back again.

2013 was a big year with his debut 12", 'Spoock', on Berlin based imprint Killekill, backed with a remix by Stroboscopic Artefacts boss Lucy, followed by appearances on Moerbeck's Code Is Law imprint and the 'Hither, Pappy' EP on Will Bankhead's acclaimed label, The Trilogy Tapes.
This year has seen the launch of his EeOo side project on Unknown to the Unknown, well recieved EPs on Candela Rising and Stroboscopic Artefacts and his debut album 'Spectre' for Killekill. Support has come from a wide variety of DJs and producers like Thom Yorke, Nina Kraviz, Ron Morelli, Laurel Halo, Tommy Four Seven, Anthony Naples, and the one and only Aphex Twin.

DT: Ian, as far as I am concerned you are a very musical mind - making music and playing instruments since your early childhood. Can you talk about that in more detail?

Eomac: Sure... Well I started playing piano when I was six. I used to hate it! Haha, not really, but I used to hate having to come home from school and then go to another class to do practice on top of my homework. Still, as far as I remember, I always loved the actual playing and the sound of the piano. I used to make up little compositions and melodies, which I enjoyed more than doing whatever I was 'supposed' to be doing.
So I stuck with it. Then, when I left school, I have decided that music is exactly what I want to do in my life, and as a result, I started my musical studies at the University. Later it turned out that I really do not like that stuffy, old fashioned and negative attitude from the staff at the University that I was in. There was no encouragement and more importantly, no joy in that extremely academic environment. That is why I left uni after two years of studies.
Then I have studied jazz piano and improvisation, which also, turned out later, wasn't something for me too. Maybe it was because around that time I was quite disillusioned personality. I kept trying different types of music courses and not liking any of them, and yet, desperately wanting to live my life revolving around music. I reflect now that at that point I should have left formal education and just started composing myself...
Still, I was taking few private composition and orchestration lessons too and around this time I got heavily into DJ-ing. Very shortly, I got my first laptop and a copy of Reason and that's when I really found myself. I started making electronic music and since then I have never looked back.
A little later I have started a Masters Degree in Music Technology which was amazing. It was everything I have ever wanted from all the other courses that I took in the past. The whole thing strengthened my understanding about sound, synthesis, composition and loads of other things. I enjoyed it so much that I decided to continue, so I have enrolled to do a PhD course that involves mostly electro-acoustic compositions. But that didn't turn out so well! I have realized that academia is not a place for me, so I left PhD course in my final year in order to concentrate on composing, producing and performing full-time.
And here I am.

DT: I might be wrong, but it seems for me that in Ireland, the underground club culture is still under development. I wonder what are your main influences? Having in mind that Ireland is far away from the synonym called Techno, still, you managed to emerge as today's one of the greatest techno artists.

Eomac: Thank you! I take influences and inspiration from everywhere. The club culture is getting bigger and more vibrant here in Ireland. And it's been around for years with an interesting and colorful history of its own.
I think, for the reasons that Ireland is so close to the UK, anything that was happening there, filtered across here pretty quickly. It was very easy for an Irish raver to nip across to the UK for a weekend. And because we didn't have one particular defining sound in Dublin (like techno in Detroit or jungle / garage / dubstep in London), we kind of just mixed it all up and that's why there were many different club nights and sounds in the city. This was and still is great and suits my tastes because I listen to a lot of music, and take influences from it all.
The techno thing is funny. I was never really into techno whilst growing up. I was more into breakbeat based music like hardcore / rave music, jungle and then breakcore and 'IDM'. I have always enjoyed the harder edge of techno, Jeff Mills Waveform Transmissions and gabber for example. But a lot of techno passed me by. It's only recently that I've begun to appreciate the subtleties of good techno music. Someone like Rrose for example would have done nothing for me 10 years ago, but now I get it! And I really like it!

DT: When did you start clubbing then?

Eomac: Quite late really. I was into the UK rave scene ever since I heard tunes like 'Charly' by The Prodigy, in the early 90's. I was far too young to go to raves but it fascinated me and I used to dream about going there.
Actually, I started to go out clubbing when I was 18 / 19. And I didn't go there very regularly and I was never a 'clubber' and I never took drugs. I preferred going to see particular DJ's or acts that I liked, rather than just going clubbing weekly for the sake of it. But I loved the music! Well, some of it. At that time, I was into everything (as I am now, too). So I would go to a rock or metal gig as much as I would go out to a club to see a DJ.

DT: When did you get into DJ-ing?

Eomac: Again, it was quite late. I got my first set of decks in my early 20's. Before that, I had been playing piano and trying to get a musical education the old fashioned way, as we have talked about that before. And I must say that I fell in love with DJing instantly. And still today, I absolutely love DJing - such a buzz.

DT: What kind of music were you first playing?

Eomac: Anything I could get my hands on! I took all my Dad's old records and then I started avidly buying my own every week. Mostly things from Warp and Rephlex Records, Planet Mu, anything on the weirder or harder side of dance music, some techno and electro, jungle, hip-hop, gabber, speedcore, breakcore, classical music, VVM Test Records.... all my mix tapes were a big eclectic mix.
I used to do silly mixes with the 'Indiana Jones' theme tune into early grime-y kind of garage stuff and electro or glitchy IDM into 'Everlasting Love'. Beautiful, fun things you do when you are new, naive and full of enthusiasm for something.

DT: Yes, I agree, enthusiasm is the force power of creativity. Looking at your discography, I can see that you are enthusiastic here too and have released your music with a dozen of music labels. Is there a problem today to find a decent label?

Eomac: I never find as it is a problem. It can be hard to get labels to listen to you because of the sheer volume of music that is around at the moment. More than ever before, labels are now swamped with demos. But if you keep putting music out into the World, I could advice to stick with it, because eventually someone will listen.

DT: In your opinion, which of today's labels shape the fashions of underground dance music culture?

Eomac: There's some smaller labels putting out really interesting music - Opal Tapes, Bercouse Heroique, Lobster Theremin, Diskotopia, Diagonal.... actually there's loads.
Stroboscopic Artefacts and Killekill are keeping things interesting on the techno front, both in different ways.
And I really like Bedouin Records - they are only on their third vinyl release but they are setting themselves up as a label with something interesting to say.

DT: What about yourself: are you planning to run your own label?
Eomac: It's definitely something that I have thought about, but it's not something that I will do any time soon. Maybe a bit further down the line...

DT: During 80's or even 90's Techno era, there was this radicalism involved in music; everything was embodied into manifestations and politics. Artists such as Underground Resistance or Juan Atkins managed to be political with non-vocal, non-lyrical music. What about today: Is there anything to rebel against or techno is just purely appreciation of a sound World?

Eomac: There is plenty to rebel against in today's World and loads to feel frustrated and angry about. But maybe these days, for better or worse, people use dance music as a means of escape from these frustrations rather than using the music as a vehicle or political voice. I really don't know. I am not political in my own music, and it is not something I like to think about too much when it comes to music. For me it gets in the way of actually making the music. I have a head full of politics and questions instead of abstract musical thoughts and my writing suffers. Those kinds of things are for other people to discuss, such as journalists or writers.
If there was something I felt that I really wanted to be political about in my music, I would do it, but today my music comes from a more spiritual place, I think. For me it reflects the rave ethos, in a very real way without any glow stick irony. Peace. Love. Unity. I think I'm trying to say something more universal and general rather than specific or political.
I just want to make honest music that hopefully adds positivism to the World and makes people feel great when they listen to it.

DT: We live in a culture where we have too much on offer. You talked about the labels cluttered with demos. I always wonder how artists, including you, still manage to release music and play regularly at this over-produced market.

Eomac: Yeah, I think so as well, there is too much of everything and it's also available all the time. Besides, it's so hard to concentrate and find peace these days. But I have always believed that if you are doing what you truly love doing, then you should just continue doing that, and things will work out for you eventually. I'm a stubborn fucker, and I refused to get a job or do anything else! It was music or nothing. Which may not be the healthiest mindset but it has worked for me.
Plus, I love writing music and DJ-ing, so I just do it anyway, regardless of releases and regular shows etc. You have to have the confidence in that what you are doing is worthwhile - which it will always be if it comes from a honest, true place. And you shouldn't be afraid to put it out into the world, even if things are over-saturated right now. If you have something to say, people will listen.

DT: And in this over-produced club culture I started to wonder where are the resident DJ's gone? I mean, we have so many clubs today but only few of them employ regular DJ's who would attract people into the club. If we remember history, the most famous clubs and the DJ revolutionaries depended on each other and worked together.

Eomac: Yeah I suppose times have changed. I don't really know what to say about this.
But there are still clubs with resident DJ's. Not much, but we still have clubs nowadays who are defined by their residents. Berghain is the obvious one that springs to mind. The Brainfeeder Crew in Low End Theory, Numbers Crew in Sub Club, Glasgow. So there are a few clubs with residents. I suppose it's just a natural change / development. Club culture is different to what it was. That is the nature of things - change. Many changes have occurred within DJ culture as well - some good, some bad. I'm not always too precious about that. Still, once the music that is being presented is honest and makes me feel something, that's what matters to me.

DT: Is the dancing today is still as important as is the music?

Eomac: Interesting question. For me, in some ways, dancing really limits a lot of dance music! That may sound like a weird thing to say, but when you're primary goal is to make people move their bodies, a lot of the time you don't have to do much to achieve that, especially in a club where alcohol, sex and drugs are involved. Keep a steady beat and people will generally move their bodies, even if they are not massively feeling it.
But to really move people, their body and soul, to make them move deeply with music - that's different. I often wonder whether I prefer people to dance to my music, or for them to just be engaged with my music, even if they are not moving. I know I have stood still in clubs listening to amazing music, and been absolutely engaged by the performance. And likewise, I have danced all night to music I find really boring.
Having said that I always get freaked out and think that people are not enjoying my music if they are not dancing!
One thing I do always love is a bit of shouting in a club. When people get vocal, that's what raises the intensity of a room for me.
Of course, all the best dance music works on both levels though, and engages on all levels of being. That is why I love dance music - when it works, it's transcendent. When you are a part of these moments where you are completely lost in music, body, mind, spirit... it's just amazing. It is a very real experience, you feel truly alive and connected.

DT: That is so well said! I am glad that you have mentioned the word transcendence, because I agree too that good music can take one's mind far away. And same with me, I dance drunk and when I'm more controlling my mind and actions I just prefer to enjoy my listening experience because in a good club there's always descent sound system. Soooooo, do you prefer 2AM Friday or 8AM Sunday morning slot?

Eomac: That depends on the club! And closing time...

DT: Do you test your new unreleased music with the people at the clubs?

Eomac: Yes, I always play out new unreleased stuff. It's interesting and exciting thing to do. What you get from the audience, is always different, depending on the night in question - but usually if you put in the effort to do a good, honest show people respond in kind.

DT: Let's talk about your music and creativity process: I would imagine that you live in a big studio making beats all night long, sleeping daytime, any teenager's dream kind of life-style.

Eomac: Ha-ha, I used to! I've always worked from home - a bedroom studio set-up. And I used to stay up all night making beats. But now I've changed my creativity routine. I feel I need more sunlight in my life. That is why I'm up early these days and try to do a good day's work during the sunlight hours then have my evenings off.
Of course, I still love that feeling of being awake at 4AM making music, the quiet and the stillness and all that lack of distractions, but it doesn't work for me on a regular basis anymore. I still work from a bedroom studio because I love having my set-up close so I can work whenever I feel IT.

DT: Your releases are dark soundscape worlds. What I like about your music is that you challenge me as the listener with your sound palette, which confronts me, you know, like Zen practice, takes out the shit out of my head. Is there any reason that you create a bit darker sound worlds?

Eomac: Hmmm, I don't know. I'm a pretty happy and positive person in my daily life so maybe in my music is where I get to explore the darker, shadow side of my nature. I really don't know!
However, most of the time I do not see my music as dark. I'm trying to put out something positive with my music because for me music is all about atmosphere and energy. And the sounds that I use and the soundscapes that I create are ones that give me a sense of atmosphere, excitement and energy whilst I'm creating them. It's an otherworldly thing - abstract, indefinable, not necessarily dark.
For me my music is celebratory, physical. But still, I do understand why people say that it's dark.

DT: Do you have a philosophy that could describe your music?

Eomac: Not really a philosophy as such. I just hope that it will make my listener feeling some sense of connection to the music, to other people who are listening to it, to the moment, to life.
It's a privilege to experience those moments where we feel truly alive and at one with things. We don't often experience those moments, very rarely, in fact. And music can do that for people. So I hope that on some level, in some way, my music can do that.

DT: I would say that you are breaking the boundaries and notions concerning techno as primarily dance music. There is rhythm in your music, no doubt, but for me it is more of a listening experience a sort of meditation. Would you say that people today dance less and come to gigs to listen to the music?

Eomac: Thanks, I'm happy you say that! And I wish people would come to gigs to listen to the music more! Well, to do both. Ideally to keep an open mind and not be too put off if the DJ is trying different things, not playing steady beats all night but also getting down when the music calls for it.
I actually think that a lot of people do that when they go out to a music club. They are open. You just have to be confident enough as performer to go for it. And this can be hard! I remember myself and Dara (Lakker), both of us reading a quote from Boards of Canada repertoire, which said that 'you should never insult your audience's intelligence'. Since then, we are trying to always stick with that.

DT: So there is a philosophy, after all. You mix Musique Concrete, guitar riffs, samplers, field recordings, synth patches and ambient libraries whilst creating your sound worlds. Why to put yourself into such a complicated creative process when you could just plug-in MIDI controller into Ableton and that's it.

Eomac: It's just what I've always done, working in a varied way. If I work in only one particular way, I tend to get bored and feel too restricted. I've tried setting up templates to speed up my work process, but I don't like that. I prefer to start each track afresh and use whatever I feel is needed for that particular track.
I think that's it really. I just use whatever I feel is needed for any given track.

DT: I was thinking the other day that popular culture is so cheesy today, and that's why today's artists just go deeper, darker and kind of manifest against all that cheesiness with music that distorts hyper-reality and shows us the life as it really is. Well, at least your last album did. So am I fucking dreaming, or Techno surely in the last few years came back stronger and sharper?

Eomac: I think techno definitely had resurgence in the last, maybe, 6 years or so. Well, at least for me, anyway. I kind of lost interest during the noughties, but then I got back into it, in a big way through people like Shed and Ben Klock around 2008 / 9. But it's in danger now of becoming just as unreal as anything else. Even mindless. There's some really inspiring techno music being made at the moment in addition to awful, mindless, lifeless techno too - techno that focuses on a 4/4 kick pattern and nothing much else. It's grey and lifeless and that's not techno.
For me, techno music is soul music. It's an atmosphere, an attitude and a feeling. It has color and emotion. It's not just about a steady rhythm or dark music in darker basements (although that can be amazing). I feel in some ways that it is in danger of becoming a bit one-dimensional at the moment. Too many people are focusing on just one aspect of this music and are forgetting the rest of the ingredients.
But then again, there are people that are making great electronic music and techno at the moment, that's why, maybe, it's a moot point. A personal gripe!

DT: That is a very very deep ending, and I think you leave us something to think about for a while. Let's finish with a discography of 7-12 records that are of the most importance to you, if possible?

Eomac: Always, always such a difficult thing to answer. And the answer changes all the time... but here some tracks that have been very important to me during the development of my Eomac sound...



Aphex Twin - Polynomial C


Pan Sonic - Cutter


Burial - Archangel


Autechre - Vletrmx


Hudson Mohawke - Overnight


Shed - Estrange


Hate - Cunning Love


Aardvarck - Beukeboom


Clark - Ted


Zomby - Rumours and Revolutions


Robert Hood - Minus


Kubo - Bush Tool