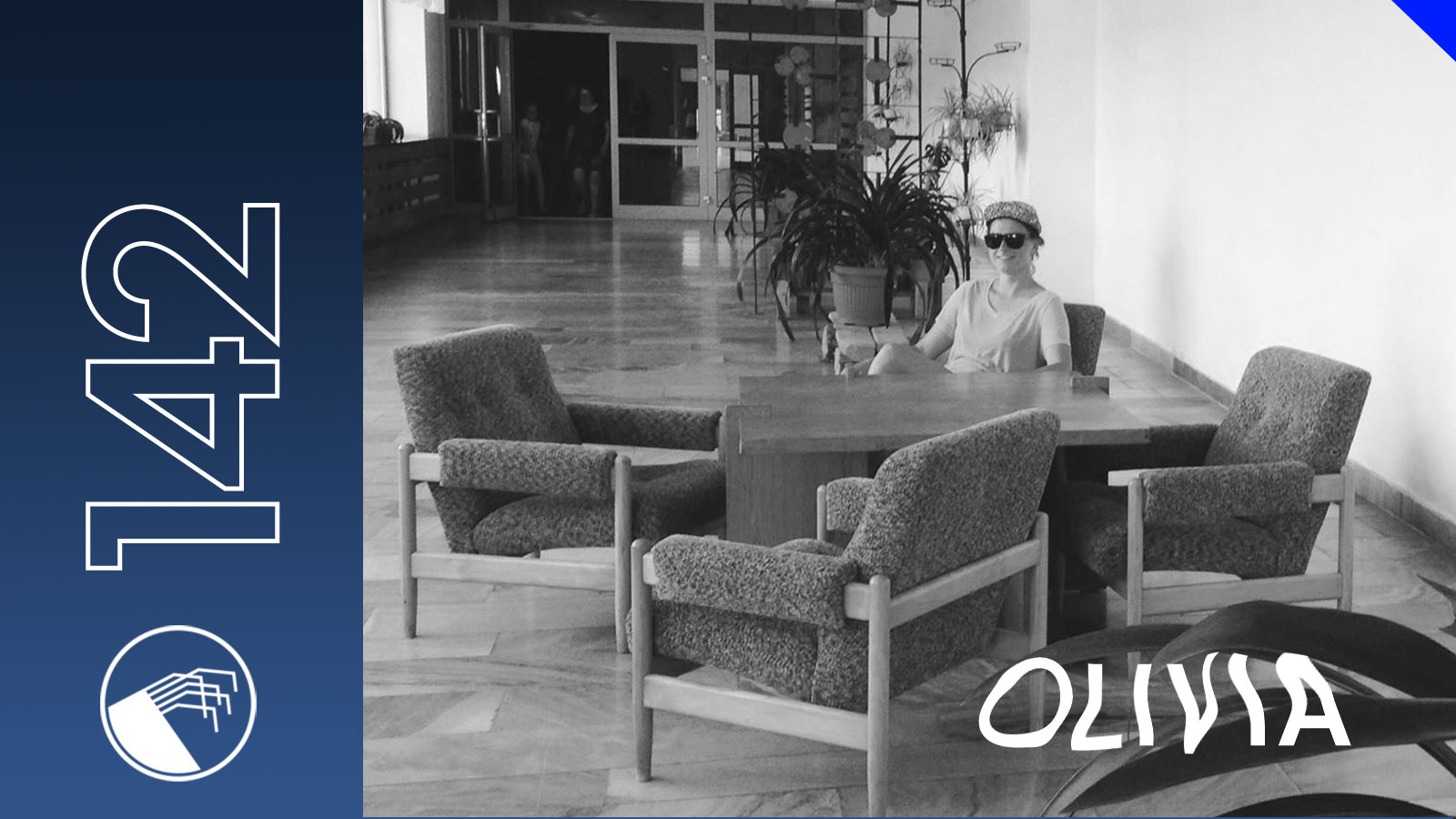 Tracklist:
01. Satoshi & Makoto - Crepuscule Leger [Safe Trip / 2017]
02. Christophe - Harp Odyssey [Because Music / 2013]
03. Poligam - A-Dur Funk [Wiener Brut / 2017]
04. S.M Nurse _ That's The Body [Top Tape / 2017]
05. Novo Line - You've Got Soul [Ecstatic / 2016]
06. BNNT - God Is Nothing More Than An Acoustic Hallucination [Instant Classic / 2017]
07. INTRZN - Zone I [Charlois / 2017]
08. MRH - Envy [Dieter Flegel Remix] [Neubau / 2017]
09. Eindkrak - Shwarma [Contort Yourself / 2017]
10. Roberto Auser - Color Of Your Soul [Pinkman / 2017]
11. Perth Drug Legend - Dlugs & Buldies [West End Communications / 2017]
12. WLDV - Millenium [Giallo Disco / 2017]
13. Han Do Jin - Channel 85 [Balkan Vinyl / 2017]
14. Chino - Pacific Curse [Unreleased]
15. Celldod - Pulsdisco Fishermen Body Mix [Femur / 2017]
16. Morah - Kires [Vanila / 2017]
17. Foreign - Redemption [Eye For An Eye Recordings / 2017]
This week we invited Krakow-based DJ Karolina Olivia better known as simply Olivia. Apart from playing solo she is a part of Chrono Bross collective together with her brother Kinzo Chrome, also a member of the crew behind famous Unsound Festival. Another Olivia's passion is organising parties. She was one of the founders of Krakow's club Radar, which is closed now. Luckily Olivia and her partner in crime Artur are still throwing solid parties with proper bookings in different locations.

DT: You just came back from CTM Festival. How it was?
KO: Great, but unfortunately I was there only for two days, I would like to stay longer and see more concerts, but I didn't have time. It was my CTM and Berghain debut, so I was very excited but also stressed before Thursdays performance and that's why I couldn't focus on other acts. I was happy that a lot of my friends came to support me and to see my set. I'm lucky that I have so many good people around me.

DT: Did traveling and playing become a part of your routine or you are still able to be inspired by such things?
KO: Not at all, I still like traveling, visiting new places, meeting people and getting to know different cultures. I don't think that traveling can become a routine for me. Every time I go somewhere I have mix of different emotions from excitement to tiredness, happiness and loneliness. When you travel, you spend a lot of time alone, so sometimes I miss my family, fiance, dog and friends. An exciting part, is playing for the first time in new venues and seeing audience reactions. Usually the local scene and resident Djs are amazing, that's why I like to stay for the whole party, talk with people and get inspired by other acts.

DT: Tell us a little about Radar, how did you came up with the idea, how did it go and why did it came to an end?
KO: At the beginning Radar was a combination of an art gallery and a restaurant, later it became a club. I opened it with Artur (Chino) and our friend Ola. We organised exhibitions and sold art like paintings, posters, graphics and books. In that time Chino and I have been in music for a while, so it was obvious that we will start doing parties as well. We closed it because none of us was a proper businessman. We were more like dreamers living for the idea. In the end Chino and I prefer to focus on music. However at the moment we are still doing parties named "We Are Radar" in different clubs.

DT: How long are you DJing? How and where did you started?
KO: I've started in my home town Krakow 14 years ago with my brother (Kinzo Chrome), who bought our first turntables and mixer. From that time we still perform together as Chrono Bross.

DT: You've been in music (let's call it) business for quite a long time. Didn't you get bored or tired? If such thing can happen how do you fight with those moments of weakness?
KO: I've never been bored of playing music, it always help me to deal with emotions. For few years I suffered from depression and music was one of the thing which helped me in that time. Djing was always a passion and escape from everything, not a business. Of course I've got worst days when I'm frustrated that I'm not playing as often as I wish or when I played for "empty dance floor", but I try to have healthy distance to it. That's why I never treat it as a job, to not lose the joy of doing it. To have balance I try to spend as much time as possible in nature. I love mountains which gives me breath and space for thinking.

DT: Over the years you've been a DJ, a promoter, a club owner. What do you want to try you've never did before?
KO: I want to start a label and play live my productions.

DT: I know a lot of DJs hate recording mixes and podcasts. What about you?
KO: It depends on my mood. Sometimes it's super easy, I have an idea and I record it. It works like that, I think about mix, wait few days and suddenly the idea comes to me. I recorded most of my mixes in one take.

DT: Describe this one you made for us, please.
KO: I recorded it in November when was ugly, rainy weather, which affected my mood. So the podcast shows what I liked to listen in that time. Set is slow with touch of EBM and acid sound. I hope you will enjoy it.

DT: We will!