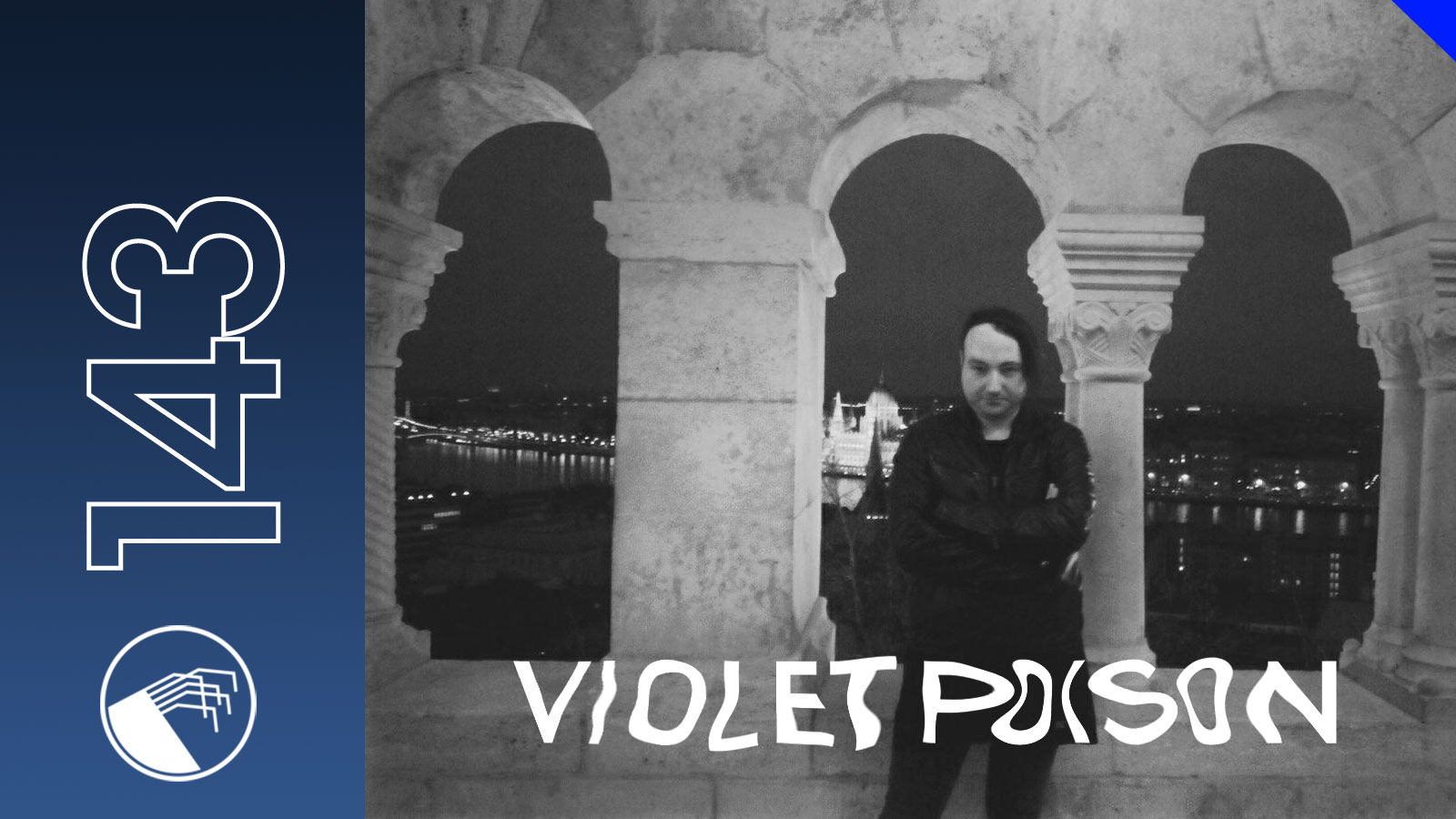 Tracklist:
01. Moral - Consumerism [Kubus Kassettes / 1982]
02. Geoffrey Landers - Overgrowth In Place Of Mortals [Cauhaus / 1983]
03. Beau Wanzer - Kipper Hunks [Jealous God / 2017]
04. Raum-Zeit - Tjoepi II [forthcoming Veleno Viola]
05. Zensor Tot! Leben Geht Weiter - Rausch [Not on Labe / 2016]
06. Fast Forward - Bye Bye Love [Pink Noise Records / 1981]
07. Group A - Ketabali [Mannequin / 2017]
08. Rever - Performan [Soft / 1983]
09. Diana Berti - Mysterious Snuff Movie In The Letterbox [forthcoming Smashing Tape Records X Veleno Viola]
10. S. English - Citizen [L.I.E.S. / 2016]
11. Prosopo (June) - Pegasus [Lux Rec / 2016]
12. Maoupa Mazzocchetti - Pale Social Dimension [Mannequin / 2016]
13. Violet Poison - Silk Body [Anime Solitarie Cassette / 2018]
14. Zombies Under Stress - Stalin [Mannequin / 2016]
15. Nocturnal Emissions - Infected [Manenquin / 2017]
16. Quideau - Un Mondo Pieno Di Delicatezze [Not on Label / 1988]
17. TBA - TBA [???]
18. Dj Loser - αψεγαδιαστος [forthcoming Veleno Viola]
The author of this fresh issue of our podcast we are releasing today, on International Women's Day, bears the name Violet Poison and dedicates his art to women or at least to everyone who feels like one inside. Italian born Francesco Baudazzi is one of the most prolific producers of our time, in his own niche with his remarkable style. To a darker and grimmer sound lovers he is also known as Obtane, Diana Berti and Bakunin Commando. We had a brief chat with Francesco in order to find out why women in general and is there a particular and the only one.

DT: What was your first love in music?
VP: I remember "Oxygene (part 2)" by Jarre as an old local tv show's soundtrack about magical arts. It has been a beautiful "trauma". I'm addicted to crap/trash 80's stuff, B-movies (especially horror and sci-fi ones), weird things. But I still remember the day when my dad was driving me to school in his car and radio broadcasted Madonna's "Material Girl", it was just released. I used to listen to a lot of radio and I remember Samantha Fox's "Nothing's Gonna Stop Me Now" and a killer darkwave song that made me dream for months but I can't find it anymore, sadly. The first tape I ever bought was Prince's "Batman OST", I was 10.

DT: How long are you DJing? How did you get started?
VP: In 1994 I bought my first vinyls and a pair of crappy belt-driven turntables (a brand named Monacor). The year after I bought the Technics 1200 I still own from a local Italo-Disco dj, he had those in his record shop. I made my first appearance as a newcomer in 2000, I played in a club that was popular in Tuscany during the 90s (Imperiale). I remember my friends from that time came to listen to me. An organiser recommended me to another promoter because "this guy rocks..." but unfortunately nothing went on. In 2000 I played in Milan in a left winged place (COX 18) under my first pseudonym "Francesco Antonucci". I used to mix techno and electro at that time. That was my last appearance for some time. In 2006 I ran a little label with an old Italian Trance dj/producer popular during the 90s in Tuscany and a folk-band keyboardist/dj/producer. They helped me to make my first steps into production under the name "Obtane". We left each other and I started Zooloft. One day Giorgio Gigli messaged me and asked to make music with him. I was so amazed because in 2006 I discovered him on a late-night radio show. And I could not believe this. I think you know the rest of the story.

DT: Do you ever get nervous before you go on stage? If so, how do you deal with it?
VP: I always have strong anxiety before I go on stage and sometimes after but never nervous.
First time I played at Berghain (2012) I was so blind and confused by anxiety etc.so I could not find the liveset stage! I was in the dj booth and Robert Hood was playing, I was turning around him because I could not see the little gate. He smiled, I presented myself, hope he didn't think "who the fuck this idiot is?", haha. Emotions can make you doing wrong. I still don't know how I deal with this, I have no rituals. I just learned to accept the fact that I'm just anxious.

DT: Is there anything you don't like about being a DJ? What is the hardest part of it for you?
VP: I would love to play vinyls more. I have always played vinyls. It's just they are so heavy to take on a plane and I hurt my knee carrying vinyls on a train to Naples so I often play with stick but for me it's not the same. Also the sound is not the same. I don't feel myself a real dj playing CDJ's, honestly.

DT: Tell us a little about your approach to producing music. You just came to your studio, what's the first thing you do, what's next?
VP: First thing is to find a story. If there is no story, there is no track. So I turn on the instruments and think about something. To make a good (for me) sequence I need hours, need to find the one that unlocks fantasy. If there is an element I don't like, I can rework it but I know it will never be good. The good ones come in some hours and I'm like under possession, sounds come naturally and sometimes I still don't know how I made it. I can say the best come from harder moments of my life. I love using samples coming from 80s Bondage VHS's you can find on the net, because the ground noise they have is amazing if you treat it well with effects. My releases "Il Silenzio Del Rumore 001" and the Candela Rising have those samples.

DT: What do you think about a concept of inspiration? As an artist, do you need something from the outside? Maybe a certain mood or your muse?
VP: Yes, it's essential. In my case the best things come from melancholia or rage. Diana Berti is ruled by 80's nostalgia, Bakunin Commando is aimed to be shocking. Violet Poison is the mix of both. Dreams (or nightmares) are the biggest inspiration for me. And Italy is very inspiring. There is something obscure, ill, hidden and controversial I could not find in any other place.

DT: Who is this woman you are celebrating in your art? Is there the one and only?
VP: It's a movie from Mario Bava. Violet Poison is meant as the woman who poisons a rapist. I slightly leaved the 70s Giallo imagery to embrace the 80s one. Also music changed a bit: from the esoteric Proto-Techno of releases like the one on Bed Of Nails and Haunted Air to the "Italo disco-driven EBM" (as a friend of mine said) of releases like Il Silenzio Del Rumore 001. Woman's revenge is still the main focus.