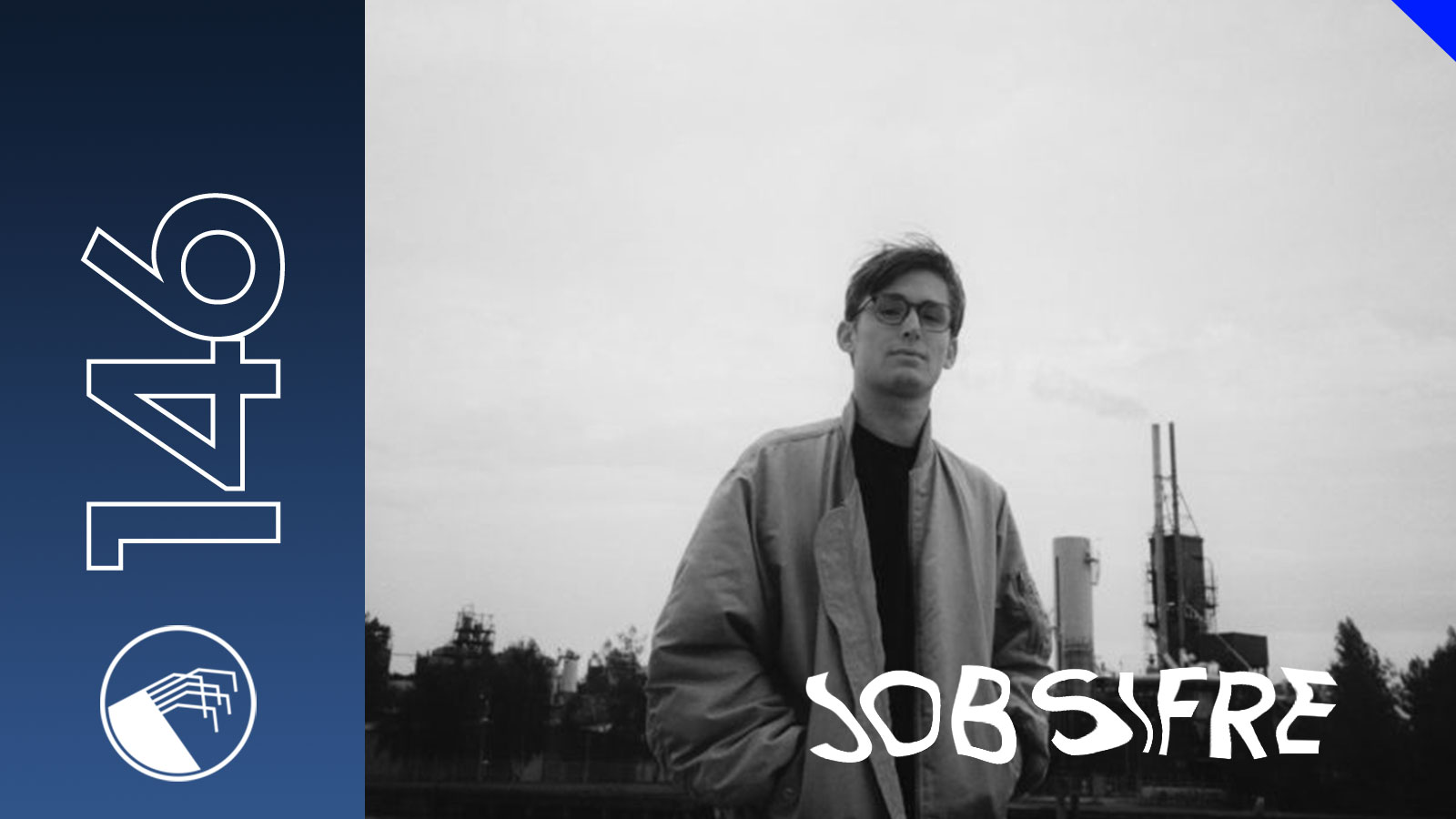 Tracklist:
01. Bear Bones, Lay Low - A Fourth Ring [(K-RAA-K), 2012]
02. Drew McDowall - Convulse [Dais Records, 2015]
03. Cyrnai - To Subtle [Cyanide Productions, 1990]
04. Rudiger Lorenz - Chamomilla Sabinae [Vinyl-on-demand, 2015]
05. Tom Ellard - Touch [Dark Entries, 2014]
06. unknown - Logomaquia [???]
07. DsorDNE - Centro D'Erezione [Hax, 1990]
08. Bruce Gilbert - You Might Be Called [Mute, 1991]
09. HLM38 - Exit (Kris Baha Remix) [KUMP, 2018]
10. Tolouse Low Trax - Raut [Antinote, 2017]
11. Maenad Veyl - State ov Apprehension
12. Jan & Curly - Part 1 [Swift Slow Edit]
13. Cienfuegos - Simbiotico [L.I.E.S., 2018]
14. Coil - AYOR [Swift Slow Edit]
15. Moebius - Ding [Klangbad, 2011]
16. Tav Exotic - Reevolve [???]
17. Gil Barte - Sssjp [Neubau, 2018]
18. VVV - Chrome Z Fighters [Mego, 2005]
After working his magic on the Amsterdam underground, young DJ/Producer Job Sifre has finally stepped out of the shadows. He has already built up a cult following worldwide thanks to hosting a fortnightly show on Red Light Radio and armed with two solid releases on Interstellar Funk's Artificial Dance label and a more recent one on our beloved Knekelhuis. We spoke to Job about music, life and universe.

DT: How would you introduce yourself in 5 sentences for our listeners who might not know you?
JS: I am Job Sifre, a 26 year old dj / producer. I am based in Amsterdam, The Netherlands, and I am a resident of De School and I have a monthly show on Red Light Radio, called Antikunst. I just released two records, one on Interstellar Funk's label (Artificial Dance) last October and one on Knekelhuis in February. That's it with the standard pitch; love to eat inappropriately fancy, vin naturel is the best, very much in love with cheap pizza and cheap beers too, though. Very good at sleeping, but also very good at being awake.

DT: You are based in Amsterdam, for most of people Amsterdam looks like a dream city or city that you must to visit. What do you think about it? Is it worth dream city name?
JS: It is a beautiful city, although I sometimes forget to really look at it that way. Especially in the summer we have a lot of tourists in the city, too much really. To answer your question, I would definitely visit Amsterdam if I wouldn't live here, the club/music scene is better than it has been in a long time. The economy is booming, so loads of new cool initiatives, but also lots of identical hipster coffee shops. What I'm most afraid of is that Amsterdam will collapse from it's own success, I mean, the gentrification is real.

DT: What are pros and cons of Amsterdam's night life?
JS: Pro's are: a lot of quality venues, loads of cool upcoming DJ's/producers. De School (obv) and Garage Noord are the best for me. They love to experiment, constantly trying to reinvent themselves, which keeps it exciting to visit them, time and time again. Great institutions, such as Red Light Radio, Rush Hour etc.
Cons: not so much real underground stuff. Squatting is illegal, and without a permit, throwing a party is nearly impossible. There are a lot of rules you have to obey when throwing legal parties or running a club. There is always something cool to do in the city, so it's not reaaaaally a con, but it's the biggest con I could think of.

DT: When did you start DJing?
JS: About 7 years ago. Started with 2001-ish techno, 136bpm+ kinda stuff. Now I play loads of different stuff, as long as it fits the vibe.

DT: Who inspired you? Why did you choose electronic music?
JS: My current inspiration is mostly Coil, Suicide, VVV and the Salon crew (Tolouse Low Trax, Jules, Jondo etc.). I chose electronic music because of the endless possibilities, you can really experiment and make really dissociative stuff but lately I've been really into more organic drums and guitars too, haha.

DT: Can you remember first tracks that appeared in your first set?
JS: In my hard-techno fuelled sets I've been playing No More - Suicide Commando a lot.

DT: If not DJing, what instrument would you choose to play and what kind of music?
JS: Probably still industrial, just buy all kinds of different drums, I am a sucker for rhythms.

DT: Do you travel a lot other countries to perform? Where did you find the best parties?
JS: Ever since my two releases, it's been going really well. Going across the border almost every week now. It's hard to pick one country or city for the best party. Obviously parties in De School are really wild, but that's also because I know the audience really well / lots of friends are coming over. Also, it's hard to compare different scenes, locations etc. I must say that Belgrade was really banging, though, and Vilnius too, cities with really amazing music scenes.

DT: You were studying music management, right? Why did you choose it?
JS: I chose it initially to either manage myself as an artist, or to be able to still work in the music industry when music wouldn't be working out. In the end I'm not really satisfied with the study, I learned more from working in the field than going through the books.

DT: What do you think is a good music manager?
JS: The perfect music manager would be like Jorn, my booker. He knows about the music, is really on point with everything, and we eat ramen once a week, which is a big big big pro, of course.

DT: Do DJs really need music managers or they can manage themselves?
JS: I don't think so, unless you're working a lot with session musicians for live shows and stuff like that, then it can be practical. Or you don't know how to fix collabs or anything. In our scene, it's super personal, and everyone is open to share / work together, so a full on music manager: not really. Booking agents on the other hand... I was always thinking about arranging the bookings myself, but in the end I'm really happy I don't have to think about that anymore, having a booking agency is recommendable. Only if you're already having loads of gigs though, because you, getting lots of quality gigs just because of a booker is just fairytale. It can contribute obviously, but if you're shit / you have no content / don't have a network, a booker isn't gonna fix that.

DT: When you create something, how do you start? What does the process does look like? Do you have a clear view and sounds in your ears of what it is going to be?
JS: Usually I get really inspired when listening to songs from other people. I'll never copy something or anything, but sometimes I notice a certain sound or element from a song, or I wonder what technique someone used to make a certain synth/FX sound. Then, immediately, ideas pop up in my head on how to use such a sound or technique in a different context or in a different type of song. Most of the time the song ends up more or less how it pops up in my head, but of course there are also sometimes 'happy accidents' as Bob Ross so nicely put it.

DT: Do you think you are precise person who pays attention to every detail or more spontaneous and improvised?
DT: I am actually a very paradoxal person. My production methods are very precise and premeditated - I don't jam, everything is manually put in place, but I tend to think about myself as a pretty sloppy and lazy person. I'm not the kind of person to spend 5 hours on designing a kick drum, or to perfect the timing of a groove by placing all notes millimetre by millimetre. But maybe my precise production methods help me to at least be precise enough, so it doesn't sound too bad, haha.

DT: You were roommates with Identified Patient. Was he a good roommate? How did you meet?
JS: First of all, Rest in Peace VDP, our lovely former house. Super fun person to live with, I would give him a 9/10, I think. Only bad thing I can say is that he would put the cutlery in the dishwasher upside down all the time, with the dirty side down?! We actually really spoke for the first time when I was visiting his house, because he was looking for a roommate. I can't remember if I was either the best or the only contender in the race to be his roomie.

DT: Two Jobs in one house, who was better? Have you played a lot together?
JS: We have super different approaches to life, and music. He doesn't like cheese and loves fish, I love cheese and don't like fish. He is tall, I'm pretty small. He does everything with gear, I do everything with the computer. He loves the Pioneer DJM, I love the XONE92. Things we have in common: our name, and our music taste. We are actually doing a couple of festivals back 2 back: we are playing The Netherlands on both These Guys in the end of April and ZeeZout in September. We will also play in Paris in June and Dekmantel Selectors in Croatia in August.

DT: Have your ever thought about moving to another city? Which would be your dream city to live and why?
JS: I believe that most people would think other cities are more exciting than their own. I am pretty happy in Amsterdam, actually. If I would have to choose, I would probably move to New York temporarily. Prague or Belgrade were also cities I could really live, from what I've seen when I was there.

DT: Describe your mix that you made for us. Is it special?
JS: Slow stuff seems to be pretty cool, so a lot of slow jams I've been digging, and a couple of new tracks that I've been sent recently. Also contains a couple of edits I made. It's mostly built around rhythm. It is a Digital Tsunami podcast, so of course it is special, haha.