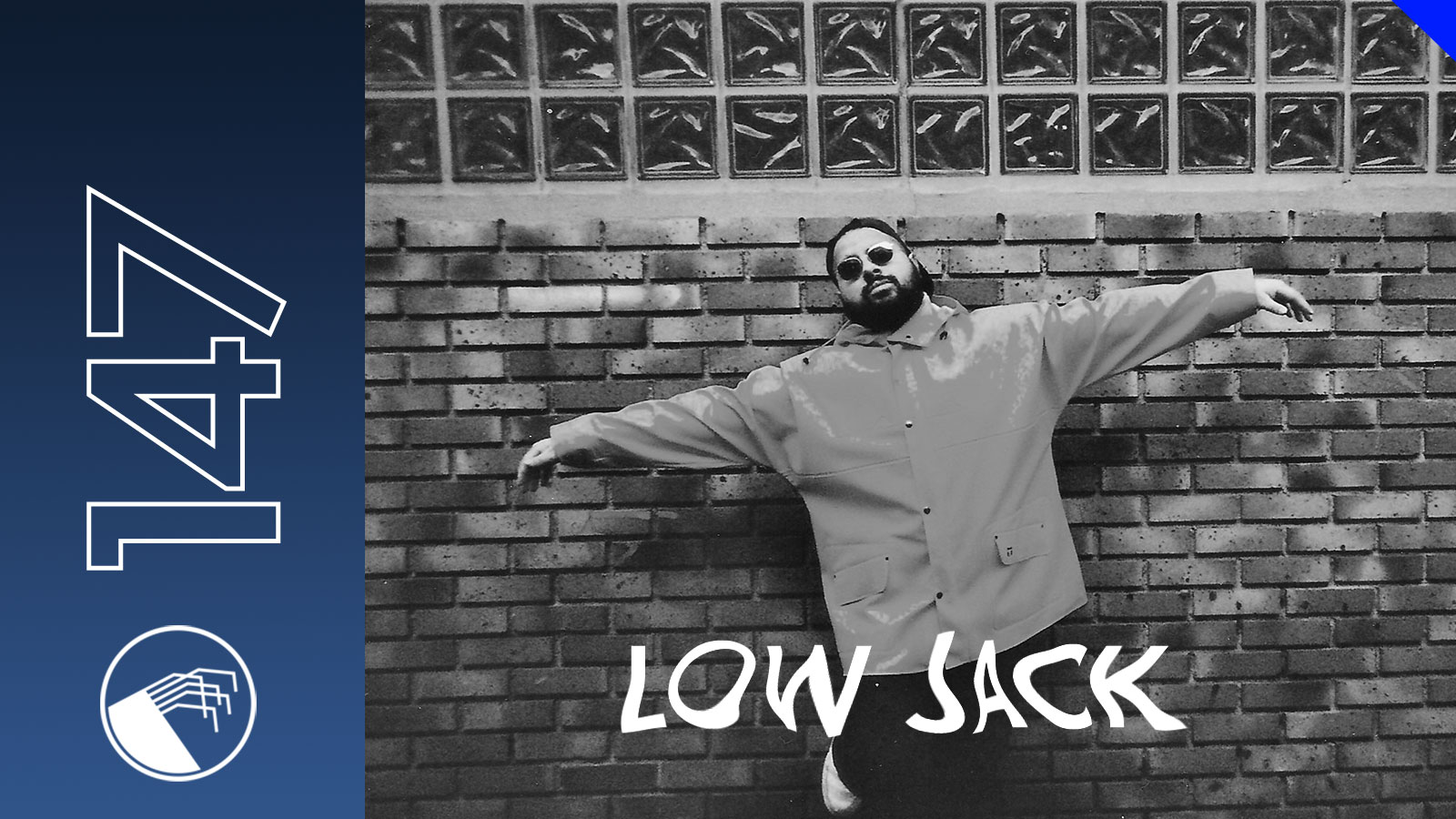 Tracklist:
01. Sabla - Tohc (Disk / 2017)
02. Peder Mannerfelt - It's Coming (Peder Mannerfelt / 2018)
03. IUEKE - Champion (Version) / Unreleased 2018
04. Esplendor Geometrico - Bomboto (Geometrik / 2013)
05. K.S.U. - Rytmi 55 (Kaften / 2018)
06. Jilt van Moorst ?- Oops (Caravan Recordings / 2010)
07. Lurka - Full Clip (Hotline Recordings / 2013)
08. Endgame - Skull Riddim (BALA CLUB / 2017)
09. Low Jack - Light (Editions Gravats / 2018)
10. Tzusing - ???? (Bedouin Records / 2017)
11. The Bug - Skeng feat. Flowdan & Killa P (Ninja Tune / 2008)
12. Low Jack - Coquelin Cloarec (Time Cow Remix) / Unreleased 2018
13. Reeko - Las Virgenes Tambien Juegan Con Cuchillos" (Avian / 2017)
14. TNT Roots - Mighty In Battle 1 (Bokeh Versions / 2018)
15. Lurka - BR Greaze (Hotline Recordings / 2013)
16. ??? - ??? / Unreleased 2018
17. Anthem - Dwerk (Mind Records / Upcoming 2018)

Philippe Hallais, AKA Low Jack, has been a significant source of inspiration, if not directly music-wise, then for his approach to (de)constructing tracks, for numerous producers. The Honduras-born prodigy who's now partly responsible for nightlife climate in Paris and is affiliated with the likes of Modern Love and L.I.E.S. has finally made it to the Digital Tsunami podcast series, and he told us a few great stories below. Here goes!

DT: Can you tell us the back story of establishing Les Disques De La Bretagne? What was the reason for a sublabel? The first release sold out like hot cakes; what do you think were the main factors that got so much attention?

PH: We started this series for more club-ready materials, without a specific genre in mind. While Editions Gravats is more focused on extended formats and projects that are taking time to build with a lot of A&R and back and forth discussions with the artists. The BZH series is more about being spontaneous as a label, and not too much overthinking potential concepts behind a record.

DT: How did you start nibbling with dancehall in the first place?

PH: It's an interest that has always been stuck in my head, to be honest. Sometimes more consciously than others.

DT: Every release you produce seems to be a new step, or at least a nod to another direction, which is always very interesting to discover. What would you say is the connecting pixel between everything you have done in your musical career, though? Like, what gives away it's your track?

PH: Influences or I mean musical influences aren't necessarily a start point to make a record. It's more about a feeling, a context, and I like to focus on a particular narrative, even when sometimes the perception or the understanding from the audience can be confusing or not that clear. My three first albums though, I feel that there is a connection between them, despite the musical contradictions on a record to another. I'm from Honduras, born in Tegucigalpa, but I was adopted when I was four months old, and I spent my first years in Germany and then most of my childhood in Brittany, France. So, the process behind the album was more to genuinely question the position of an outsider exploring his origins. On the two other albums, I wanted to challenge my status as an artist, and on which levels I would always consider myself as an outsider. Sewing Machine (In Paradisum - 2015) played with the fact that my music was categorised as "noise," without any legitimacy for that label, and Lighthouse Stories (Modern Love - 2016) was about dealing with the boredom and isolation of teenage years by appropriating local foreign cultures.

DT: Do you have any connection with the music scene in Honduras, or is it simply the place you were born for you?

PH: Hmm, not really. After my first record "Garifuna Variations" (L.I.E.S. - 2014) some people from Honduras with Garifuna origins got in touch with me with very kind encouragements.

DT: Any technical details you have decided to leave out and not use anymore during your career, for better or for worse?

PH: I have phases, and for the past two years, I love using only the computer. For many years, I was pro-gear. But I think I have just started a new phase actually; I've found an inside peace or "la paix interieur" as we say in French. So why be arbitrary, they're always a way to found some fun in a creative process.

DT: Which DJ has surprised you the most for playing your music? Do you believe your tracks work differently based on who plays them and between what other tracks?

PH: The first thought that pops into my head: it's always fascinating to hear DJ's like Lee Gamble or Ben UFO playing your tracks because they totally make them their own. And it's a fantastic feeling.

DT: Your naming of tracks is yet another level of artistry! Is it just random private jokes you tend to use, or is there an agenda you follow?

PH: It's both, but even when they are named with the most random privates jokes, it's always in service in something more global, that is directly connected to an individual story-telling. But indeed I love naming tracks; it's an enjoyable process. Especially as my "B-Ball Joints" moniker.

DT: How much time do you spend on physical digging for new / forgotten in record stores? Is there some path you follow here, i. e. what doesn't interest you anymore, what does, when searching for new inspirations?

PH: To be completely honest, it is more about the people. IUEKE, Ron Morelli, Jean Carval, DJ MOYO, amongst others, are incredible sources of knowledge, and me I'm just a ridiculous sponge here.

DT: You've worked with Red Bull in the past; how do you think commercial brands benefit to the state of electronic dance music in general?

PH: It does not always make sense, and you can feel a palpable cynicism sometimes in this brands. But collaborating with RB felt pretty natural, as the people in charge of the "musical endorsement" are long-term journalists, artists, engineers, etc. With a serious background in subcultures. And I have been able to work with very good friends.

DT: How does the pace of life on social media influence the quality of the output of producers? Have you ever felt the peer pressure to be faster, more productive?

PH: If it is only about that, it's pretty depressing. But like many other aspects, if you can have fun out of it, without too much overthinking, I think it's cool.

"The pressure to be faster and more productive" is a pretty abstract idea to me, I may sound like a naive clown, but it's all about the fun, and should always be.

DT: The pace also means kids spend less time digging music these days; Do you feel the distance growing between what you want to say with your music and the reaction from the crowd? Or is it all right and we are just pessimistic here?

PH: Ah! I feel the opposite. The new generation freaks me out, they are very specific nerds, with a crazy knowledge about any musical niche. With Jean Carval (with who I run Editions Gravats) we like to call them the "Rain Man generation". They know all the 70's experimental Polish movies and all the power electronics scene from Alsace. What the fuck... When I was 18 years old, I liked Cybotron and Bad Boy Records.

DT: How have your feelings towards hip-hop changed through the years? Do you feel affiliated with the current sound of the genre?

PH: These days I like the contemporary stuff a bit more. I love guys like HAMZA and other Belgian rappers. It's refreshing.

DT: Knowing you're also a "real" gourmand, we must ask if you also have time to explore different cuisines when travelling and have you made any exciting discoveries recently? Or is French cheese the best?

PH: Any time people are asking me that, I'm finding a certain regret in my life of not being a cheesemonger. But, hey, who knows? I might have some hidden plans.

DT: Tell us about your mix for DT. How is it different from other mixtapes you did recently?

PH: I'm trying to showcase my obsession with overdubbing, and with a stripped down industrial approach. The mix sort of represents where I used to be, where I am right now, and where I tend to be in the next couple of years. I hope you will enjoy it. Thanks, DT!