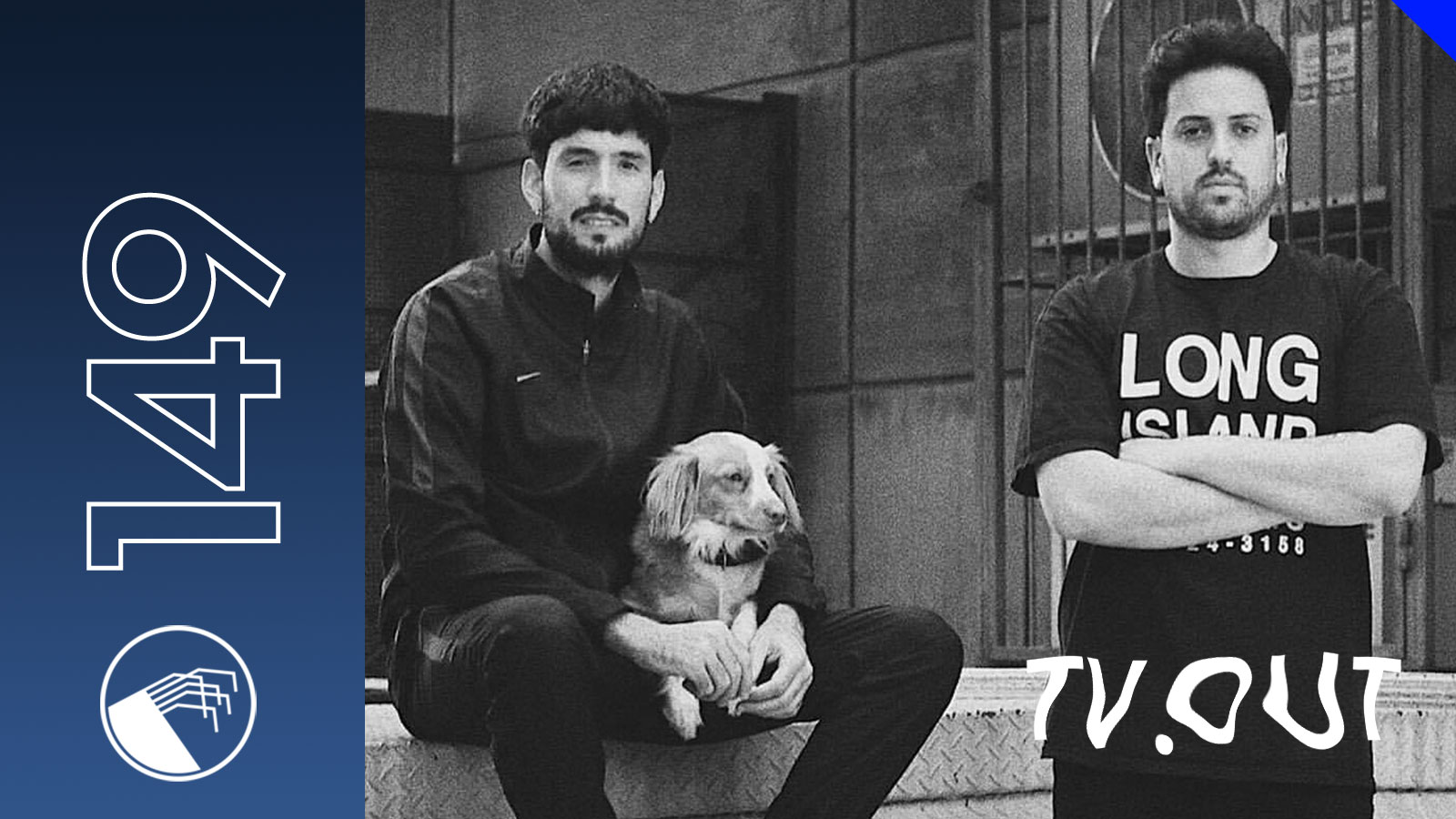 Tracklist:
01. Psychic TV - Part IV. New Guinea Headhunters Pipe, Large And Small Drum [Some Bizare / 1982]
02. Broken English Club - Last Signal [L.I.E.S / 2017]
03. TV.OUT - 0202 [Unreleased]
04. ADMX-71 - Disentangle Me [L.I.E.S / 2014]
05. Kerridge - Waiting For Love 2 [Downwards / 2013]
06. Tapan - Volumes (Drvg Cvltvre Remix) [COTF / 2015]
07. Black Merlin - Tremblez Deviant [SORN / 2015]
08. ~ H ~ - Insomnia [Black Leather / 2017]
09. Identified Patient - Vermoedens Van Achterdocht [Pinkman / 2017]
10. Monolith - Time [????]
11. Ninos Du Brasil - Animais Soar O Alarme (Patrick Russell Remix) [TBNY / 2017]
12 TV.OUT - Blackout [Unreleased]
13 Black Merlin - Phase 1 [Pinkman / 2017]
The 149th episode of DT podcast comes from Tel Aviv based duo TV.OUT. We spoke to them about the the leftfield techno oriented label they run - Parallax, the club scene of Tel Aviv, future and past releases and life in general.

DT: Can you tell us a bit about your background? Your Soundcloud states you're both Tel Aviv based, were your born there, how did you meet?

Charly: Well, I grew up in Beit Shemesh, a suburb of Jersusalem.
Ori: I grew up in Ra'anana, a small city thirty minutes from Tel-Aviv.
We met in a music school around 2011 and after a few months we realised we have a lot in common. We started working together on tracks as well as DJ'ing around Tel-Aviv.

DT: You have several releases out on Parallax, and your first release came out on this label in 2014 on the split E.P. 'Parrallax 01' with Pharaoh and Yogg. The label's mission states: 'set to release leftfield Techno producers from Tel-Aviv'. Can you tell us a bit about this label?

Parallax Records was born in 2014. We formed it with our friends and local producers Yogg & Pharaoh. We've ran it together since then.

At the time, the four of us used to hang at a small record shop called Auerbach Records (now sadly closed). Whilst we were hanging around there we began to develop the idea of a label, so we could release our own music and provide a platform for other local talent we liked too.

Our mission was to find producers operating under the radar, focussing on leftfield stuff from Israel. There wasn't an outlet for this stuff back then in Israel, and we felt it was time for one. In 2014 not many people were into this sound in Tel Aviv, but we got nice feedback from the local community so we stuck with the idea and decided to see how far we could go with it.

Since our first release In 2014, we've done release parties for every record. We also also decided to host monthly events, often inviting international DJs and producers. Luckily, as time went by our events became more and more popular.

DT: From your first E.P. through your discography there is a distinctly noisy, acid, punky vibe and aesthetic to your music. What were your musical influences as your grew up, and when did you begin to produce?

Charly: From 1997 I was clubbing in Ha'oman 17 in Jerusalem, the biggest club for house and techno in those days. I drew a lot of inspiration from the DJ sets I heard there, names such as Plastikman, Francios K, Frankie Knuckles and Louie Vega. In 2011 I attended music school and I began producing then.

Ori: All throughout my childhood and teenage years I was into Gangster Rap and hip-hop, especially the west coast sound and Tupac. I've always messed around with Cubase and other software but nothing too serious really. In 2011 I started music school with Ori though, and all that changed.

When we first started producing we didn't really have a specific sound, we were just messing around. As time went by we realised that producing "inside the box" was not really for us and so the endless synth shopping mania began.

We were often partying at 'Later', a monthly night that brought a lot of interesting DJ's from across the spectrum of underground musical. This place helped to inspire us and the sound we create today.

Charly is also a co-founder of a club in Tel-Aviv called 'Alphabet'. Since Alphabet opened we're often Djing there and we get to book our favourite DJS too. These experiences also help inform our music.

Our sound has changed quite a lot through the years. We just get inspired by a lot of genres and styles, from new wave to house to electro and much more. Our sound is always changing, and the music that we're into plays a big part in this.

We guess our sound formed from the music we were exposed to at the parties we went to, and also from the synths and drum machines we bought and collected. Maybe something in the aesthetic of the sound and the production techniques stayed the same. After all, it's still us doing the music we love with our own ears.

DT: Do you each have a musical background, classical or college training for example, or is it all self taught?

Well, as we say both of us studied electronic music production in Tel Aviv.

DT: Are there any particular producers you really look up to, and could you give us a brief overview of the equipment you use?

There are a lot of producers we really like and occasionally we get really obsessed with... to name of a few from recently: Kraftwerk (obviously), The Other People's Place (basically everything from the Drexciya guys), Gherkin Jerks, Liaisons Dangereuses & Plastikman.

Our setup nowadays is: Octatrack - main sequencer; Analog Rytm, TR-606, TR-707, Juno-106, MC-202, Poly 800, JV-1010, Eurorack system and effects.

DT: How do you navigate the production process, do you being with a firm idea or concept and let that guide you, or do you prefer to jam and see what happens?

It depends. Sometimes we have an idea for a concept or genre we want to create or play with, or a specific sound we want to mess about with. Other times we are experimenting with the synths and just let "them" take us further.

DT: Your third release was a split E.P. with Hamburg deep house crew Smallpeople and came out on 'Fuck Reality', a Smallville Records sub-label. Can you describe how this came about? Listening to your music, which tends to the noisy and seductively abrasive against Smallpeople's/Smallville's much more refined and 'straight' style, people might not have expected such a collaboration to occur.

In 2015 we travelled to Berlin and to Hamburg with Tel Avivian DJ and our friend Idit Frenkel, a member of the "Later" crew we mentioned before. Idit had a gig at the Golden Pudel in Hamburg with Smallpeople and we decided to join her for the trip.

Before the gig, we were hanging around with Idit at Just von Ahlefelds' and Julius Steinhoff's studio, these are the guys from Smallpeople.

One thing led to another and we started playing around with the machines, we basically finished this jam session with these 2 tracks. The jam just came about at that moment, we didn't really think much about it. Just playing, having fun and capturing the vibe. Being able to share it with the world is a privilege.

DT: Tel Aviv was famous for its liberal approach to gay-rights and lifestyles, with historically a club orientated and somewhat mainstream approach to house music: progressive, trance, 'club-house' etc. Super-club DJ & progressive house mix series Global Underground was inaugurated by celebrated gay DJ Tony de Vit in Tel Aviv for example; Tel Aviv was a big deal in club-land back in the 1990s. Perhaps you could give us an insight: how is the city right now, particularly in reference to club and gay culture and does this have any influence upon your own work?

In the 90's there were many big clubs for house & techno and we've heard a lot of stories from "back in the day", but we personally didn't experience any of that in real time. Since then though the scene has had a lot of ups & downs, mainly due to the ever on-going Israeli-Palestinian conflict. Whenever things got intense (more often than not), the tourists cancelled their trips, the international DJs cancelled their bookings and all the local ravers stayed at home. So basically the clubs were often empty.

Nowadays though the city is booming. Most of the time the clubs are full and stay open for a couple of days straight. There are many tourists, especially during the summer time.

Two years ago a big gay party called PAG began hosting events at the Alphabet club and now we have a PAG night every other week. We feel this move has really strengthened the bond between gay and straight people and helps make the city much more gay friendly. Still, the majority of Israelis are conservatives and the underground clubs don't get any support from the municipality, the police or the government. On the contrary.

We're happy to be resident DJs for PAG and feel it's an honour to be a part of this community and see it grow and develop. Being resident DJs and playing a lot around town has a big influence on our productions, towards a more club-friendly and dancefloor oriented approach. Usually, when we work in the studio we have a vision of a party in mind.

That being said, in general we are not the biggest fans of the general atmosphere of the Tel Aviv, especially on the weekend. There are many shitty people in the streets and many shitty bars and pop-dance bars. Ironically, our rejection of that is actually a big influence on our music. That, and the other struggles that come from a life lived in Israel.

DT: From personal travels and people I've met, I also know there is, (or was) a strong psy-trance presence more generally in Israel. Is psy-trance still a force in Israel?

Psy-trance is still very popular in Israel, though not so much in the Tel-Aviv clubs. It's usually outdoor parties and festivals around the country.

DT: Did you use to go to any of the psy-trance parties and does the illegal nature of psy-trance sound-system culture have any influence on your own work?

We did use to go to Psy-trance events. At a time they were the perfect getaway from the Israeli day-to-day. A lot of Israelis that served the Israeli army and wished to "release some stress" found a good way to do this within the psytrance and free party culture.

Whether Tupac, gangster rap, illegal psytrance parties or techno raves, they all share the same aggression, anti establishment vibes and aim for freedom with us. So yes, you can say they had a bit of an influence.

DT: I want to very briefly mention the political situation in Israel. Its such a hotly debated and highly charged topic I would feel it was being ignored by not mentioning it. Its also true that people from outside Israel don't often get to hear/read directly what two young people who actually live within the country might feel about the situation. Do you feel the impact of the Israel/Palestine conflict in your lives on a daily basis, and in which ways does this impact affect you, emotionally and physically?

The conflict takes up a big part of our lives for as long as we can remember unfortunately, but we have to learn to live with it. We don't feel it on a daily basis as such though, Tel Aviv is like a bubble trapped inside the madness. Life here always continues as usual, though of course we feel it more in times of tension. Of course we're people of peace and against any kind of violence. But you really have to be optimistic to stay sane in this country.

DT: Back in 2015 Greg Beato remixed one of your tracks, for your second release out on Parallax: Lights Out. Your latest E.P. 'Further' has just been released on L.I.E.S. and you recently were invited to host a Rinse FM show on behalf of the L.I.E.S. crew. It would appear TV.Out has quite an ongoing relationship with the L.I.E.S. team. How did you meet them and do you have any projects planned for the future with them?

Ever since the early days of the "Later" parties we got hooked on L.I.E.S., the music and vibe of this label has influenced us greatly.

For our parties at Alphabet we always book artists we like and some of them are affiliated with L.I.E.S. Records, guys such as Marcos Cabral & Greg Beato for example. During Greg's time here we talked about our upcoming release on Parallax and asked him if he wanted to do a remix.

When Samo DJ was in town, we met him and we hung around together, we even jammed in the studio and made a track. Sam sent the track to Ron Morelli and also introduced us to him. Since then we've met Ron a few of times in person and stayed in touch. Last summer we sent him couple of tracks, he liked them and wanted to release the EP on L.I.E.S.

DT: If a Digital Tsunami reader were to visit Tel Aviv, where should they go? Please share with us a little bit about your favourite places in the city you call home.

A couple of places we suggest to visit, that we often go to personally would be:

- the Alphabet Club,
- Phi a vegan restaurant near the Alphabet,
- Hummus Hakerem,
- America Burger
- Falafel Tadmor.

None of the clubs here have a specific sound, each night of the week in the same club can sound different. If you want a DT type music (or any other specific sound) you need to look for the right DJ's for it, in-stead of a particular club.

DT: Can you let us know about any upcoming projects, gigs, records you have going on?

We have an upcoming EP on PARALLAX (number 9) soon and a couple of projects to be announced soon, so stay tuned!