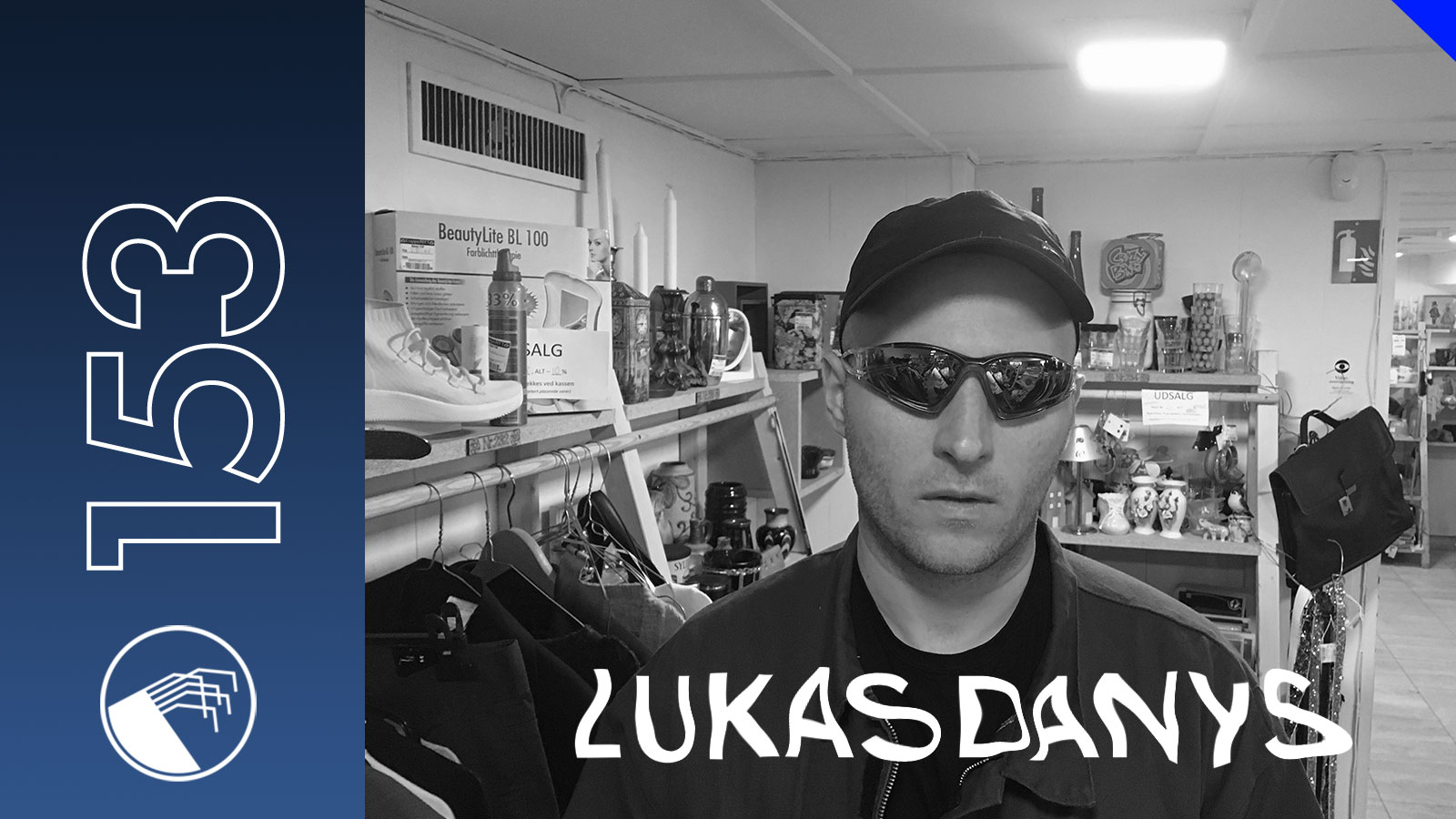 Tracklist:
01. Kelman Duran - Gravity Waves [DISPLAY / 2018]
02. Sugai Ken - 土獅峠 - Toshi Touge [YEREVAN TAPES / 2018]
03. Powell - The Bust [Diagonal / 2017]
04. YMO - Neue Tanz [Alfa ? / 1981]
05. Konsistent - jumanji [unreleased]
06. Cienfuegos- The Seventh Sister [L.I.E.S. / 2018]
07. Low Jack - Robert [Les Disques De La Bretagne / 2018]
08. Credit 00 - Jungle Hunt [Uncanny Valley / 2017]
09. Novo Line - Three Forces [Ecstatic / 2016]
10. Krikor Kouchian - Niños Matadores [L.I.E.S. / 2017]
11. Pyramid Club - Stay Behind [Unknown Precept / 2017]
12. Catriel - Nbdymksmefeellowlikeudo [Contort Yourself ? / 2018]
13. ZULI - X3 [Haunter Records ? / 2018]
14. LIEU NOIR - P.R.O.F.I.T ฿ [MIND Records / 2018]
15. towLie - Conan [dekmantel SELECTORS005 / 2018]
16. Hiroshima Chair - Tu [Dogfood Production System / 1981]
17. Mat Carter - Transmutation Complete [Varial Records ? / 2002]
18. Gel Set - Puercos [2MR / 2017]
Our latest podcast comes from Lukas Danys: 5 years ago he and some friends stumbled across some busted speakers left to rot in a dumpster they set-up Untitled Tricks and began hosting small scale illegal parties in Copenhagen's off-locations and many things have happened since. We had a small talk with Danys, asking him about Untitled Tricks, Copenhagen and what goes on there.

DT: Can you tell us something about how you got into DJing?

LD: Well, it was a slow process, I grew up in Kaunas and when I was around 14 I was into hip-hop, like "starter pack version" and later moving to more interesting stuff. I became aware of all the Lithuanian hip-hop DJs and everything that was happening in that scene. At that time I also began to write graffiti. Through graffiti I made friends with DJ Pol and Assassid and through these guys I got introduced to techno and experimental electronic stuff, that kind of kicked it all off.

I didn't actually start to DJ until about six years ago, I was living in Copenhagen and I started to buy records, stuff like T++, Shackleton and The Trilogy Tapes. From there I just started practising, I learned how to DJ with vinyl and then I moved to CDJs. At the time we started Untitled Tricks technically I didn't knew much. Most DJs learn their craft and don't leave their bedroom until they can perfectly beat-match, but for me it was kind of the opposite. I had records that I thought no one else was playing in Copenhagen at the time and I think that's why I felt secure playing in public so soon and I just went for it.

DT: You run a night called Untitled Tricks, can you tell us a bit about this?

LD: Well, basically we started out with four of us: Noia, Konsistent, Bell Riots and myself, now there's six of us because we've got Marius Onofrei and Lockroix. Back in 2013 we found this tunnel in Copenhagen, later we realised it had been used for parties before, but we just found it empty and dark. It's kind of a legendary place, in the middle of the town and surrounded by parks so there are no neighbours. My friend Kristijonas had recently found parts of a sound-system in a dumpster, some high-end speakers which had been thrown out. We checked them and they were quite expensive, so he fixed them up and we used them for our first party.
I don't think we knew exactly what we were doing, it was quite spontaneous: 'let's just do it and see what will happen' kind of attitude. We fixed the electricity supply, brought in our DIY sound-system and that's how Untitled Tricks started.

DT: Did the tunnel raves get busy and when did you start to take it further?

LD: Well, there weren't so many people at the tunnel raves, I would say we would get like max' eighty people, it wasn't that big. But whilst we were holding these little raves Bell Riots had worked at a club called Culture Box and he was in contact with the owner. After about four or five tunnel raves we were invited to do a night in the Culture Box, which at that time was the main techno club in Copenhagen. This was in 2013. It was good timing because the last tunnel rave had been stopped by undercover Police, they said if we carried on making illegal parties they would confiscate all our gear.

I think we only did 3 parties in the Culture Box, the first party was with Klaus Boss and Darmstadt DJs, the second party we booked Perseus Traxx and the third party Low Jack. Then we did a party at a club called KB18. After this we were homeless for a bit because there were no venues in Copenhagen which were suitable for us and the parties we wanted to throw.

In the end we found this space called the Projektrum NV in 2015, which was like a 30m2 space provided for people to use for creative projects. I went to their opening party and I just thought the place looked nice for what we did. Then I went down to a meeting, I was sitting in there in this small room with people introducing themselves outlining what they wanted to do, a workshop for kids or a philosophy reading night for e.g. and I was saying that I wanted create music events. Within two weeks we had soundproofed the walls, set up a nice sound-system and made a bar in a separate room. It was basically an illegal club. We did many nights there inviting DJs like Sacha Mambo, Jamie Tiller, JASSS, Bad Boy Baader and spAceLex to play in there.

At the same time we started doing nights with live acts at different locations in Copenhagen. We had Ñaka Ñaka, June and An-I(dj-set) at Mayhem and NGLY at Frederiks Bastion, also Parrish Smith and Maoupa Mazzocchetti at Drone. Drone was a sweaty rock bar with a small dance floor in the basement. I think most of local djs looked down at that place or at least didn't imagine parties happening there, but for us it was a perfect venue. After successful nights with Parrish Smith and Maoupa Mazzocchetti I started to work as a booker there and we had events with Morah, Alessandro Adriani, Ernestas Sadau, Scientific Dreamz of U and many others.

I think in general we try to hold parties in non-conventional spaces, where our aim is to push sounds that we think are under-represented in Copenhagen and for each of them we try to showcase some local artists as well. We also had many parties where we start with an empty space and then we rent a sound-system and do everything on our own. It was not like a club environment where you just come, play and then you leave.

DT: Its sounds like a lot of work though going through these processes, why not just use a standard club?

LD: When we started we were always running into problems trying to find a venue or space where we could host our parties. Also many conventional clubs didn't feel like the right thing for us and maybe we did not felt right for them, so that's why we moved away from established places to more off-locations and spaces. I think the music we play resonates better in these spaces, the music sounds better in these different environments. I think it's the vibe in general, the atmosphere that's created when you're not in a club where maybe 50% of the people came without knowing what's going on. When you choose a place which is 'off-location', where people have to make an effort to even get there, you know they've come for a reason.

I think people right now like 'off-places', where it's not a typical club environment. I think clubs, typical clubs, have been in a bit of a decline over the last few years. There is a venue called Et Andet Sted where we hold events at the moment. What's special about Et Andet Sted is that it's run by people who are ravers and it's made for ravers. Sometimes you have a club whose owner is never there or doesn't know what is happening and Et Andet Sted is made by people who actually do go out a lot and they're always there running their parties. It's also strictly no racism, no homophobia, no transphobia or sexism and this really helps the dancefloor. It's just people who come for the music and come to have a great night.
They started in an off-place but then they lost the location and moved to a conventional club in the centre of town but that didn't work out so well. now they're looking for something different again.

DT: How would you say the underground music scene is in Copenhagen right now?

LD: I think that right now Copenhagen has a lot of things to offer, since we have started things have changed a lot, many new promoters came and many things have happened. Right now Copenhagen has a lot to offer to anyone from very experimental stuff to really fast, banging techno. It's a really interesting place to be right now.

DT: Can you tell us about some local promoters and DJs you really enjoy?

LD: There are several local heros that we respect, there is Thomas Buhl-Wiggers who runs Cejero label.
Mikkel O. Brask who runs night in a club called Jolene, he invites really interesting guests. Then there is the Et Andet Sted of course, it's a club but they also function as promoters and they invite good artists like Intergalactic Gary and Mick Wills. There is a label called Petrola 80 who also promote experimental parties with different types of guests to the usual stuff. And we have Lost Lands festival and Proton, who do interesting concerts and host experimental live acts. I also try to go out to every event Klub2450/Discoteca Konkrét is doing.
I really admire a local DJ called Nixxon, his style is rather different from what I play, but I really appreciate what he does and the passion he has for Djing.
There is also HVAD, who performed with 4 turntables at our last event. He also runs a dubplate service in Copenhagen were he cuts his own dubplates. His live show are always intense.
I also think Troels Hass is doing a lot of good things for local scene with Percy Records store and events around it.

DT: Can you tell us a little bit about your DJing, do you try to create a certain atmosphere when you play for example?

LD: It depends on the party. I mean I'm sure I create a vibe when I'm DJing, but I don't know how to put it into words. When I hear a new track I instantly know if that track would fit the atmosphere I want to create or not, I like to play diverse sounds. There isn't one particular style or genre that I stick to, it could be anything from leftfield techno to EBM, acid or newer experimental music.

The starting point is always the music that interests and sounds interesting to me. It's also so I don't get bored whilst I'm DJing, variety and difference keeps me going. I think that's how my style developed, you want to be true to yourself and play what you like, and if you like many different things then you come to this style of playing.

The thing I like most about playing records is getting into the flow or the zone, where you're happy with the outcome and where everything flows well. I mean I like discovering new music and sharing it with people, but I think the main reason I DJ is because of that feeling.


Lukas will be playing DT CAMP this year, so you can catch him live doing his thing in a forest deep in Lithuania some time around August 12th.