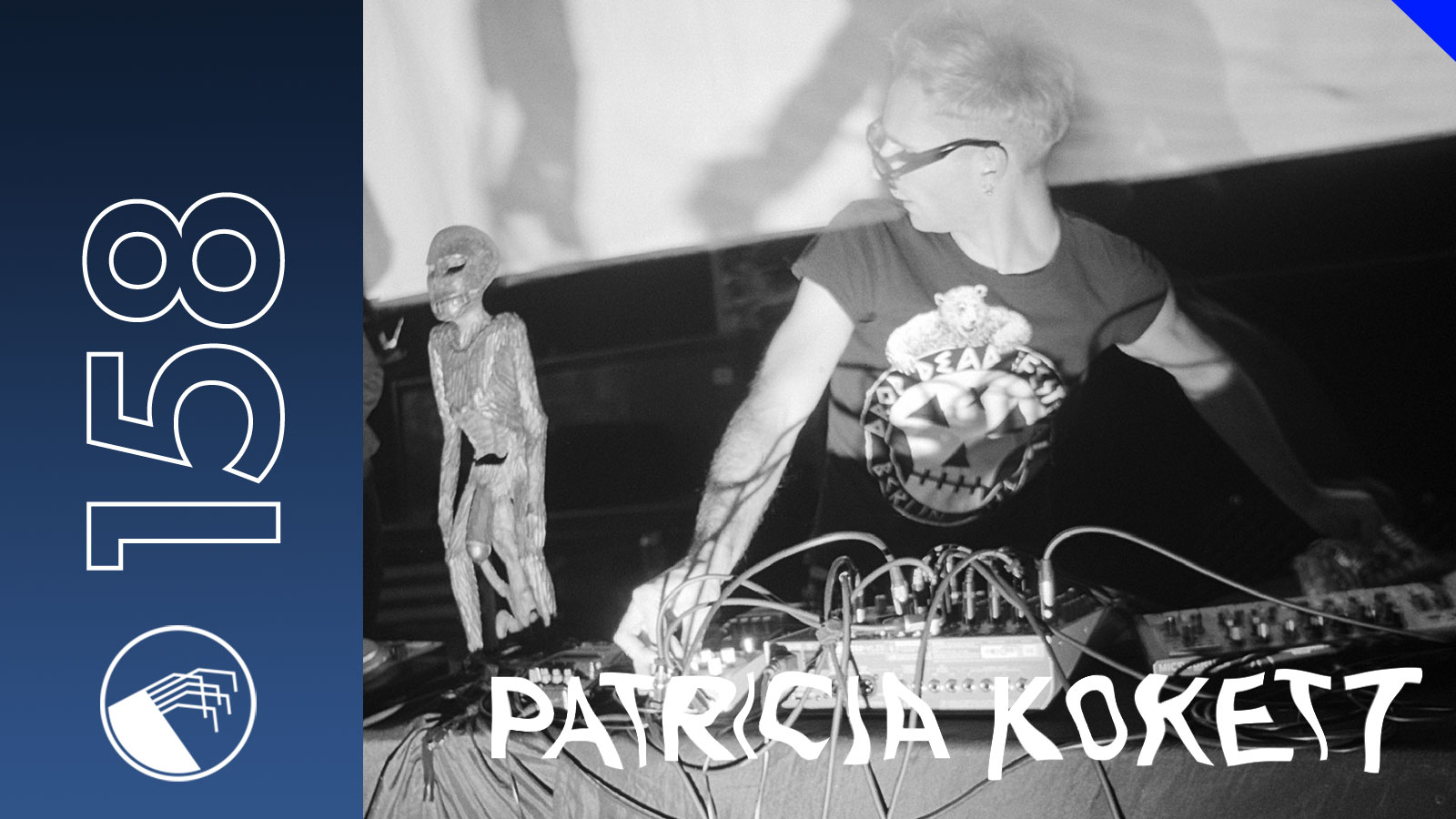 Tracklist:
01. Heavenly Music Corporation - Energy Portal (Silent, 1995)
02. Sleazy - Unpersuader (soisong.com, 2012)
03. Zaliva-D - Extinction (SVBKVLT, 2018)
04. Peder Mannerfelt - Xylophone At Lubero (Archives Intérieures, 2015)
05. Peter Gordon, Lawrence Weiner - Deutsche Angst (Les Disques Du Crépuscule, 1982)
06. Die Orangen - Mersey River (Malka Tuti, 2017)
07. Nurse With Wound - Two Golden Microphones (United Dairies, 1994)
08. Trust Unlimited - Trust (Good For You) (Instrumental) (Logic Records, 1989)
09. Coil - Protection (Eskaton, 1994)
10. Al Chem - No Hopper (Art Yard, 2017)
11. Goodiny & PCP - Black Sunraiz (Fulldozer Records/Nocharizma, 2005)
12. Mappa Mundi - Urbi Et Orbi (USA Import Music, 1990)
13. Khan & Walker - 22m 13600 - 13800 khz (Harvest, 1996)
14. Marie - Marterpfahl (Eine Welt, 2016)
15. Karl Biscuit - Aux Conns des Arrières-Mondes (Made To Measure, 1991)
16. Roter Rot - Get Away Dark Side (Schallter, 1981)
+ glitches, voices & field recordings by Patricia Kokett
Gediminas Jakubka creates art under the pseudonym Patricia Kokett, or maybe Kokett is performing life under the alias of Jakubka… The classically trained guitarist has been performing vivid assaults on the Lithuanian music scene for over a decade, gradually moving from electronically informed punk bands to the deep, hypnotic volt charged psychedelia of her current nom de guerre. We stole some time with the wildly creative musician to hear her views on his work, the European underground and the apocalyptic tendencies of cloud rap.

DT: Your first vinyl EP, 'Diabel' came out on Dutch label Knekelhuis in July this year, can you tell us the story of how your music came to be released on this label?

PK: I met Mark [Knekelhuis] at DT Camp, in 2017. I really enjoyed his DJ set and afterwards we had a chat and started communicating over the web. Mark had played some tracks from my first E.P. "Artefakt" on his monthly radio show on Red Light Radio. I had been fascinated by the Knekelhuis label and had bought most of their records. So yes, this friendship and mutual passion for the music evolved very organically. No rush, no hysteria, but total dedication and focus without bullshitting. I think these are qualities that connect well with Knekelhuis.

DT: You have been making music in a variety of forms for over a decade, being involved in various projects such as the band Cutthroats: creating vital stimulants for melancholiacs. Can you tell us a little bit about your various past creative endeavours before you realised Patricia Kokett?

PK: Well, Patricia Kokett was actually born about ten years ago, but back then she was just my secret bedroom studio endeavour. Some producer friends and I would meet and exchange tracks, it was mainly for fun and at that moment there was no specific direction.

Two of the more prominent bands I was involved with before Patricia began to take over were Flesh Flash and Cutthroats. With Flesh Flash we mixed electronix with electric guitar sequences. The band consisted of me rocking pentatonic guitar patterns and a good friend of mine: Dominykas performing with samplers.

The other output, Cutthroats happened later, around 2014 and this was way more extreme. I really do not have any idea under what kind of genre tag it could be placed. We used to call ourselves as post-industrialists by all means. Two very heavy riffing electric guitars and sample loaded drum pads set to no less than 140-160 bpms. We were real freaks, rehearsing for hours and hours, immersed in the studio for days. Paradoxically, we released only couple of videos and played some nice shows. That's kinda strange but also a lesson: working your ass off does not necessarily make you productive.

DT: Do you see a distinction between your previous live, guitar based work and your contemporary creative output or is it simply different means to express similar ideas?

PK: It definitely has different ideas. And step by step I am becoming a synthesizer freak, the six strings have been substituted for VCOs and sequencers. Although I do very clearly see my own evolution I really do not know where I could end up, maybe in gamelan orchestra playing the bonang or the bamboo flute, heh? Certainly I do appreciate this idea of development, new inspirations and personality changes etc. But one cannot transform radically, the core elements are written in the blood. So I guess my nature, the core character is the same, but expression, tools and observations are spreading wider. Nevertheless, being stuck somewhere for a long time is equal to death.

DT: Why do you choose to perform using a pseudonym? Does creating a character allow you to realise greater creative powers or to better channel particular expressive forms?

PK: Well yeah, as I stated Patricia Kokett is already with me for more than ten years. But yes, the pseudonym reflects my flamboyant, eccentric nature and I'm very attached to it. I remember in one interview William Bennett expressed this idea about being real: when and where, in every day's ordinary world or on stage performing? Gediminas or Patricia: which is the real one, haha?! I do fully agree with Mr. Bennett though, that the real me is on stage rather than the ordinary world, because on stage provides that moment of freedom when 'I' can truly break through. The moment the loud sound kicks in, it's just super orgasmic and the most pure experience.

DT: There's a highly rhythmic, droning and psychedelic quality that runs through the work you have available online, why do you think this is? What is it about these qualities you find attractive?

PK: I simply love rhythmic music. Through the ages and different cultures people have expressed so many actions through rhythm: ritual, warning, celebration, freaking out, sending messages etc. It's just so fundamental that I cannot avoid it. I do love dancing and I love the moment when everyone dances like there's no tomorrow. This marks a special moment, when people become a moving, unified, synchronized biomass. The psychedelic moments come from my personal interests and digging deep for stuff I guess. I'm always inspired by myths, African culture, Japanese yokai, Thai rituals etc. Of course the sound I create is just an interpretation and translation of the excitement I receive from these artistic forms. I think it's a new trance (whether it's reference to the genre or condition) and all the otherworldly voices are actually sung by imaginary performers within Kokett's ensemble. It's an extra pleasure when the music can be experienced as an intense club happening or alternatively as comfy home listening.

DT: Are there any particular artists, movements or philosophies that inform and inspire your current work?

PK: Generally speaking, Coil is the most inspirational source for me, musically, philosophically and artistically. Jhonn and Sleazy were the brightest personas in this dark age of love. The key thing that I get from them is really simple: staying true to myself creatively. By this I mean, not avoiding or blurring imperfections or adopting a particular sound to receive more privilege or attention. Sincerity is the most beautiful thing and I hope to keep it this way.

DT: The current European underground, at least in certain sectors, is quite fearless in its approach to the avant-garde, drawing influence from a wide array of chronological points, geographical localities and musical forms. If you agree with this evaluation, do you have any particular opinion on why this might be?

PK: Yeah, I think these are the golden times for the underground. Europe is filled with music enthusiasts and if you're doing your thing sincerely no matter what then you will always have like-minded people around you to support you. I'm so happy about the platforms we have available now, especially the fact that we can connect with other artists and listeners worldwide. All these "borders" that were apparent in 1980s or '90s are non existent now. The same thing is happening with regards to this "fearless approach", there's a total freedom of artistic expression. Everything is merged and you can do whatever you want and get your record released. If you do not want your record to be released by someone else you can easily do it yourself. Those private presses from the 1980s cost a fortune, but the current underground offers a wealth of private presses.

DT: If we were to arrive in Vilnius on a rainy autumn Friday afternoon with no intention of sleeping until at least Saturday night, which places would you take us to show us an interesting time?

PK: Haha, well now it's getting rainy and will be getting even more so, so that's the best time for non-sleeping. I'd certainly invite you to one of our Isla parties, we're hosting them in a very underground punk place called XI 20. Its not exactly the venue you might normally visit to hear electronic sounds, however you would definitely freak out with our super diverse electronix! For sure the Opium and Kablys club residents are inviting some high quality artists to perform too. Of course Digital Tsunami's events are also worth visiting, bringing the actual electric wizards to Lithuania. But first, I would take you to some extreme, posh semi-strip escort gentlemen's club, just for the sake of anthropological research! If they let us in of course :)

DT: You have a paragraph to tell us about an artist from Lithuania we should absolutely be paying attention to and why. Go!

PK: Okay, that would be Sa-Sa. A band active in 80s, early 90s. A very ironic, nihilistic punk band, some call them the first Lithuanian punks. I was born in '87 and do not remember anything from that time, but I feel that their sound and lyrics capture the atmosphere and dangers of that period. Sound and lyric wise they're quite freaky and I love the rawness of their approach.

DT: If you had to soundtrack the end of the world, what music would you choose?

PK: I'd certainly choose this Xanax and fentanyl inspired cloud rap. No east, no west, just chemical relief.

Eind.