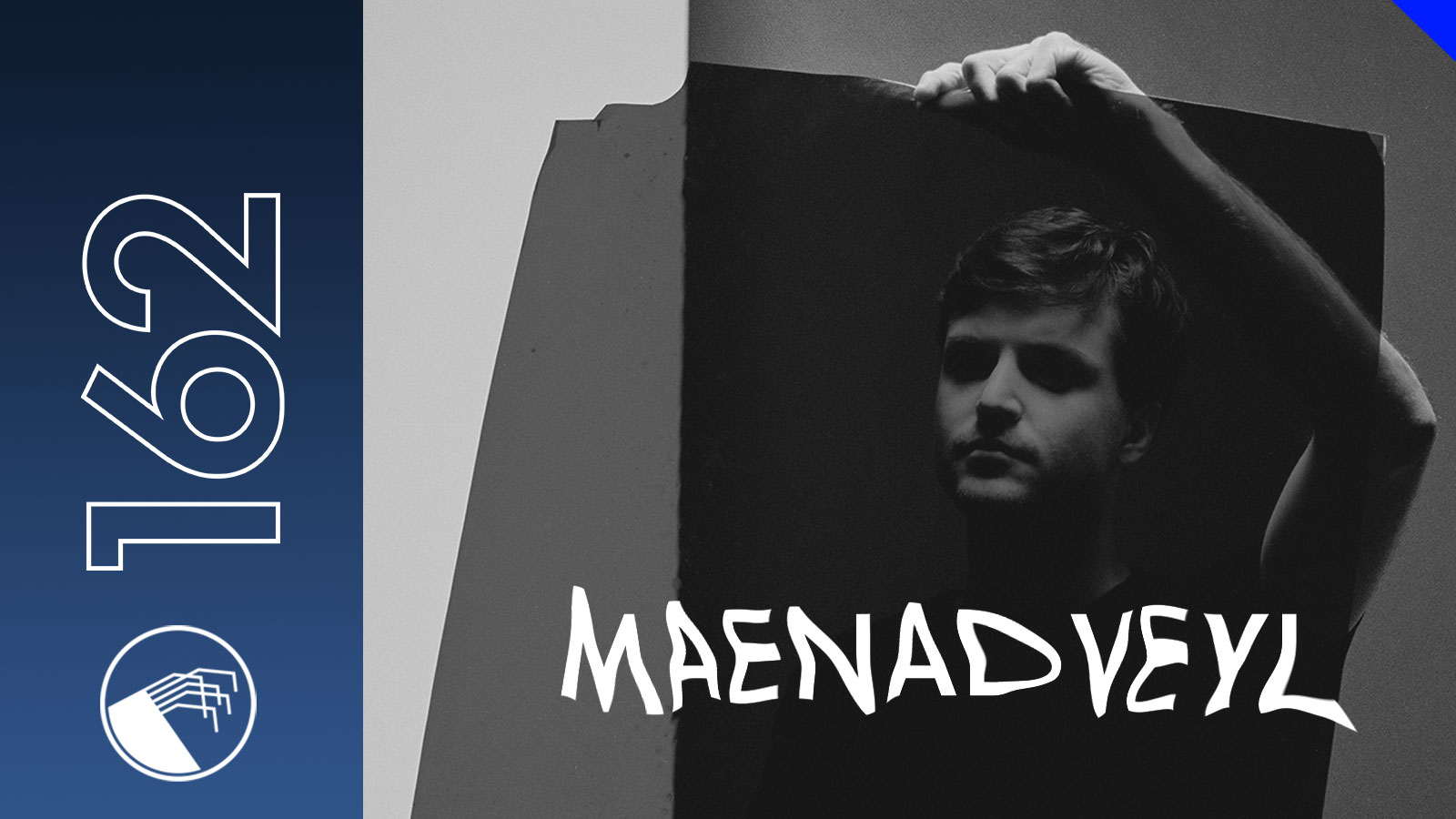 Our latest podcast comes from Italy's Maenad Veyl. Something of a long term operatorMaenad Veyl has seen releases under the Avatism alias on labels such as Vakant, Dumb Unit & Boddika's Non-Plus. Shedding skin to grow again Maenad Veyl reveals new sounds unfurling in the dark. We took some time to speak about this new project and uncover some previous experiments in sound and space.

DT: You have created and released music for over a decade under a variety of guises. Why did you decide to start releasing music as Maenad Veyl? Was it a conscious choice to engage in a new style and re-brand yourself, or were you evolving as an artist and decided you needed a new persona to reflect this development?

MV: I'm a firm believer in fresh starts. It's always a little bit scary but they give room to improvement and experimentation. I breathe music daily and things can get tiresome when you're always stuck on one concept. Different aliases are a way to express something with less prejudice for both myself and the listeners.
Maenad Veyl started as some kind of inside joke. At some point I had something like 40 demos under the alias, which is when I decided I should either take it more seriously or become a full-time clown.

DT: Your first release as Maened Veyl was on Pinkman Broken Dreams, titled 'Somehow, Somewhere They Have Heard This Before' in January 2018. Why did you decide to give your first release such a tile?

MV: That title started having a new meaning when people began recognizing the music was by me, despite the name. I guess I like that more than any faux-mysterious occultist bullshit I had originally come up with.

DT: You run VEYL, a record label with Alex Knoblauch (Watergate/VAKANT). The label's first release in 2018 was your E.P. 'The Acceptance ov Not Knowing'. Why did you decide to start this label and what do you see as its purpose?

MV: It sounds a bit pretentious, but after 10 or so records in your career where nothing was exactly as intended, wrong or delayed an OCD-riddled control freak like me starts thinking "maybe I should have done this myself...."
Alex and I had the idea to start the label alongside Maenad Veyl simply because I had so much music. We had already worked together on some projects on Vakant and on most of Parachute so it just made sense. Over the years we've built a solid network of friends and collaborators and it just kind of fell into place naturally.

DT: You have been engaged with the music industry on multiple levels for over ten years. Considering underground electronic music over the previous decade its possible to trace a movement from the smoother narcolectic minimal sounds of the 00s to the more abrasive punk and industrial informed nihilism of today. If you share this view, do you have an opinion on why the underground has developed in the way it has?

MV: Whenever there is a cultural movement, there's always some opposing force against it. I'm not sure if this is due to lack of time, budget or equipment or if it was always done purposefully but the music that sprouts from this "resistance" has always been minimal at heart. The current resurgence of industrial, "EBM-influenced" electronics appears to be another form of what has happened a million times before with punk, heavy metal, the original industrial wave, jungle, the narcoleptic minimal you mention and so on. The music can be loud and overwhelming, but most of the ideas are quite simple to begin with.

To some extent this return to brutalism is happening universally nowadays and it's affecting designers and musicians alike: it's one of the most exciting things to happen in years. I think simplicity connects with a broader audience and conveys a message well. Whether this will leave a mark like punk music did some decades back will be interesting to see, but the lines dividing the mainstream from the rest have been blurring and it can get very confusing for a 31-year old fool like me.

DT: You've created a darkly beautiful podcast for us, spanning a range of styles and emotions. Can you tell us a bit about the mix and your ideas behind it?

MV: I don't DJ (I've been performing live for 7 plus years now) but my favourite thing to do after listening to music is sharing it. I also don't indulge into too much techno, new wave EBM or industrial at home so I don't know all the latest and greatest. With that said, this is an insight into my favourite gnarly tunes at the time of the recording, summer 2018.

DT: Oliver Ho could perhaps be said to be approaching mythical status within certain realms of dance music culture. Your second E.P. was a split with Years of Denial on Ho's Death & Leisure. How did it feel to have your music recognised and released by such a respected artist?

MV: I was very honoured to contribute to Death & Leisure. As you mentioned he's a bit of legend and I've always looked up to him. He's also a friend and a great person all-around and one of the first people to hear the Maenad Veyl material. He's gone through many projects and directions and I found his opinion very important in determining where to take my own music.

DT: Which producers do you look up to, past or present and why?

MV: I'm going to avoid mentioning the super obvious ones (has anyone heard of Aphex Twin?) but off the top of my head:
Justin Vernon: a production genius, everything he does sounds so fresh. I don't even like his music _that_ much but I just love all the techniques he comes up with.
SOPHIE: some of the fattest music in existence. I wish I knew how to make my synths sound like bubblegum.
Peder Mannerfelt: sick, intelligent dance music with a lot of humor. I love his self-aware weirdness.
Tzusing: master at placing completely unrelated ideas within the same context and making it sound like it was obvious all along.

DT: You also run the label Parachute Records with Francesco Leali & DJ Tennis. Checking the label's releases its possible to hear a range of left-field styles from trap (Poorgrrrl) to garage rock (Starfuckers) to experimental techno (Go Hiyama/South London Ordnance). What do you see as the unifying themes holding this diverse discography together?

MV: Well, we actually put Parachute on hold at the end of last year, without any announcement.
Most of the problems we had with Parachute were down to completely alienating and confusing our fan-base with every release. Each one would be in its own little world and it was a shitload of work to try to get people to understand what we were doing.
The only rule was that it had to sound fresh and uhm, amazing to us? Which, now that I think about it, might be a bit too broad of a scope...

I eventually started Maenad Veyl, the new label and got deeper in my engineering work; Manfredi became a superstar as DJ Tennis and Francesco moved on to focus on advertisements so we didn't have enough time to run a time-intensive project like Parachute anymore.

DT: You have a solid back catalogue spread over various aliases through an extended period of time. What do you see as the forces driving you to create?

MV: At the risk of sounding cheesy, it all really comes down to the fact I just love making music. If I'm not travelling I'm working on something almost every single day. Alongside the aforementioned projects, I also run a sound design studio and collaborate with a lot of artists, some filmmakers and brands. I think the key is in keeping things moving so nothing really bores me anymore.

DT: What's next up for Maenad Veyl?

MV: I'm very excited about the next things on Veyl, which include French trio Empire State's outstanding 'B.R.U.' EP, Volume II of our 'Previously Undisclosed Rituals' compilation and my first album as Maenad Veyl. I also have an EP on Bedouin, one of my favourite imprints, which should materialize sometime this year. I had the pleasure of engineering Vaal's just-released 'Nosferatu' which is getting rave reviews from everyone so I recommend checking that out for something a bit different as well.

Thanks!