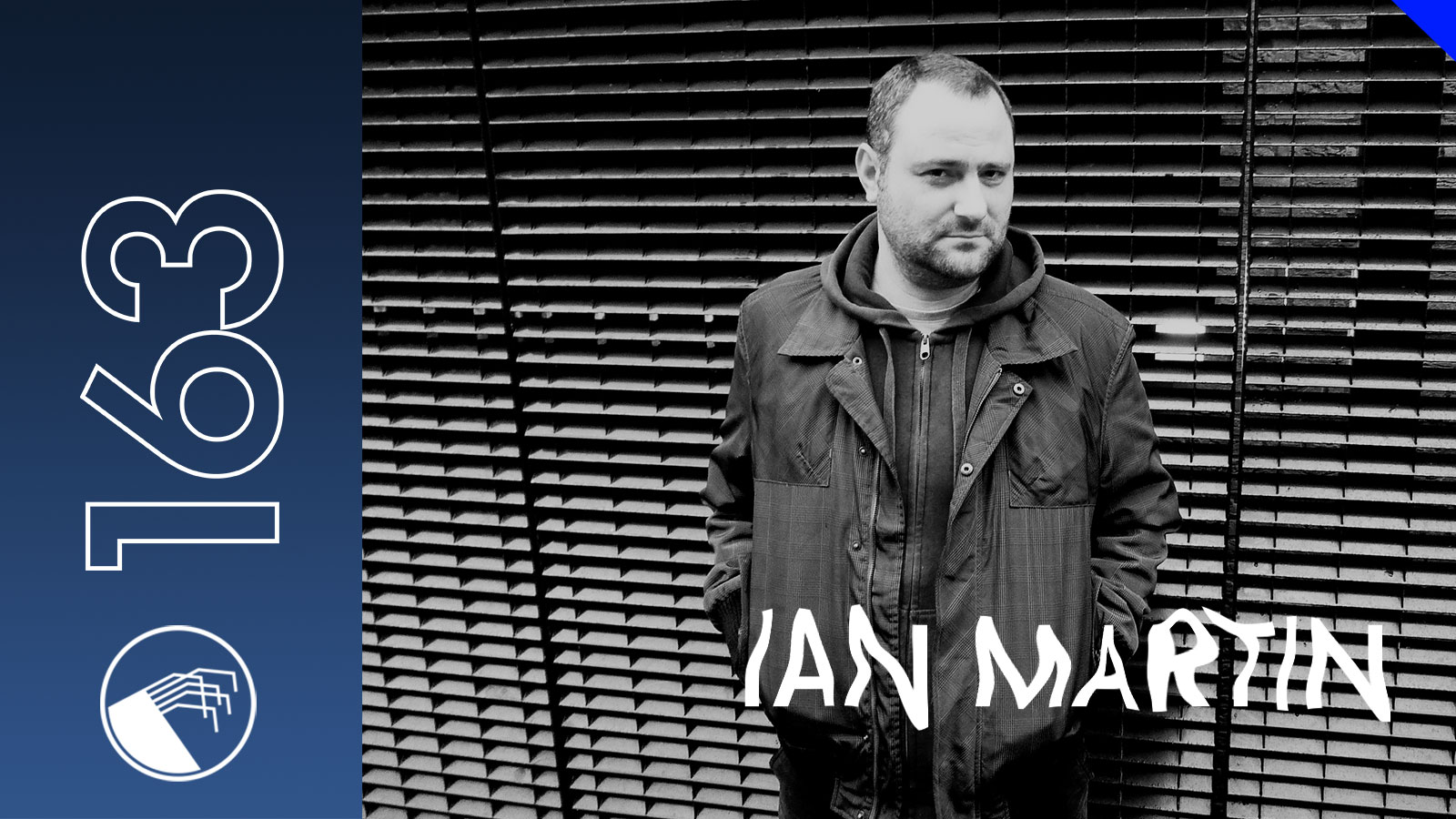 Tracklist:
01.Ultradyne - Lardossen Search Squad [Pi Gao Movement / 2004]
02. Unit Moebius - Untitled [SD / ????]
03. DJ Hyperactive - In Between [Drop Bass Network / 1994]
04. Unbalance - Thunderbird [Unbalance / 2016]
05. Electronome - Untitled [Interr-Ference Communications / 1995]
06. Voice Stealer - Acrobat [Subvert / 1998]
07. Thanos Hana - YY [TH Tar Hallow / 2017]
08. Transits of Tone - The Computer [Panic Trax / 1995]
09. Gescom - Phonok [Skam / 2001]
10. Jungian Archetype - The Lost Contact [Reference Analog Audio / 1995]
11.The Operator - Commander Bomber [Djax-Up Beats / 1999]
12.Ultradyne - The Art of Noise [Pi Gao Movement / 2000]
13. Creepy Autograph - Chill for your Neck [Valentine Connexion / 2008]
14. Damcase - Untitled [Bunker / 2016]
15. Nagual - Poweroid Emission [Highland Beats / 1998]
16. Unit Moebius - Live At The Muzenstraat [Acid Planet / 1996]
17. Ian Martin - Mechanic Paranoia [Full Dose / 2016]
Ian Martin has been running the radio show SEER on Intergalactic FM and releasing records since 2009. Always showcasing his appreciation for esoteric sound, the DJ and producer from Rotterdam comes up next on the DT podcast with a heavy, electro-laced mix titled "Dystopia". Alongside is a brief Q&A with Ian himself.

DT: Your location is commonly listed as Netherlands / France alongside your name. Where are you situated currently?

IM: In my young life I lived in France, when I was 5 years old we moved to The Netherlands. I grew up in the south east of Holland and moved to Rotterdam in 2003, this is where I still live now.

DT: Obviously you are no stranger to constructing mixes and DJ sets. Do you consider each piece a unique work of its own or does it boil down to picking your favorite tracks for the time being?

IM: All my published mixes, podcasts and radio shows are unique pieces. I have an obsession to never use a track twice for another mix, so each mix I create is completely new with new tracks. Only when I DJ in clubs or bars I have my own classics.

DT: Your remarkable works are too many to name - releases on most prominent international labels, Pinkman, Enfant Terrible, a split 7" with Das Ding, mixes for Red Light Radio, Phormix, your own show and many many others. Anything that you are most particularly proud of?

IM: I'm proud of most tracks I've released, I don't have a favorite track. My music moves between darkness, sadness, and beauty with a base in ambient, drone, electro, techno and minimal wave.

DT: Each scene has its own complex inner workings. Rotterdam, where you've been established, is an especially remarkable example of a boiling pot of artists, DJs and record labels. Would you consider the scene competitive there or, conversely, easy to collaborate and blend into? What labels, locals or parties would you specifically give praise to?

IM: My experience with the scene in Rotterdam is that it is very competitive and vibrant. Most gigs I play are outside Rotterdam. I had / have great experiences working with Paul Du Lac (Bio Rhythm), we are also "The Leaders of the Wild Hunt"; also Patrick Marsman (Pinkman) and Danny Bosten, a.k.a. Das Ding (Tear Apart Tapes). For a good night out I'd recommend Pink Pank, a unique occasional club in the city centre.

DT: Today, SEER radio could be described as an eminent experimental music radio show with a dedicated group of artists surrounding it. What was it like and what was the philosophy behind it in its inception back in 2009?

IM: In 2008 I was fed up with "dance" music. At that time I found more depth in experimental, ambient, soundtracks and listening music. From colorful to dark sounding. Most of my fellow SEER DJs are serious collectors of exotic music and this makes each show a collection of obscure and rare tracks. My number one goal with SEER is to let people hear the finest music I can find. It is definitely true that the group of DJs who contribute to SEER is very dedicated, most of them have made shows since the beginning or were already involved with Intergalactic FM.

DT: Was it a steadfast, cutthroat, difficult journey to become an established producer and DJ, or did it all come together on its own, just doing your own thing?

IM: No, it didn't come together on its own, I have worked hard for it and still am. To be honest, I don't feel established at all. Of course, when you look at how many albums I have produced and how many labels have put their faith in me, you might say I'm established, but for me this is still the beginning, there is much more to come.

DT: The type of sound that you yourself have described as "kaleidoscopic" has seemingly come to prominence in recent years, sometimes called "slow trance" with ethereal synthesizers and exotic-sounding rhythms, yet in your own productions it has obviously always been there from the beginning. Have you noticed an upsurge or a trend of your kind of music being played more often?

IM: The SEER genre "kaleidoscopic" has indeed become a style, I have noticed that too. It fits radio very well. It's a multi-genre listening experience. I see it as a compliment that you hear this same kaleidoscopic sound in my own productions. It is true that I also produce multi-genre music and mixes.

DT: You are also no stranger to a more aggressive or industrial-influenced type of sound, as made evident by your recent releases on the New York Haunted label, your remix of Drvg Cvltvre's "Death to False Life" and other works. What influences the change of moods?

IM: When I started making music around 2006, I didn't have a clue how electronic music was made. And I'm also terrible with computers. So, what I could do was just record what I played with my synthesizers and then multitrack the recording. It resulted in my hybrid ambient sounds. Three years ago, I started making dance music with dark and emotional content. In general, my music is never aggressive but more mysterious, in the shadows, my music is about the tension before it explodes. For New York Haunted I wanted to push my limits. As a club DJ I tend to go towards the classic Bunker / Acid Planet sound. Just like life, music is an expression, a scale of different emotions to me: love, unheimlich feelings, sweet sorrows, melancholy and anger can often be heard in my productions. And paranoia, of course. My music is not autobiographic, it is all fantasy.

DT: You are definitely well-versed in synthesizers and gear, but also accepting of other, digital types of production, as you have described yourself. Is there any remarkable difference in working with hardware vs. software for you?

IM: I use Cubase for recording, processing audio and arranging music. I don't have any plugins. I work with synthesizers mostly from the 80s and 2 sequencers.
The only thing that counts is the track an artist produces. It has nothing to do with gear, just creativity.

DT: Does your passion for music ever decrease, or can we keep expecting more output from you for years to come?

IM: It feels as if I'm still at the beginning of it all. My focus now is on producing electronic dance music. Working on a couple of 12" records for different labels. Also there will be a third Kaval release (with Roberto Auser) sooner or later. An experimental project for Enfant Terrible. So yes, more is still to come. This is what I do and know, this is what I live for.