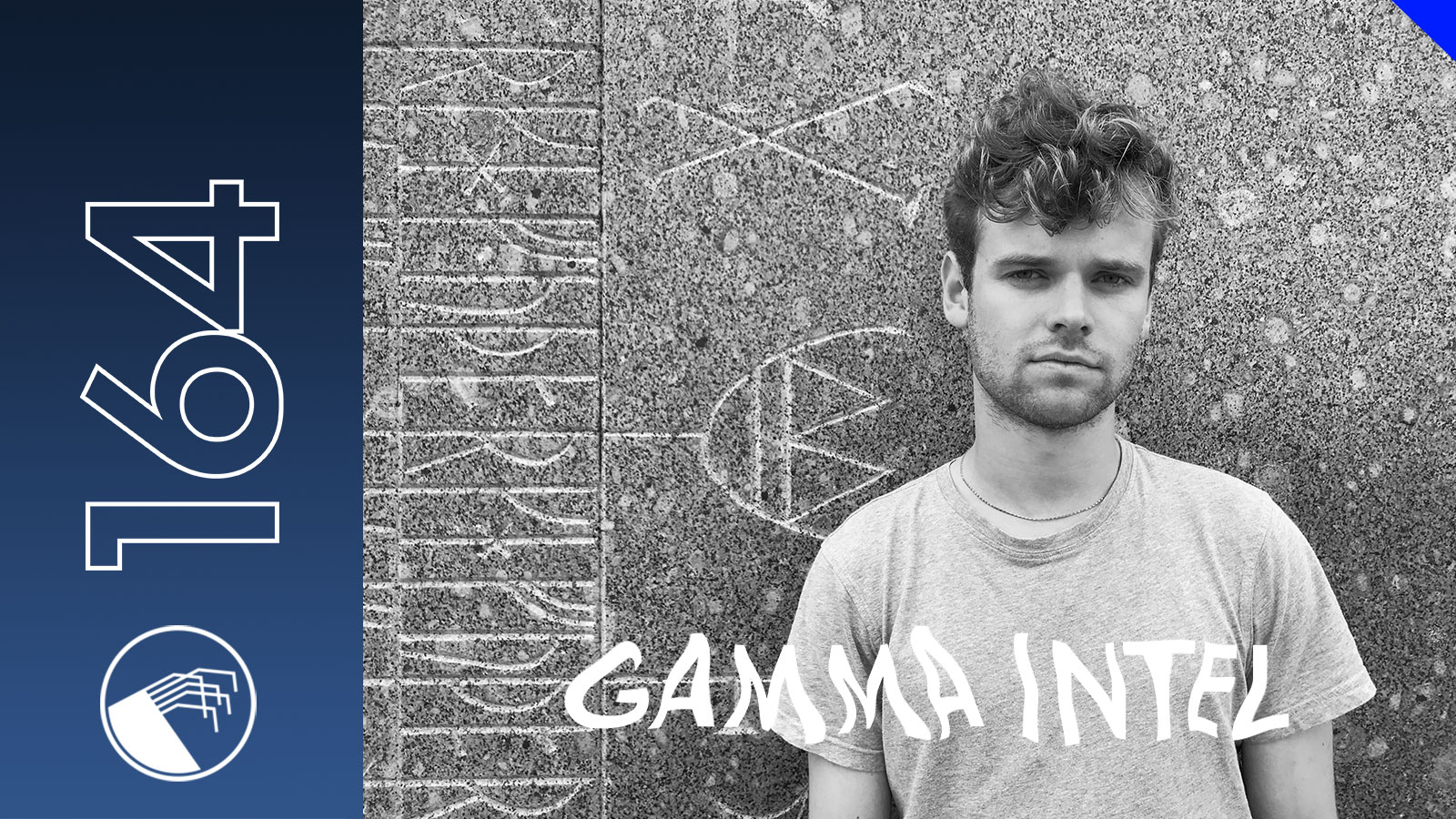 Tracklist:
01. Komodo Kolektif - Night of the Leyak [Invisible Inc.]
02. Gamma Intel - ???
03. Time Modem - Zvyozdny [BOY Records]
04. Gaudi - Testa - Bass Instinct [em:t]
05. Portion Control - Susano [portion-control.net]
06. A Strange Wedding - Cosmic Bastringue [Worst]
07. Sascha Funke - Lotos Land [Endless Flight]
08. Zaliva D - True Ancient [self-released]
09. Hybryds - Envy [Spectre]
10. Identified Patient - The glance of her [Pinkman]
11. Eat Static - Abnormal Inference [Planet Dog]
12. Tackhead - Mind at the End of the Tether [On-U-Sound]
13. Patenbrigade: Wolff - Aussetzbetrieb [Zillo]
14. Low Jack - Like it Soft [In Paradisum]
15. Laurent Garnier - Crispy Bacon (Aux 88 remix) [F Communications]
16. Photonz - Hospital Acid [Dark Entries]
17. Elemental Space - I Called You (Roughage remix) [Time Unlimited]
18. Bleep - The Launchpad (Asteroid Flyby Mix) [SSR Records]
19. Gamma Intel - The View From Here [Pinkman]
20. Devilfish - Elektromagnetique [Bush]
21. Plastikman - Outbak [NovaMute]
22. Full Circle - Wicked Time [Crowdspacer]
23. Fluke - Tosh (Mosh) [Circa]
24. Schicksal - 24 Hours [Subway]
25. Fringe Society - 24 [Wrong Era]
26. Decent International - Rentboy [Decent International]
27. Mr TC - The Storm [Neubau]
28. Harmonious Thelonious - Ayranman [Disk]
29. Sanfuentes - Square Waves over America [Sanfuentes Records]
30. The Checkists - Global (Remix) [Sub Terranean]
31. Tzusing - ???????? [Bedouin]
32. Air Liquide - Theme from Robot Wars [Sm:)e Communications]
33. Yaleesa Hall - Zoe Price [Will & Ink]
34. Ganzheit - Traitor! [Ediesta Records]
Within a week from his latest release on Pinkman, Gamma Intel seems to radiate great potential and isn't one to rest as he steps up for the Digital Tsunami podcast. The hard-hitting producer, DJ and Operator radio resident shares some insights into the beginnings of his work, his personal "motives and methods" and future expectations in an interview accompanying his latest mix.

DT: It's the end of 2017 and your debut EP, Drama In Decay, comes out on Brokntoys. Cue being charted by distinguished DJs, swiftly rising up in the Netherlands scene and being booked internationally. Going back to the beginning, what was the course leading up to your explosive debut? Have you been producing music for a long time?

GI: I'm pretty much a cliché story in that sense. I started to enjoy trance at the age of 13, and house music at the age of 14. For some reason the adventurous sound of it grabbed my attention and I thought it would be cool to make these sounds myself as well. I started to explore the software environment of music production, but never really could achieve a sound that I was satisfied with since I didn't know what I was doing and everything just sounded like shit. Although I never really got tired of producing or watching tutorials about sound design as I found it fascinating how producers would make certain sounds, I kept doing it almost on a daily basis throughout high school. I did not have the self-confidence to send stuff to labels, so I was surprised when late 2016 I got noticed by brokntoys. It was an honor for me to do my first release on a well-respected label, especially since I was (and still am) a big fan of electro at that time. Of course I am super happy that it got received very well and was played by many of my personal favorite DJ's. By that time Pinkman, which I had been following since 2014, also showed interest, so it was only a logical step for me to release my second EP there.

DT: Being branded as a "newcomer" may often be annoying and counter-productive, but it's unavoidable to admit that you are a fresh, exciting and up-and-coming personality in music. Do you face any challenges being a DJ, performing or working in the scene in regards to your age or implied "lack of experience"?

GI: Not really to be honest. I think being branded, in the sense of being recognized for what I was doing, even motivated me to continue following my passion for music. The most challenging part about lacking experience I think is not knowing what kind of sound I wanted to represent. Developing a certain sound that would be my own is something I always found very difficult, and of course having a lot of experience makes it easier to pin down what you want to sound like.

DT: Both your EPs – the aforementioned Brokntoys release and the recently revealed Motives & Methods EP on Pinkman – already exhibit a refined and unique sound, a remarkable blend of body music basslines and threatening electro rhythms. Was it the booming Rotterdam scene that shaped your music or was it outward influences?

GI: I was living in Berlin when I was producing for Brokntoys, hence the slightly more industrial sound on that EP (I guess). I moved to Rotterdam in the end of 2017, where I started to work on music for Pinkman. If I listen back to both EPs I definitely feel that I was influenced by my surrounding at that time, although it was not the case that I was aware of this while I was working on the music.

DT: Speaking further on your style of sound, the subgenre of music that can be described as Pinkman-esque seems to reign champion in dancefloors all over the world, and you are no stranger to it. From the start it seemed inevitable that you would end up being released on the eminent label as well. In your opinion, why has this style captivated so many and how does the phenomenon of Pinkman speak to you personally?

GI: Pinkman has been one of my favorite labels since I discovered it in 2015 and I still think their output is very on point. Knowing him personally, Marsman has a good ear for music that works well in clubs. I think the power of Pinkman comes from the diverse range of club orientated sounds that appear on the label, offering a platform for both established artists as well as young talent.

DT: What other labels or artists do you particularly enjoy, tend to highlight on your Operator shows, or would like to collaborate with in the future?

GI: I like slow beats so often I play that on radio. I tend to switch around between different styles a lot lately, so from the other end of the musical spectrum I really like 90s trance/techno on labels like Le Petit Prince or R&S, Harthouse stuff, slowed down or not, and I have a weakness for the West Coast Sound of Holland that is Bunker, Viewlexx, Creme Organization and all that is Intergalactic FM.

DT: In October of 2018 your visit to Kaunas, Lithuania was your first international gig. Was there anything strikingly different about performing to a crowd thousands of miles away from home? After some other stints abroad, how would you compare the dancefloors in the Netherlands and everywhere else?

Not too different, in my opinion. Playing so far away from home is, of course, more exciting compared to a gig on familiar terrain, but not less fun.

DT: Being both a producer and a DJ often go hand in hand in the scene of today, but indeed they are two different worlds from an artistic standpoint. What are your feelings on hearing your hit tracks being constantly played or showcased by other famous DJs, as opposed to being the one behind the decks and playing your own selections?

GI: Hearing my own tracks being played by artists that I love is really cool, of course. There aren't many things that I find more rewarding than seeing people dance to something that I put all my creativity and passion into. I like to play my own (unreleased) tracks every once in a while to put them to the test but not too many.

DT: You seem to have already mastered the production of those cutting synthesizers and banging percussion on your tracks, perhaps coming from a hardware set-up. Would you shed some light on your producing methods?

GI: I used to work, and still work pretty much in the box. I would sample from cheap grooveboxes like the MC303 or the RM1X and pass them on to Ableton to process these sounds. Since about a year ago I started to collect some hardware and recently moved into a shared studio with some friends where we put all our synths in one room. This means there are enough synths to work with, although I often find myself only jamming with only a few, and often going straight back into my comfort zone (Ableton). Now, I use the Elektron Octatrack and one mono synth for leads or bass, combined with software stuff.

DT: Do you have any thoughts on doing live performances or would you rather stick to DJing?

GI: I definitely thought about doing a live set one day, although not any time soon. For now, I would like to stick to DJing.

DT: As your newest record is up for release, what are the next dreams, goals or tasks in music that you will be focusing on?

GI: There is another release planned this year, and maybe even two if I manage, so lots of studio time ahead. Also some really fun gigs ahead in the next few months so looking forward to that.