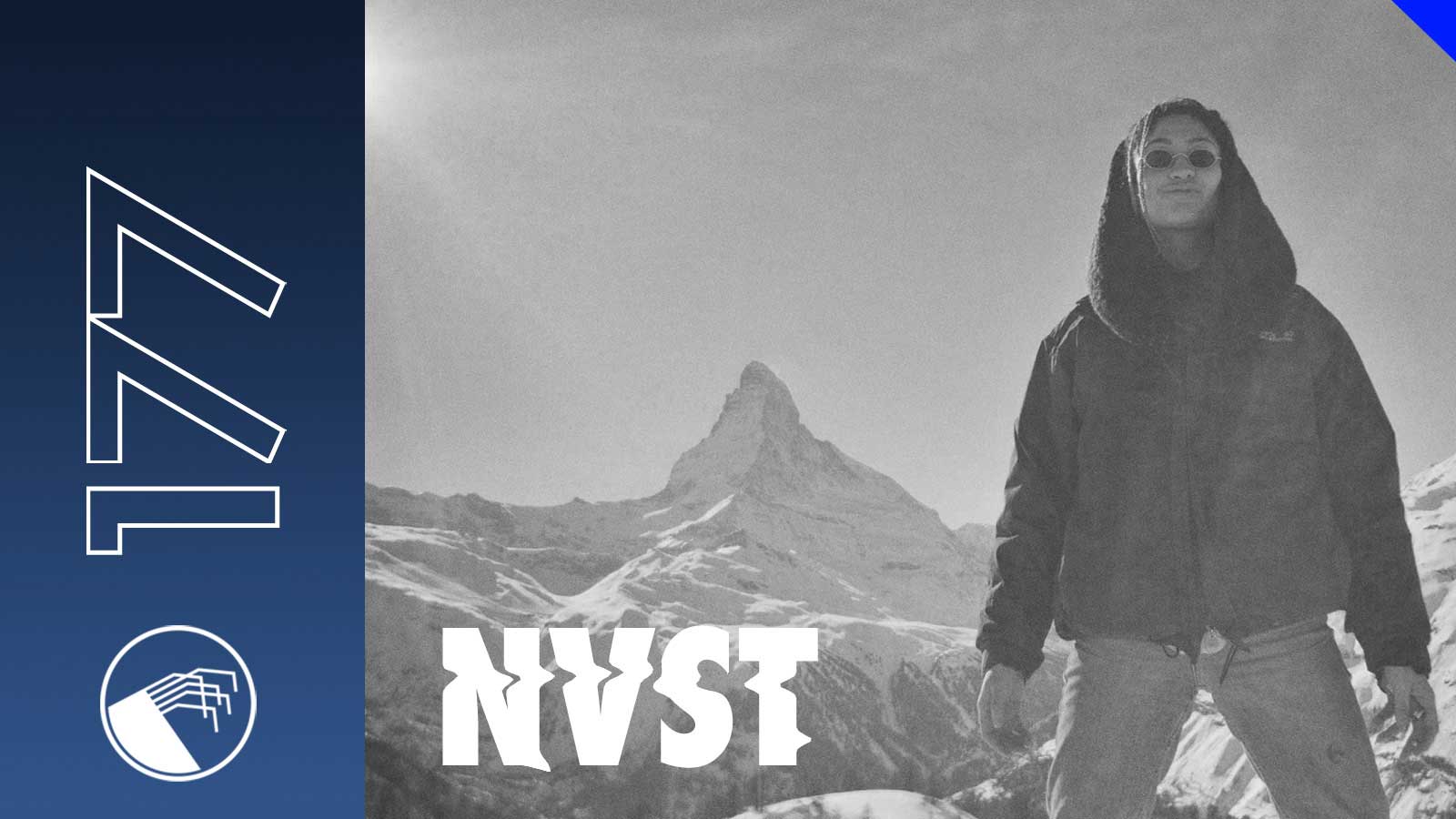 Tracklist:
01. ornosect - Media Termination ( Soleilmoon Recordings / 1990)
02. Ryoji Ikeda - Channel X: Radiorange (Raster-Noton / 2008)
03. Mars89 - End Of The Death (Bokeh Versions / 2018)
04. RLGN - JCA (NOSERVICE / 2020)
05. Drum Machine - Electro ( Dusky Adriatic / 2020)
06. Blake - &Droids &FX (Digital Distortions / 2019)
07. Renart - Wizardos 2K219 E619 (Vernacular Records / 2019)
08. bela - ?? Black Tortoise (FunctionLab / 2019)
09. Blackmass Plastics - Silicon Based Life ( Digital Distortions / 2016)
10. Terrestrial Access Network - Multimode (Dionysian Mysteries / 2019)
11. Torai - Fr34k ( Lunar Orbiter Program / 2020)
12. Kamus & PinballSpider - Marz Stomp ( Kamus & PinballSpider / 2019 )
13. MCR-T - Stxxpid Dumb ( Live From Earth Klub / 2019 )
14. dokter doggo - fi-x-ation ( play labs / 2016 )
15. LCY - L ( SZNS7N / 2020)
16. ENA -Wired ( JASS remix) (Arma Moscow / 2020)
Whilst we love speaking to and featuring the work of established artists, nothing quite beats the thrill of introducing new players who are doing it right with verve and passion. Enter stage left NVST, AKA Pablo Brutalo, a relatively new player on the Swiss scene. NVST has been DJing for several years and has already gone on to release a tape of her music, along with promoting various parties in her home country. We've been gifted with a podcast ripe and exploding with battered breaks and sleazy acid, fulfilling our deepest auditory and kinetic desires. We took a little time to speak to NVST about her background, the various projects she's involved in and the creative results of running around Lithuanian forests for a weekend.

DT: What's your story? Where are you from and how did you end up playing music for freaks in basements?

NVST: It's because I'm such a freak too haha. I was born and raised on the French side of Switzerland. I spent the first seventeen years of my life mostly with horses and then I thought it was time to give humans a try. I never felt so good surrounded by all that mega capitalistic society, I just wanted to break free from all those established clubs' models and conservative rules. I didn't really feel that I belonged.

I still remember perfectly the first time I went to an illegal party in Geneva organized by WF, a super active crew from that time. I felt so fucking free. That moment when I realized: we're all dancing here against the rules. A party where everyone is welcome, where nobody cares who you are, what you do. Where partying is not an elitist show. It was a revolution for me. My first sonic riot.

At this point, the idea of "creating my own musical resistance" started to speak to me. I fell deeply in love with the culture, read and watched everything about it that I could find and quickly became addicted to the party. Also, dancing is really important to my balance, it makes a lot of chaotic feelings inside me go away. I need it to feel full.

Then I quickly started throwing illegal parties with some friends, digging weirdo tunes 24/7 until it came the moment that I just really wanted to play. Luckily for me, I had my very good friend Leon who took the time to help me learn and I played together with him for my first year. Another friend graced me with a super old setup and I moved to Berlin with it. At the same time, I discovered radio and that made me dig even more. In Berlin I went out listen to every DJ I could and practiced in my room a lot. When I came back to Switzerland, everything got a little bit faster and here we are.

DT: Which city is currently your home base, and how receptive is the local scene to the music you play?

NVST: Actually, its been less than a year that I moved back to my home-town next to Lausanne after spending three years in Berlin. When I came back, I definitely felt more polished in my sound. I felt that I had evolved, thanks to that crazy experience and feeling stronger evolving with my own identity. I feel that I came back at just the right moment and since then it's been a crazy ride! From Geneva to Zurich people have been surprisingly receptive. I truly enjoy playing really weird, acid and broken sounds and crazily a lot of time the people on the floor love it as much as I do haha. I mean I have the impression they actually really expect this nonsense and brutal intensity from me, which makes me very happy and pushes me to keep feeling free and true to my taste.

DT: Do you consider yourself part of a wider community of artists, and if so who are they?

NVST: Yes! I consider myself part of something way bigger than me. The scene is really exciting, and everyone is collaborating a lot. There are so many artists and collectives trying really hard to build a strong and interesting scene today. I feel super humbled to be part of this community. For me the music community has no border and I feel connected to people all around. So many talented souls crossed my paths those last years and I feel connected to them as much as people here in Switzerland.

For example, I am part of STATEMENT, a non-hierarchic, nonprofit collective of 7 female artists founded by Tanua. They are also key figures in their own local scene. With them, I recently started a party series named: ALUNA , which has the purpose of bringing down the borders between the French and German side of the country, in collaboration with super talented female artists from Zurich. Joining STATEMENT was such a push for my confidence as a DJ.

Also, I would like to highlight the super brave work and passion of Haus of Genevegas, which is a drag queen collective fighting constantly to bring some awareness about the queer culture in Switzerland. Honestly, there's nothing better than being surrounded by all those crazy good artists and that has been essential to my inspiration, giving me strength and confidence. I don't think I would be telling you this right now if it wasn't for those people, people that have accepted and surrounded me and have constantly supported my sensitive little self.

DT: Can you tell us something about Motel Radio? What is it, why does it exist and where can we find it?

NVST: Motel Radio is a live-stream radio station ran from Motel Campo, a very important art space and club in Geneva. It's a project the club had in mind for some time but when the (COVID) confinement started and the club closed this precipitated everything. The idea behind Motel Radio is to give a little window into the local DJs and to bring three hours of music every Thursday and Friday to the people. We also set up a system of donation that we will split between all the DJs that contribute to this digital healing session. We just try to create musical content the people in Switzerland can feel connected to, to fill up those quarantine times. In this project I collaborate on the curation of the line-up with Audrey Danza (resident DJ) and Nicolas Oggier (club programmer). You can find it on the FB page of Motel Campo. ?

DT: What's your relationship with Big Science Records?

NVST: Such a special one ? My relationship to Big Science is a big love story and it's the result of a highly important meeting in my life. I met Aurelien aka Warzou 5years ago in a rave we threw in a warehouse in Lausanne.
It's because of him I started listening to more alternative sounds and good tunes hahaha. He helped me to discover through his radio show on LYL. Radio is such an important medium to me, kind of a second love at first sight. Warzou quickly become a sort of a mentor and he's the reason that so many things happen. When he offered for me to join Big Science project, trusted me and let me share with him his LYL residency, it was a little dream come true. He's also one of the most influential figures behind the tape I released, Compiled Works 2017-2019. I am so humble to have Warzou around me, he's such an important and inspirational source in my life.

DT: As part of the research for this piece I was going through your social media and came across a post about 'revolution in Rojava' and how you submitted a track for the compilation: SONIC RESISTANCE. What is revolution in Rojava and why is it important to you?

NVST: Rojava established itself not only in opposition to the Turkish military regime, but also as a grassroots movement redefining the future of the region on its own terms. The Kurdish resistance is advocating for women's equality, LGBTQIA rights, ecology, sustainability, and democratic confederalism. It has created its own strategies outside of western political pressure. The Turkish invasion is not only destroying lives, but also extinguishing any hope for substantial change. The attacking army has superior technology and simply "more of everything" to suppress the revolution in the cruelest manner.

It's important to me because war against equality and freedom is a war against all of us, to paraphrase what Kashev Tapes wrote about it:

"In the wake of being opposed to such an absolute violence, we asked ourselves what can we do to support this struggle? How can we engage our community and our skills to defend Rojava? We feel obliged to point out and continue the emancipating history of club music and how it has been connected to equality and freedom movements since the beginning. With the compilation we spread the idea of Rojava through our networks and on the other hand we try to redistribute resources. Although we choose to make music, sometimes very loud and noisy, we can never cease to listen and learn. The revolution in Rojava shows us how deeply entangled we are in postcolonial relations and motivates us to deconstruct existing conditions and structures. That's how we understand being an ally."

It's also a project from Kashev Tapes, a collective that organizes parties in off-spaces and squats, releases tapes, stages performances, hosts listening sessions, makes interventions, and causes property damage so basically everything I feel connected to ;)

DT: What is the female:pressure network and how are you involved?

NVST: female:pressure is an online database and network of women*, AFAB, transgender, transfeminine, transmasculine, intersex (+gender optional), genderqueer, gender nonconforming, a-gender or/and non-binary artists in electronic music and digital arts. The network comprises almost 2500 DJs, musicians, composers, VJs, visual artists and also bookers, promoters, journalists and researchers from 77 countries around the globe.

I played a gig with Electric Indigo, founder of female:pressure and she asked me to join. I'm not that much an active member but I am part of the network and I can always reach out to the mailing list if I have any questions, want to share or need/ want to give help. I'm super proud to be inside such a big network of inspiring artists.

DT: The podcast you've created for us is a full frontal sonic assault, a take no prisoners break beat Armageddon. What was your thinking behind your approach?

NVST: Haha, some people call me Pablo Brutalo, I think it is good representation of what I like to hear for dancing.
Also, I've been coming to the Lithuanian forest to party for two years in a row now so when I made the podcast the only thing I had in mind was the blurry memory of being on the dancefloor and running around DT Camp. I had pretty good, pretty intense times as you can hear ;)

DT: Obviously Coronavirus is something on everyone's minds right now. How are you personally coping during these difficult times, do you have an income outside of DJing for example? Perhaps you have some tips on how to stay sane you could share with us?

NVST: It's indeed a super mega weird moment in time and I'm feeling trapped inside a not so good sci-fi movie. Money wise, my main income came from DJing and some extras behind the bar. I'm also working as an assistant for production and communication at Le Zoo, a club inside an alternative self-managed cultural center in Geneva, although my involvement is not financial. Here in Switzerland we don't have any specific status for cultural workers so, right now everything is uncertain.

The first week was really hitting me hard but now I'm feeling better. I also have to acknowledge that I'm super mega privileged to live here and that even if the situation is terrible and hitting me personally too, it could be way worse.

I've been making a lot of music, it's helping me to cope with the loneliness. I stopped watching the news too much because it's making me anxious, somehow hyper consciousness is not good to me. I'm connecting with nature again, going for a lot of walks outside and fantasizing about when the next illegal party will happen.

I don't know if we should all remain totally sane. I have the impression that society is already well fucked up, so maybe it's cool if we change our mindset. I'm hoping that we all take this time to reflect collectively on our consumerist attitude, we will face worse if we don't change radically now.

DT: A lot has been made in the dance music press of the 'save our scene' movement in relation to COVID-19. Do you have any views on this? For example, should we consider that DJs, producers, club owners and label heads are entitled to an income, or conversely could SOS be seen as an attempt to preserve the ongoing monesation and commodification of an artistic culture?

NVST: Tricky one, héhé. In a utopia we would all have a basic income and money wouldn't have to get involved in sacred things like music and the arts, but we're not there yet. The fact that club culture has become such a big money making machine is really disturbing. It's eating up the scene and destroying the culture, transforming it into a big, ridiculous entertainment business which I really don't feel connected to.

I also think right now we have the power to react and resist by focusing on helping alternative cultural centers, cultural workers and the artists we know, the ones that are fighting everyday against the commercialisation of our culture. They are the ones that need support. I think we all have a duty to navigate toward what feels right to save the scene and not the business.

I have personally been involved in creating a charity compilation for Swiss artists. It's called "Make Some Room: Electronic Relief ?in Switzerland". It contains one hundred and thirty one tracks from more than one hundred and fifty artists from all over Switzerland. The revenues will go to the artists in equal measure. I think those kinds of actions are definitely important but I think this crisis has highlighted far deeper needs, such as artists requiring at least a legal status and some protection if they cannot practice their main activity.

DT: You have the opportunity to play back to back with any DJ in space and time. Who would it be and why?

NVST: Kemistry & Storm! Kemistry DJ is such a fascinating artist, maybe it's me but her energy radiates even through photographs. Such a tragic destiny; I'm kind of obsessed with her. The sets I have heard online are so damn good, even if drum & bass is not really my thing. How they build their sets and the energy they create is so intense and interesting. I think I would sweat good playing with them.

DT: What's next for NVST?

NVST: A lot of party as soon as we can do it again hahah ? A couple of releases, I'm also working on music with my partner and some friends. I'm going to keep working on different projects, focusing on what's next for Big Science, STATEMENT, Motel Radio and hope to stay as active as I can for my own scene. I also really really hope to play soon again music for the freaks in basements ?

Fin.