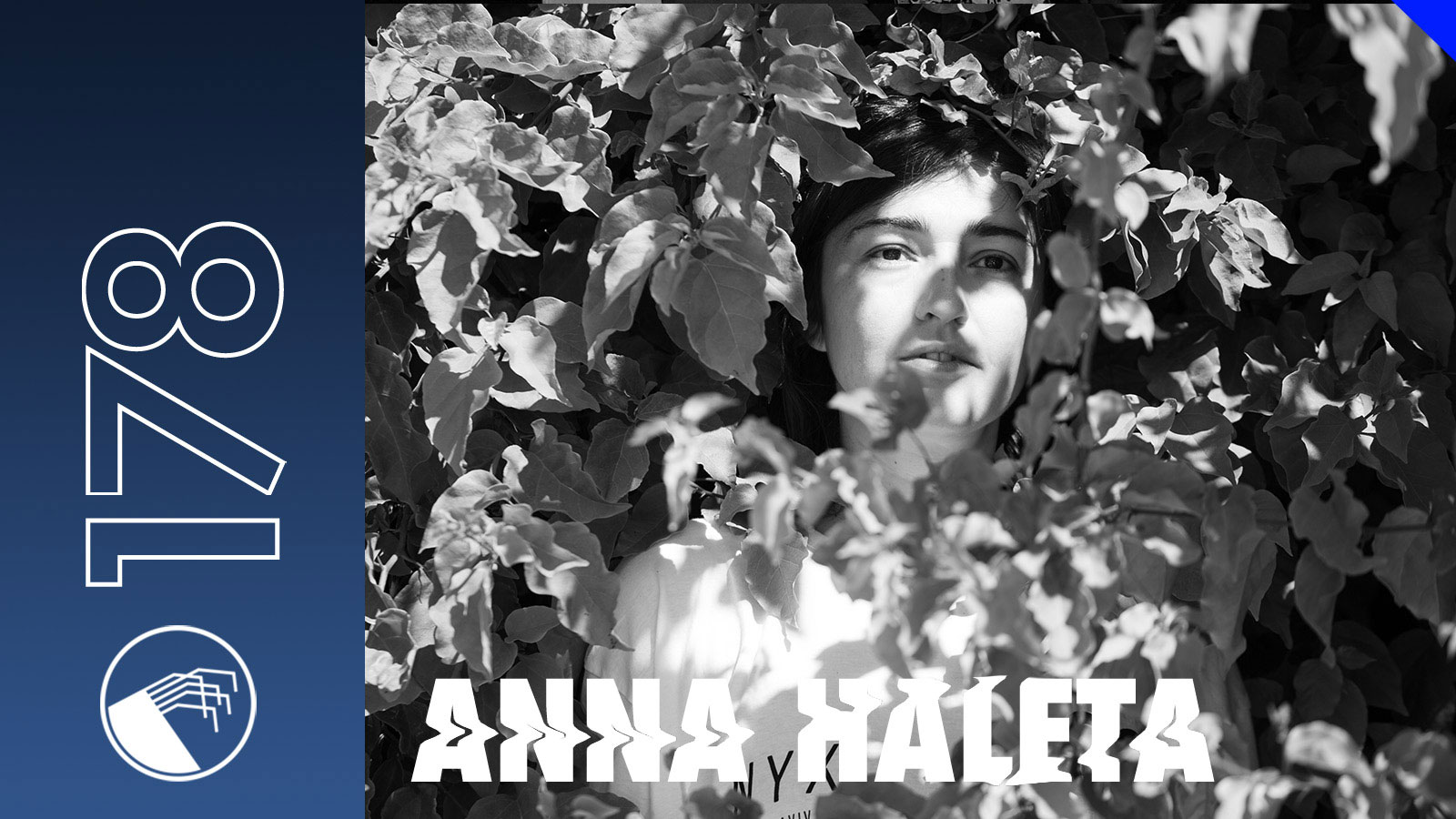 Tracklist:
01. Comando Bruno - Dulce Pelicano [S.J Organisation / 1986]
02. Die Angel- Cargo Cult [Karlerecords / 2020]
03. M.E.S.H. - Methy imbis [PAN / 2015]
04. Warrego Valles - RIP Girls Toys [Kamizdat / 2018]
05. Antwood - Interlude Part II [Planet Mu / 2016]
06. Nikki Nair - Stotch [Banff Pies / 2020]
07. Lily Haz - Negira [Tofistock / 2020]
08. Coloured Music - Heartbeat [????]
09. 33EMYBW - Golem [SVBKVLT / 2018]
10. The Maghreban - Elka [Zoot Rec / 2017]
11. Ramuntcho Matta - Zoique III [Made To Measure / 1991]
12. Bruce Gilbert - Here Visit [Mute / 1984]
13. Acolytes - Aneurysm [Alter / 2018]
14. Dead Fader - FYI [Parachute Records / 2017]
15. I-LP-ON - JYVAT [Editions Mego / 2018]
16. D/P/I - Poly [Shelter Press]
17. Sympathy Nervous - Metal Beat [Minimal Wave / 2012]
Anna Haleta has running events in abandoned locations, car parks and deserts with her friends since the early noughties, her party Pacotec has managed to achieve a staggering seventeen year run. Anna's sets often touch on acid, electro and techno, whilst incorporating elements of noise and other esoteric sounds from beyond the more beaten paths of sound. We shared a little time with Anna to discuss something of her history, Pacotek and its evolution and life during lockdown.

DT: What's your story? Where are you from and what were you first experiences with electronic music?

Anna Haleta: Hi, I'm based in Tel Aviv, although many years before this I lived in Jerusalem. I'm originally from Ukraine and moved to Israel in 1995. Since 2003 I've been playing music and creating Pacotek events together with Tsaji Soussana, we've done hundreds of raves and parties since then.

My first experiences with electronic music were way back in 1995 after I'd moved to Israel to study at a residential religious school. On the weekends I visited my grandma who lived out in the suburbs next to a highway and I could hear passing cars playing trance music super loud. I didn't like the "boom boom boom". I had instrumental music playing in my headphones and I was into deep listening, so those cars annoyed me.

It took years until I even heard electronic music like Kraftwerk (R.I.P. Florian Schneider) for the first time. My first real turning point came via Plastikman's Consumed album. I discovered so much patience and respect in that album, leaving the listener enough space to absorb the information without pushing it non-stop. I've also been lucky to have friends who have helped me to discover the magic of Drexciya and so on. I didn't know anything about early industrial, noise music etc. I was lucky enough to explore and to find it as my listening abilities sharpened over the course of time.

DT: You have put together the Pacotek parties with Tsaji Soussana in Jerusalem and Tel Aviv since 2003, that's quite a run! Please tell us a little about this, why did you begin promoting the Pacotek parties?

AH: I discovered the Israeli rave scene during Second Intifada in the early noughties.
There were many acts of terrorism, especially in Jerusalem and at first we were going to Tel Aviv for the raves. In Jerusalem though there were small groups of enthusiasts organizing events like the legendary "100 meter beyond the ground" crew, they were Jerusalem techno-rave pioneers and Tsaji was one of them. My friends and I just wanted to have a party, so we also decided to start organising events. After our first event we began collaborating with other crews who were more experienced than us, and this is how I met Tsaji. As a big group we made techno parties together but after a while most of the members became tired of the process. I'd just started DJing and couldn't imagine myself without it anymore, so Tsaji and I continued and started Pacotek. It was clear to us: if you want to have a scene you have to create it.

DT: How has Pacotek evolved over its seventeen year life span? Has the sound you promote through your parties changed for example?

AH: For the first few years we moved from raves, to clubs and back to raves again.
We were focused on the music, on playing it but we were constantly scared of the risk of being shut down by police. Because of this, in the end we moved to clubs and legal locations.

Our sound began with techno. Tsaji was always into house music as well although it took some time until I felt the magic of house music too. We also had a strong friendship with musicians from the Cologne scene, people like DJ Glitterbug, Falko Brocksieper and artists from Areal Records so our early sound was influenced by them.

There's also so much virgin honesty in old tracks we've discovered, but we still have a long way to go because there are just so many records we don't know yet. What makes me most happy is when I hear a new release and its blowing my mind with its raw energy and doesn't copy anything else. I have a huge respect for producers who are innovating.

We're always evolving because we're in a state of constant learning, however the message has always been the same throughout: play what you believe in 100% and if its challenging, even better. We're always seeking fresh and pure music, we don't stick to any specific genre.

The frequency of our parties have reduced a little these days because now there are perfect clubs around with great bookings. In the past, we would invite an artist we loved to Tel Aviv because no one else was doing it, most of the artists we invited came to Israel for the first time. When we fall in love with an artist who has not been invited to Israel yet, we try to make it happen.

DT: What's the craziest story you can tell us about Pacotek?

AH: There were a couple of times when our parties in an abandoned location would be shut down by the police. After a short time we would find another abandoned location during the same night and move the whole thing there, but in the end the police would find us and close this down too. The craziest thing in this story though was the energy apparent during the whole process, there was a fire spark in everybody's eyes: organisers, DJs, VJs, technical staff, bar tenders and the crowd, we made it all together! Literally being one.

DT: I understand you're also a resident DJ at Georgia's Mtkvarze club. How did this residency come about and can you tell us a bit about the club and the nights you play?

AH: A few years ago my sister and I invited our mom on a trip to Georgia for her sixtieth birthday. A friend introduced me to the Mtkvarze team and I played there for the first time, we became soulmates naturally. Through their spirit, their inspired bookings, brilliant resident DJs, sound, lights and general attitude the club is very unique place. Also, the location is so beautiful… The club has a semi-circular balcony facing out over the river Mtkvari.

DT: Back in 2013 you released a record on Pacotek records. Why did you stop and do you have any plans to release more music through your label?

AH: It was a release to celebrate our tenth year, we never had a plan for more releases. Of course there's a big chance we will do it again if we feel we have music we must present to the world.

DT: What's the music scene like in Tel Aviv right now? We hear quite a lot about Alphabet club and the strong queer scene it helps to support and nurture. Are there any other exciting developments in the city's music scene we should be aware of?

AH: Alphabet is in a trouble now, as are many other clubs around the globe. There is a headstart campaign to ensure the club can open its doors again. Alphabet is a warm house for the whole community and a space for DJs to dare to try new things. Nowadays Alphabet are making a holy job broadcasting live sets, and its extremely important to support our culture these days. There are other beautiful clubs in Tel Aviv like the famous The Block and Breakfast, the Teder complex and Uganda. Zimmer meanwhile is a shelter for a certain layer of underground culture. There is also the new Art Club, a big, cool club ran by passionate people. And of course there's the Gagarin club, which is a very active independent art community hosting concerts and special parties.

DT: How are you personally handling the Coronavirus situation? Do you have an income outside of DJing for example? Are there any rituals you have developed to help you keep sane during these difficult times?

AH: I'm handling it pretty well for now. I'm using this time to dig even deeper into music, keeping myself away from toxic information, consuming art. My weekends are free right now, so I get to spend them with my son, which is a true bonus and also temporary, so I'm enjoying it now.

DT: Once the lockdowns are lifted and life begins to return to normal, what are the first things you will be doing?

AH: Swimming in the sea. Maybe I can do it now but its still not clear if its legal or not and anyway, you can't really enjoy under stress. I'm also looking forward to visiting my mom in Ukraine, she lives alone. And clubs, of course!

DT: Can you tell us a little bit about the mix you have put together for us, was there an idea behind the mix, or a particular sound or feeling you were trying to achieve for example?

AH: I was happy to make a mix that wasn't orientated for the club. I knew on this platform that I'm free to go for different textures and styles. The mix kind of reminds me of a children's game "broken phone", but its not broken in our case; one track is passing the message to another and while the musical form is changing the message retains its original impact.

DT: What's next for Anna Haleta?

AH: Curious myself.