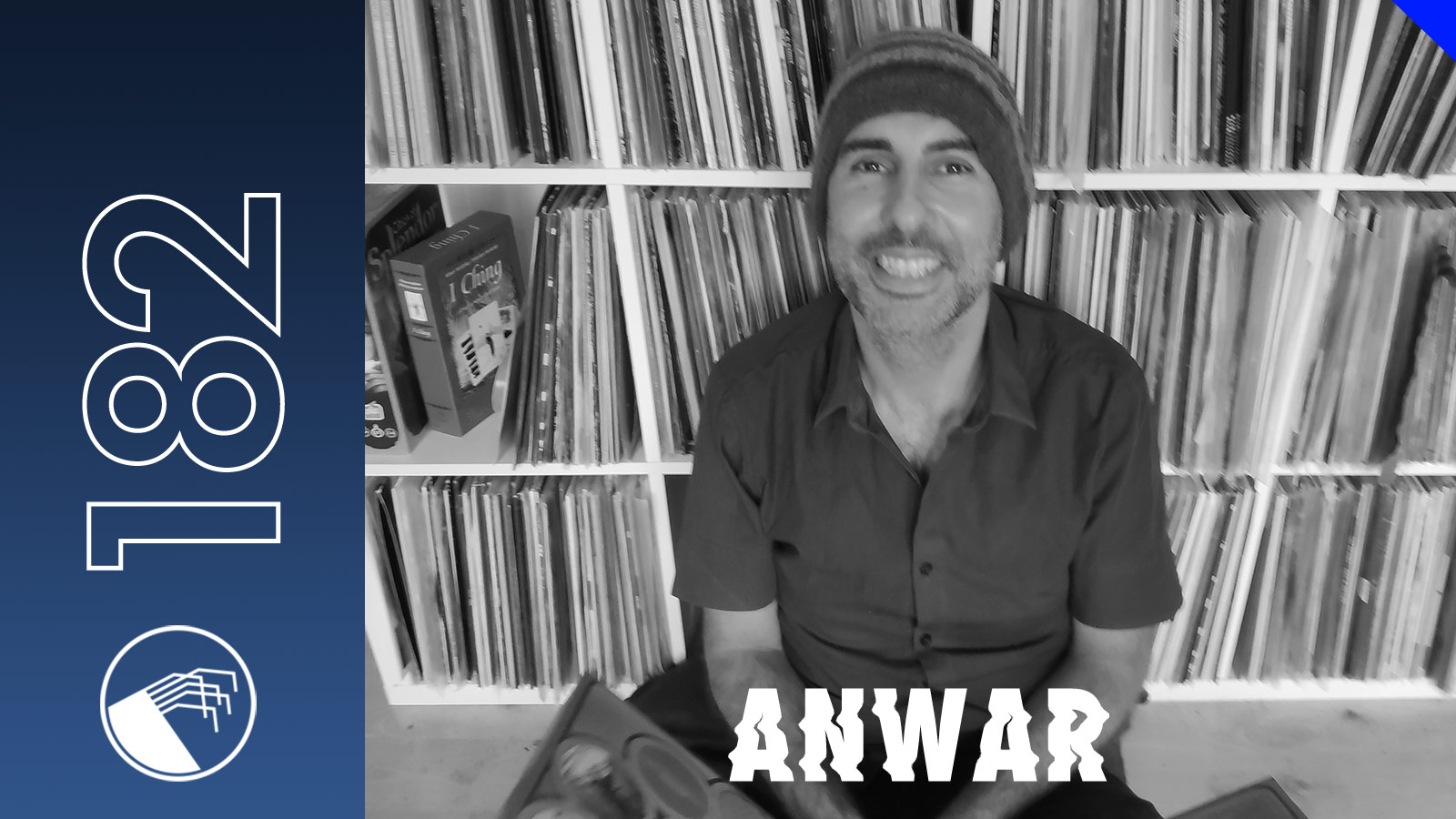 Tracklist:
01. Honzo - Errore Volontario (Albert Van Abbe Remix) [Carbone Records 2018]
02. dBridge - Exsistence [EXIT 2020]
03. Shiken Hanzo - Strategy of Two Heavens [Hojo Clan 2018]
04. Viscera - L'Automat remix [forthcoming brokntoys]
05. Bernard Grancher - La Fouile [Polytechnic Youth 2019]
06. Warzou - Periods [KUMP 2019]
07. Automat - Black Star [Point.One Recordings 2007]
08. Non Punire - La Epifania [brokntoys 2020]
09. Crotaphytus - Iguana Delicatissima [Further Records 2016]
10. Poperttelli - ORPH33 [forthcoming Crisis]
11. Kerridge - Waiting For Love 3 [Downwards]
12. R 325 - 191209719 [brokntoys 2020]
The label Brokntoys has been a symbol of phenomenal electro records since 2013. Established by Anwar Dawas and Kristopher Hall, the initiative is now run solely by Anwar, continuing to deliver an array of cutting-edge music that rises far above the ordinary club electro realm. The sound of Brokntoys – enchanting and hard-hitting through tight analog rhythms and emotive compositions – has captivated the international scene; the label counts its 52nd catalogue number as of 2020. Label runner, DJ, radio show host and collector Anwar breaks it all down.

DT: Hello Anwar, how have you been feeling over the course of the pandemic?

A: Hanging in there, a bit fatigued of the newscycle dread and misinformation overload.

DT: How has the process or productivity of your work (regarding running the label and other matters) change during this challenging period?

A: Initially, there was a lot of hesitation. I wasn't sure about carrying on during a global pandemic so I paused all the releases and put together a free digital compilation called 'Cold Light, Low Tide'. After a while like everyone I was longing for some normality, so the schedule was resumed. I was apprehensive with clubs closed and lots of people without expendable income but overall it has been OK.

DT: Heading straight into some questions about the concepts behind Brokntoys – as a listener, one can feel the sound of the label as distinct and identifiable, yet it is also varied and plentiful in different styles and influences. How was the sound of the label formed and maintained?

A: I started the label with Kristopher Hall and we both have quite a wide range of interests. The label was born as a reflection of those, I guess part of the drive was to do something different, trying to avoid the more formulaic approaches. Athene joined us a bit later, bringing some necessary order to the ruling chaos we created.
There have been a series / sublabels to keep it coherent but concept-wise things haven't changed much. The label has been a solo mission for the last 2 years. Kristopher and Athene went on to form Subapical, which if you are not familiar with, I strongly recommend you to check out.

DT: Is it not too much of a challenge to run a label, especially one that's reasonably active as yours, entirely as one person?

A: I can't complain, there are certain menial tasks like the daily post office ordeal that are not exactly life affirming, but mostly it's fun.

DT: Is there any particular method of interacting with the artists and/or curating their work, for example, suggesting modifications or creative decisions when preparing a release?

A: In general, I encourage producers to showcase the different sides of their output. Regarding modifications, rarely, I'd rather not be intrusive, sometimes producers ask for honest feedback but by default, I prefer if they have free rein.

DT: There seems to be a palpable sense of atmosphere in most Brokntoys material – while many of the label's hits have been powerful in an electro-sided type of function, there seems to be an air of darkwave mentalities and gated reverb sprinkled throughout. How did these influences enter your own personal creative mindset?

A: Hmm, I guess it all comes down to personal taste, I veer towards the more cinematic, evocative electronic music.
What I find interesting is how creations end up taking a life of their own. When we started the label it was a by-product of the music we were collecting / listening at the time. Nowadays I feel like the beast walks alone.

DT: Do you mean that the aesthetic of the label, in a way, sort of dictates itself further?

A: I mean that past choices inform current and future ones so the label evolves quite naturally.

DT: From a business perspective, it is obviously difficult to run a successful enterprise while also keeping the creative vision "underground" and true to its stylistic roots – the field of music that you operate in is indeed still niche and not geared toward a more mainstream audience. What motivates you to keep the project intact without "selling out" or steering your work into a more mainstream, perhaps more financially rewarding venue?

A: It's entirely a labour of love… I work in education for a living, as long as the label feeds itself and there are not great losses I'm happy. I never consider it a business, which it's good because my commercial acumen is abysmal.

DT: Do you prefer to form connections with other artists through events and physical interaction, or do you also seek out creators over the web?

A: I'm quite open really, there are artists who not only I haven't met, but I never found out their real name! I quite like these shadowy anonymous figures, although my paranoid self suspects I'm being trolled.
On a sentimental note, the most gratifying part of running the label has been becoming friends with many of the producers. Logistically it hasn't been possible to meet everyone but it's something I always look forward to.

DT: What do you think are the keys of success in running a label, outside of gathering the proper musical material?

A: I don't know, I've seen some of my favourite labels collapse / go completely unnoticed, so there's always an element of luck. I guess with BT when we started in 2013 (CPU started the same year, Cultivated was doing 2 or 3 releases a year back then) there weren't that many labels pressing electro on vinyl so there was a void to fill.

DT: What has influenced the visual side of the label and its releases?

A: László Moholy-Nagy, Man Ray... different currents of surreal photography, I find quite interesting the intersection of abstraction and figurative.

DT: Could you tell us about the concepts behind your monthly radio show Vanishing Points on LYL Radio?

A: Initially, it was meant to be a night drive soundtrack type of show, but after 2 seasons I didn't want to repeat myself too much, so it took a more freeform format tapping into different genres I've collected over the years (post-punk, Berlin school, industrial, etc.) or doing monographics about some of my favourite producers and labels (Lull, Smokey Emery, or Wierd).
Given this year I have the Friday 11PM slot I am planning to shift towards a more beat-oriented show.

DT: What are some of your other personal creative undertakings outside of working for the label?

A: Music occupies most of my leisure time, to be honest, I collect all sorts of genres from surf to dub. I recently moved house which was slightly traumatic so I've been buying mostly 7"s, partly because of space reasons but also as a sign of unmitigated decay.
Apart from BT, I'm part of Fall Off The Grid, a collective of London collectors and have been working on some new projects which hopefully will see the light of day in 2021.
I also write and do some artwork every now and then.

DT: The current pandemic situation raises a lot of questions about how people transmit and consume entertainment, the arts, etc. Do you think that electronic music can subsist on releases, streaming, online communication and the likes, or are parties, concerts and gatherings essential to keeping the scene alive?

A: Although autonomous they are different realms to a degree, it's hard to predict how things will unfold in the immediate future.

DT: What is your idea behind the mix for the Digital Tsunami series?

A: It's almost a reenactment of the actual set [played at DT Camp 2019], I just made some tweaks incorporating some new favourites and made it a bit more home-listening.
Otherwise, it's just a collection of the type of noirish downtempo I enjoy listening to.

DT: Finally, what is next for Brokntoys and your own work?

A: The next release will be by R 325, it's his first release and I couldn't be happier about it. He painstakingly painted every single cover so they all look and feel different. You can feel the thick, heavy textures... I believe it's a complete gem. There'll be soon a new 7" by Jauzas The Shining and hopefully, a new VA titled 'Cold Readings' will come out before the year ends.