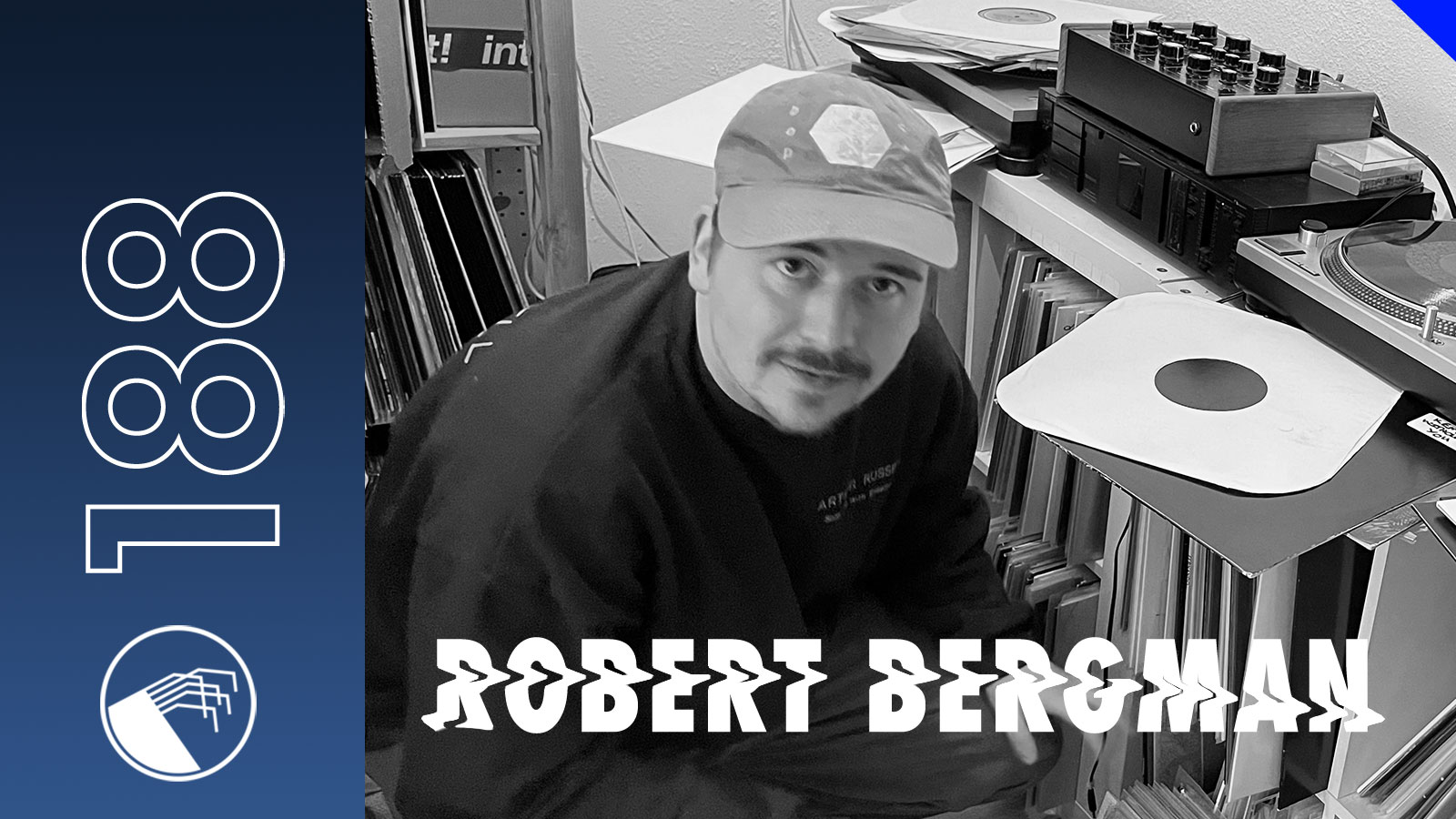 Tracklist:
01. Dj 2Beers - So Low It Hurtz
02. Tik & Tok - Soulless Synthetic Heart-Steps Of Unconcerned Androids
03. B.W.H. - Stop
04. Shock - R.E.R.B.
05. Japanese Telecom - Bullet Train (Men from the P.A.C.K. remix)
06. Jordan Zawideh - Work Delay
07. Modern Analysis - Proto Rhythm 1
08. Lord Tusk - Space Invader (Inst, 45 rpm)
09. Ricky Smith - Bass Macanic
10. Brassfoot - Chugginville
11. 2 AM/FM - Poison Dart
12. Rio D - I Got to make it (Acid mix)
13. Violence FM - 2Live & Die
14. Cellophane - Music Colours pt. 3
15. Deecoy - DT Theory
16. Tropical Moon - Data Bank
17. Dj Spike - Designer Drugs
18. Vini Vidi Vici - Club Stuff
19. Chris & Cosey - Morning
20. The Advent - Track 4 (Heinrich Müller remix)
21. Trophy - Slow Flight
We are chatting with Robert Bergman aka Disco Devil, Amsterdam based DJ and producer, the man behind the Brew label. He shares his musical treasures under robzila3000 nickname on Instagram and right there Robert just announced that his new 7" is coming up. Things are cooking in the kitchen. Also, that's the place where laidback conversations about today's current issues, joys and worries happen. This one is like that. Discussing creative routine, gear, beats and glancing at the dance scene. Enjoy!

How are you feeling these days? Your 7" is coming out!

Feeling good actually. It's been weird, these last 18 or whatever months. Don't think that's a surprise to anyone but I guess a way of coping with the world was by clinging on to what I've been doing anyway. So I guess this mix is a continuation of that all. What I'd jam on Saturday night in the living room with a Jenever.

In line with that, I do try to keep on making music. There was this avalanche of people making 'home listening' music after the initial lockdown hit, I was very put off by that. I like people who are sticking to their craft. That's not sticking to the same thing, but vastly changing whatever you do because of real-life seems odd to me. Was not everyone doing their thing because they 'had' to do so anyway?

One person described you in a very lovely way - "he can easily sleep at rave parties". Parties are back. More sleeping, dancing or playing?

Don't know who told you that! But, sleeping at raves is good! You'll only do that when you're comfortable in a place. Other than being in a place where I feel comfortable I can't wait to be back at the rave! Seeing everyone I haven't seen in ages is good!

Did Corona years improve your collection of records? How do you see the market of physical releases in nowadays world?

I'm not sure what 'improving' could be. I've downsized a little bit but at the same time have I continued making trips to the record stores. I guess the collection is ever-changing with a bunch of records staying in it forever and others might come and go. I don't think corona has changed my collection in any other way than it would've been changed if it was 'a regular' year.

That being said, I don't think that's the case for everyone, I've seen the scenes at the record stores change. I think a lot of people are more and more embracing the digital realm as a way of consuming music. Records seem to be more and more a niche where 'collectibility' plays a large factor. Which is very unfortunate, I like record stores for their selections and curation. It's nice to see what the stores would compile together. Trying to beat the realm of algorithms by going to record stores.

What beats are spinning in your playlist most of the time? Are there any genres that caught your attention just recently?

I try to not stick to specific things too much at the same time. I like to switch things up. Also, I can't listen to everything at any given moment. There's a good time for everything you like. But yes, my taste is a reflection of real-life

How did you get involved in musical production? And what keeps you interested in staying in this zone?

It's been a while ago - at first, I think it's just dabbling with things you like and want to get involved with. However, as time progressed I think I would consider it more of an extension to my collecting and dj'ing. Which meant that also it has become more of a 'tool' in a way to extend whatever I want to play as my songs would be used to fill in gaps in dj'ing for instance. I guess with the dj'ing consistently changing so does the need to fill in the gaps.

Do you have a dream technical/instrument setup? And which parts of it do you already have?

I don't think you should have one particular dream set up. There's an infinite of combinations you can use and changing these makes things interesting. I also do not like to collect just 'collector's items' or holy grail type machines. A healthy mix of the old & new is good for everyone's set up I reckon.

Do you have a creative routine? Any rules or tricks to keep it steady and going?

I think it was already apparent in the previous question but changing up the set-up is a really good way to keep things going. Small tricks, for instance changing whatever way you use as a tool of synchronization, could vastly alter the results in song. Just try out different combinations and let the quirks of every machine work in favour of whatever you're trying to make. This is also very helpful as slightly changing your way does not require you to study new instruments or start from scratch but rather give you a fun time adapting and maybe some occasional 'happy accidents'.

What labels are you currently seeking? Any exciting news you could call 'inspiring'?

As with my own set-up, I like a good mix of the new & the old. Can't knock some classics but you can't turn into that really old fart too. I'm trying not to be one of those at least. In terms of labels I'm after - there is no specific one I try to get everything by. Of course, there are good ones I gravitate around but there's not a specific new one I like to get everything by. Again something that might be nice in a record store where records are placed in bins instead of digital filing where clicking on the same label might be very tempting. If there are things I got everything by it's from the homies at 12th Isle & Planet Rescue. Would 107% recommend them!

In your eyes, how and is the dance music scene shifting? Or maybe it's one of a few things that's stable and fixed? We definitely need these ones too.

I think we're still in a shifting phase, I wouldn't know if this will be the reality - however, I do feel that things seem to be ever-more fleeting. Hot records can fade in 15 minutes, but also artists who play out. Things seem to get out of fashion real quick. I'm not sure whether it's nice to have new things all the time or that having an anchor point would be good. Me, being slightly nerdy, would love to see stories of the past where venues were dominated by regulars who would consistently play week-in week-out. Instead of everyone trying to get the next hot artist at the venue. But maybe those sorta residencies are mythicized a lot too. I wasn't there!

Cold season is coming. Recommend a tune that keeps the heat ON.

Especially in the cold season; I like the long players! There are tons of good records out there, known and not so known. I think the best tip I can recommend is just going to the local shop and trying to find something that you like. Maybe it's a good end to recommend my evergreen long-player I can put on at any time. The Night Dubbing lp!