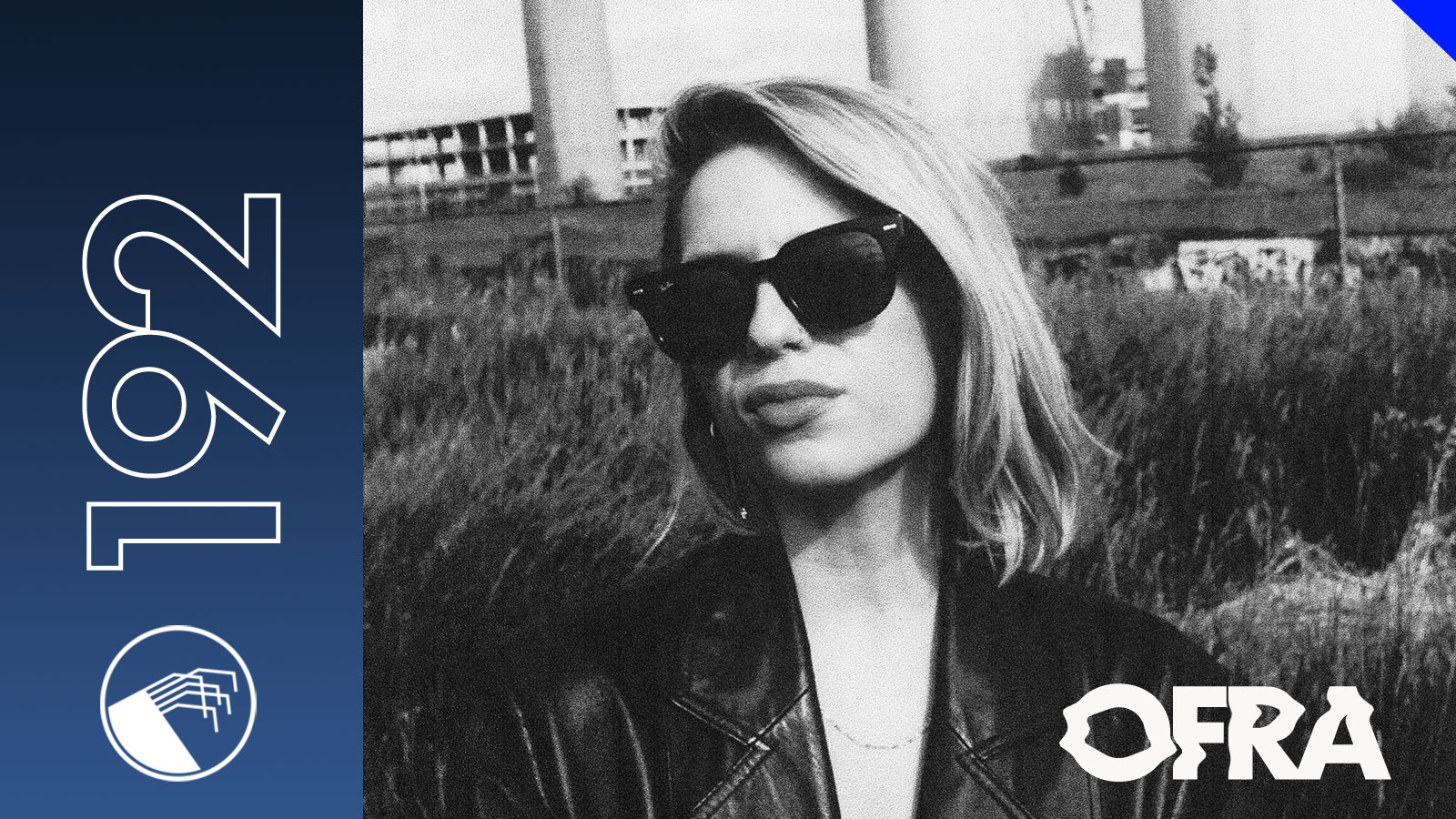 Tracklist:
01. Jimmy Smack - Cybernetic
02. Charlie - Melodies Bring Memories
03. Dr Phibes - Vachillia (Nasty Phibes Mix)
04. L.F.T. - Von Spinnen Träumen
05. Nikolajev - Tracking device + Audio Poem Love In The Asylum by Dylan Thomas
06. Zsa Zsa Laboum - Something Scary
07. Roberto Auser - Place with No Name
08. Oorsprongpark - Baroque Fetish
09. Infinity Night - Immortal
10. The Actor - Picture 210
11. Crossover Network - Play Along Like You Belong
12. June - Infinity Room
13. Norwell - Signee-3
14. Perel - Karlsson
15. Umwelt - Starless Night
16. Dim Garden - Vision Of Love
17. Siouxsie and the Banshees - Cascade [Workhouse Demos]
When talking about participating in the music scene, Ofra - Operator Radio co-founder, Rotterdam Art Academy teacher and great DJ - says: 'Passion comes first'. You can truly feel this attitude seeping through our laidback conversation. We are talking about inspiration, musical pleasures and discoveries, creative background. The importance of searching for the balance is mentioned too. Summertime is starting with Ofra and you know the saying... Well begun is half done. Cheers.

Spring and early summer is the time when the head is spinning. Music is important. What tracks lead you these days?

Well, a lot! But last week I repeated The Psychedelic Furs with Love My Way a lot. I adore this song and the energy that brings while riding my bike. I always sing along. And some Dutch + Belgium wave music.

You've co-founded the great Operator Radio in Rotterdam. Tell us how this project was born. It turned out to be one of the main radio stations in the scene.

Rotterdam was ready for it! Patrick Marsman, Jeff van Hoek, Jorn de Vries Osman Bas and I were inspired by IFM, former Amsterdam based station, Red Light Radio and NTS.

Rotterdam idiosyncrasy is shaped by its many sounds and extraordinarily talented people. We had to broadcast it and make visible how cool and culturally diverse this part of The Netherlands actually is.

Although our first steps began in the direction of radio, today we have walked pass those boundaries; we can call ourselves a cultural institution. As a team –aside from having our own network—we have our specialty within creating and amazingly inventive volunteers who inspire Operator to reach new horizons.

How to keep enthusiasm and creative energy when running such a big project for a long time? How is Operator evolving?

Keep on inventing and doing nice collabs!

What recent additions to your music folders or shelves made you happy? What music sources, in your opinion, always deliver the fresh stuff?

I just bought a stunning record from Luc van Acker and received the fantastic new EP from Charlie. I love to dig records and explore new music, whether for my sets or just to listen calmly at home. Discogs and Bandcamp are my online platforms to go to when searching for new music, and offline I always succeed finding hidden gems at the Pinkman Store en de Oorzaak; they have such a good secondhand section! Additionally, I follow my favorite labels like STROOM, Artificial Dance, Viewlexx, Camisole, Dalmata Daniel and Mannequin.

The pandemic seems to be over. In the past few years this craft - probably for the first time ever - was balancing in a fragile position, as gigs stopped with the closing of the clubs. How are you feeling personally when things got back on track?

It has been difficult for many. Most of my friends were exclusively dependent on gigs or by running a club, and with the pandemic dance culture became a sudden health hazard.

Luckily, my work as a teacher for the Rotterdam Art Academy provided me with a steady income, which made me feel financially stable. But emotionally, especially at the beginning, it felt often like too much to take in.

As time passed, I realized there was no point on resisting and acceptance of the circumstances brought with it many positive things. For example, I had the mental and physical space to being alone and to enjoy my own company. I read and wrote a lot during the pandemic and had new relationships.

This world crisis and the changes it brought with it, made me zoom out and realize how busy and filled with work my life was to the point that I stopped doing what I loved to do. Now that the regulations have been lifted, I'm seeking balance with work and that what makes me whole and happy, like making time to be with myself.

What were the most delightful venues you've ever played in? And where the records were sounding in the greatest way?

Last weekend I played at IFM Festival, which holds a very special place in my heart. This year, as many before It was held at the PIP, The Hague. I performed at the Spiegelzaal; I love that room; it has a mystical quality to it and the sound was fantastic! It has been a long time since I played in that room.

Reminiscing the old days - can you tell the story of the music culture background you came from? How did you discover your calling?

I love music since the day I was born. I can recall always dancing and singing while watching MTV after school. I was born in '85 and I discovered music over time across decades. During the 90's, I listened a lot to Eurodance, Pop, and Grunge music. Later, In the early 00's, I begun to frequent clubs and big festivals. I was very drawn to alternative music and listened to lots of bands as well as electronic music. New and old stuff. During that time, I discovered a great deal of wave as well. In my early twenties and during my studies, I started to work in a record store which taught me a lot. Eventually, I came across New Beat, House, Space Disco, Electro and Italo music, which fueled even more my passion and curiosity for underground music. It was the Dutch Westcoast sound that really caught me and it was then when I began Djing. Musically, my favorite decennia are the 80's. In spite of being born a little later, my connection with this period is intense and my music collection speaks for itself which what I believe it is mostly constituted by tracks and albums made in the 80s and early 90s.

And if some DJ, reading this interview, is dreaming about the big waters... Would you share your thoughts about the ways how to sail out there? We all know the saying about 1% of talent and 99% percent of work.

I would say that passion comes first. If the passion is present, it counts at least for a 50% of the process. As a feeling it will fuel the drive to work and it will feel natural. I think it's good to share your ideas and just start doing things, that's how you learn! Find a good team who can help and inspire you!

Please, introduce the podcast you've recorded for Digital Tsunami.

I enjoyed playing with varying bpms and moods as much as temporalities by combining new and old tracks. A mix through some different sounds with some hidden snippets to inspire the listening. It is meant to be experienced both in motion and in stillness. So please, dance if you must and overall Enjoy!

The final question - what is Ofra the most excited about right now? We are following your creative path!

At the moment I feel ecstatic to be working on my own label!

Thank you, Ofra.