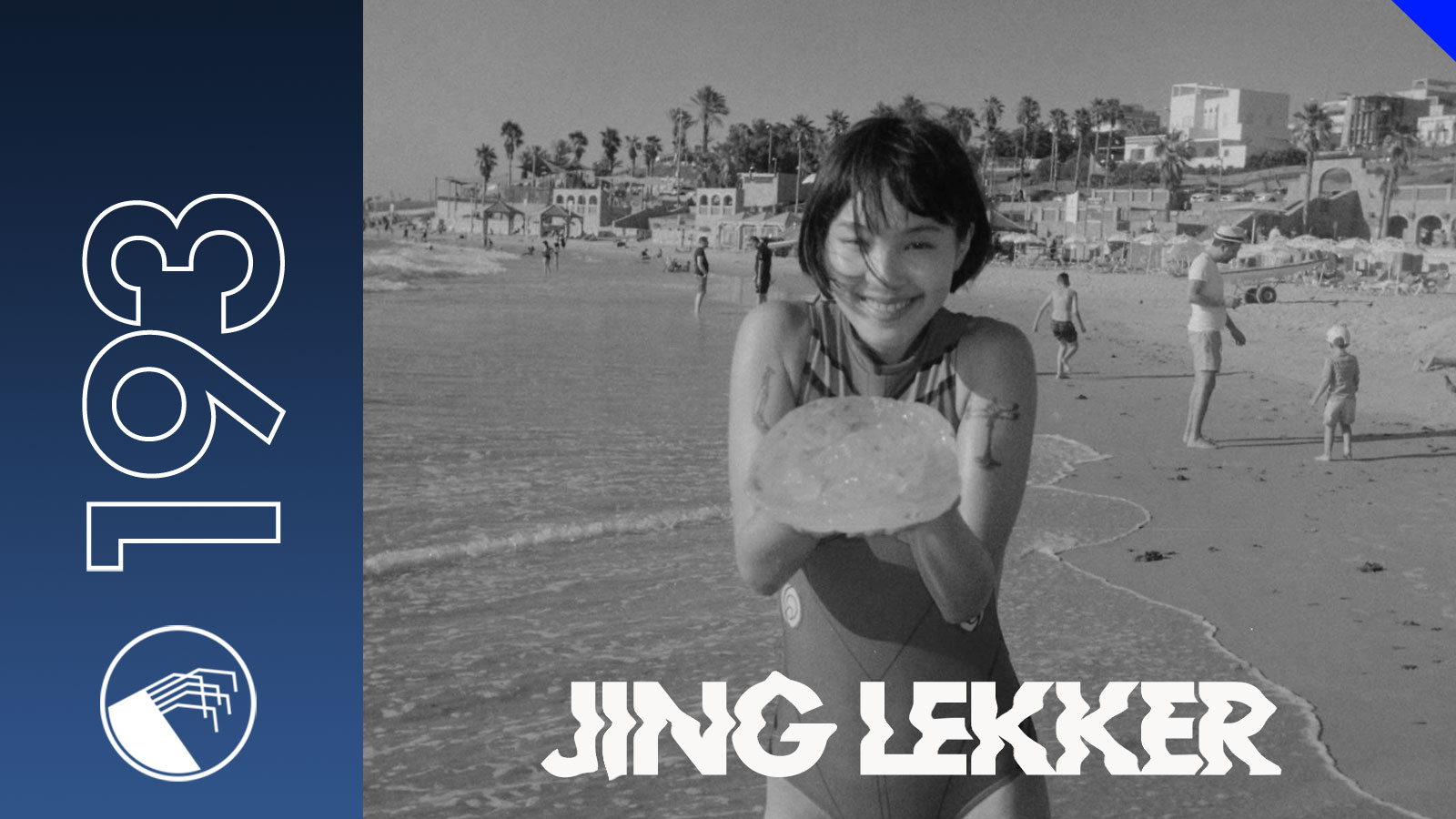 Tracklist:
01. Ebb - Sun Drips
02. Piska Power - Vokoka
03. Maschine Brennt - Electro Elite
04. Sansibar - 4DIGITGHOST
05. Luca Lozano - Break Bleep
06. Shelby Grey - Eternal (Curses Remix)
07. East End Dubs - Milkshake
08. Penera - Vanos2000
09. Kuldaboli - Sálinni blæðir út (feat. Djöfullinn Sjálfur)
10. /DL/MS/ - Mountains
11. Arsonist Recorder - Cucumber
12. Polar Attraction - Slippin
13. Re:drum - Payne
14. Nicola Cruz - Aima (Breaks Mix)
15. Abdul Raeva - Paiste
16. DJ ESP (Woody McBride) - AB FAB
17. CHOPP. - WHATS THAT SOUND
18. Hermeth - Quarantine Consequences
19. Cold Recordings - The experiance
20. Стереополина - Немое Кино
Interview with Jing Lekker turns out to be like a good piece of literature. It opens the inner landscapes of approaching music, it's frequencies and even spiritual layers. Jing mentions the importance of audience togetherness, being able to greet the dance floor without expectations, playfulness and creativity of DJ'ing and, finally, being undoubtedly passionate about your lifestyle which becomes equal to work and vice versa. Taiwan born and Berlin based producer and DJ raises up awareness in the scene discussing the habit of staying ignorant about the cultural grounds which are nurturing artists careers whilst they are in need of high level sensitivity and solidarity. Jing talks sincerely about her life, big amounts of pure joy is strongly perceptible. This is much needed. Good news – Jing Lekker will play in DT CAMP this year so this Q&A might become a good intro.

Jing, how is your summer going so far? How high are your energy levels in terms of creativity and inspiration? And what is your most reliable way to (re)charge them?

My summer so far is really intense in a way that I laugh even harder about how normal is the crazy, and the crazy pretending to be normal. My energy level is always high, since I think sleeping is a waste of time. I tend to look at my surroundings with sci-fi point of view and this gives me power to manifest what's coming towards me without me even knowing it. My biggest secret is to smile every morning and think of how lucky I am that I have the ability to think like this. Every event happened for the future needs, dualism and expectations are trying to evaporate creativity into nothingness. World we seek in and world we seek out have the same concept but different shape, which means that I let my mind travel as far as I can and enjoy every little thing in life as much as possible. Then my eyes start to see what are my soul vitamins to recharge the energy. A good track makes me scream, a good Pantone colour makes me go mad, two spiders at the ceiling? I greet them with heart and don't mind if they live with me.

How did you get into the music field and what seemed like the most attractive part of it for you? If it happened in Taiwan, the place you were born, it would be also very interesting to hear about country's scene.

My first ever music collection is from kindergarten. I still remember it happened at the shop counter in Taipei, I wanted a candy but also wanted a pop singer tape. My mom bought me one, so every night, until falling asleep, I was with headphones. Music is a lifetime religion, I believe that frequencies are my way of interacting with sound. What makes sound lay into the music, what makes the music became an information or a body with a psychical power - this topic attracts me so much. Sound is the invisible paradise that we are all sunk in. I have a psych friend who can communicate with spirits and guardian angels, so I invited her to my first Panorama Bar gig because I wanted to know what she will see. She told me there was a lot of ghosts around the door, and inside, they were higher than humans. And one ghost was telling her that he was working in Berghain before death, lol. She also told me that music frequency is energy, how it operate it and turn into something that's floating around, that energy is alive, music is alive... This really fascinated me. Even Ghost and spirit are entertained by music, how lucky we are as human, we share the same ears with other dimensional beings. Perhaps music is possible for connecting the soul to another and channeling something.

Taipei scene is very unique, there are a lot of hidden gems producers and DJ's with some more to explore. Since there's no pressure from the scene, musicians tend to have more space for digging into their own style. Even though it's a small city where everyone knows everyone, there's a community slowly building up. Resonating with one another brings up the thirst to grow.

I think Taiwan itself has a very strong energy in terms of growing. What ever you grow there is juicy and full of flavour. My favourite places to be are Pawnshop, Final and probably KTV. Pawnshop really hold the high standard of sound quality and teach how to observe the details of resonating dance floor. In Final there are so much free minds, bravery for mixing music genres into the lovely trippy liquid. I love both owner of the clubs! They are very important to the scene, both crews are having different visions and this combination makes Taipei unique community, exactly like the island itself, full of diversity.

Right now you are actively DJ'ing and that makes me wonder - what excites you the most in the scene of current times? Playing in crowded Berghain again - it's closure during the quarantine affected many dancers, music lovers, DJs. It's getting hard to remember these strange times but at the moment it seemed like an end of the world for many.

With every set l always try my best to present a brand new concept, put new ingredients so I can have more possibility to make my own fun into the dance floor fun. This thing excites me the most from what I do now.
There is this public meditation moment where dancers let the expectations go and just feels the vibration of their own universe. We merge at that moment. Its a bit like group hypnosis. Oh, I link this to my favourite moment of the cult alike fantasy, hahaha, but my intention is: "Everybody will find their way to pitch frequency of love :)" The scene itself doesn't excite me, to be honest, but I know very well where is fun located and I try to bring even more fun, I thought it's really important. Music which reflects soul excites me the most, doesn't matter what genre.

Would you say that you have your own records mixing style or technique? How would you describe it? How much, in your opinion, technical knowledge and skill matters (or should matter) for the DJs nowadays and how much it matters for you personally?

I have no mixing skill, I learn everything by self bruising, brutally, over and over again. Staying up late just to find out what I want and being clear with myself about what I don't want. I think technique is important but bringing in some spirit is more important. As long as you know what you want and you look for it - there's always a way out. So it's the matter of a sense not skill. I personally think DJ'ing is a life-time practice [修行]. It's very hard to translate it into English but what I am trying to say is live life deeper! Your craft will crave deeper in the heart, make sure that in any opportunity you don't betray true expression, spread the idea you live for. For me, it's really important to understand the difference between an algorithm and a human. How can we take the responsibility of being an artist and the risk that our creativity can be a little random? It's very spiritual but not hippy enough to trip for duty, hahaha. My conclusion is: DJ'ing is a natural behaviour which comes out of the passionate music lover.

You have released two EP's - "Adularescence" and "Diffraction". From what ideas, thoughts or feelings they were born? What were the peculiarities of composing, producing them?

"Adularescence" and "Diffraction" are part of the trilogy. They are made for a person in my life who makes time and space exist no more, only pure love. All the concept and feelings are triggered by this person, no matter how much controversy is surrounding us, the existence of this person is what I tend to document and observe the whole picture from inside and outside. I am preparing the third one and it will conclude this journey. A journey, where I saw the power of unconditional love and how much power we have naturally if we dare to love a person purely. All the obstacles just fade out. Although I learned deeply that sometimes love is not enough to bring up the balance in life, this period of life seems like a train ride - watching a flawless landscape through the window, trying to clean the dust on the other side of the glass, at the short moments when light comes in. Train is moving so fast... That's life, we go out in the next station and depart further. I have a souvenir - music for the third EP from the trilogy.

What are you working on right now?

I am working on my new label now, it's called "Unknown White Powder" and our slogan is "if you dare". It's going to be an interesting project, since I am a person who loves trying new things - I want to show what I love, to present the concept without any fears. I love what I am doing and I am really grateful that I have the ability to do what I love. Things are coming together and I have good feeling about it. Music without expectation is my goal.

If you'd catch a golden fish and it could multiply one thing which is good and reduce another which is annoying - what you would wish for the club culture or the music scene which surrounds you?

Simo Cell have published a book alongside his release, there are all the drink tickets collected all around the globe during his DJ tours. There's a mistake in one page, a drink ticket from Taipei's Korner club is written as China, so I wrote to Simo but only got a sorry without any statement, then I made it public on my personal facebook page, people started to pay attention to it and Simo finally made a move - changed, at least, the Instagram post, where the same mistake was made. I don't think any excuse should apply to this, because we all know the situation is not good at all between Taiwan and China, not to mention what happened during the lockdown in China, how some Chinese friends are thriving to survive... I tried to contact RA for received no response from them. I think this is a very important topic for everyone to think. What I am trying to say here is that I really wish the scene could stop the ignorance of truly important things instead of focusing on the topic which brings good algorithm numbers. The reality of political pressure make some people helpless. This thing is over. Simo sent a newsletter to readdress the mistake. For me, the main problem is how the things are being dealt with in the scene. One of my mentor Virginia Satir once said, "Problems are not the problem; coping is the problem." I really wish the scene could be more caring and bring us more together than apart.

Now you're a Berliner. Berlin has famously dynamic, diverse and unique music scene, also its ghosts of gentrification are known, tensions between underground and mainstream are present too. How do you experience the city?

Many people ask me why do I choose Berlin. To be honest, I have no clue. I pick a random place where I won't die and I thought this is the place to walk out of my comfort zone. I moved to Berlin when I was 21 with only 3000eu of savings and I don't remember why I did that - what a bold move! Sometimes I really don't understand myself but I'm constantly chasing after a secret guidance of randomness, this is how things happen around me. And I am still not quit sure if I like Berlin but I live here. I guess I do, hahaha.

I think mainstream knows exactly what they want, I am not against it, I think they should keep rolling with what they wanna do. Underground as well, they know exactly what they are doing. The problem is the grey area of culture appropriation. Yes, things are getting more pricy here, housing situation is fucked up, but still so many freaks in the streets - I love it. All the weirdos are super normal and normal are super chill, I like the way how uniqueness is normal here, you can just blend into a river of weirdos. Let's says, one strange person hangs around in Asia - the whole street is freaking out. Hahaha.

What are your plans for the rest of the summer? Where to catch you performing?

My rest of the summer is to unlock more things that triggers me so I can keep enjoying myself and being a human. I have a live show coming up which I'm really exciting for. Also I'm having so many friends visiting from Asia! My plan is to make as less plans as possible and having as much as possible quality time while building my label "Unknown White Powder". Also I have a lot of music projects going on as well, it's soooo exciting. I'm grateful that I can do all the things I love.

The legendary and always the same last question: the song from your playlist, that fills you up with strong vital energy? As it's the season of growth, blooming and harvest ripening.



關淑怡 - 拒絕再玩

This brings back the memory of my last track of my set at Organik Festival in Taiwan. It comes originally from a legendary japanese producer called 玉置浩二. The pioneer queer prince of pop from Hong Kong "張國榮" did a cover which is super great too, but this version is my favorite and I have it on a limited edition vinyl! 關淑怡 is a Hong Kong legend from the 80s.