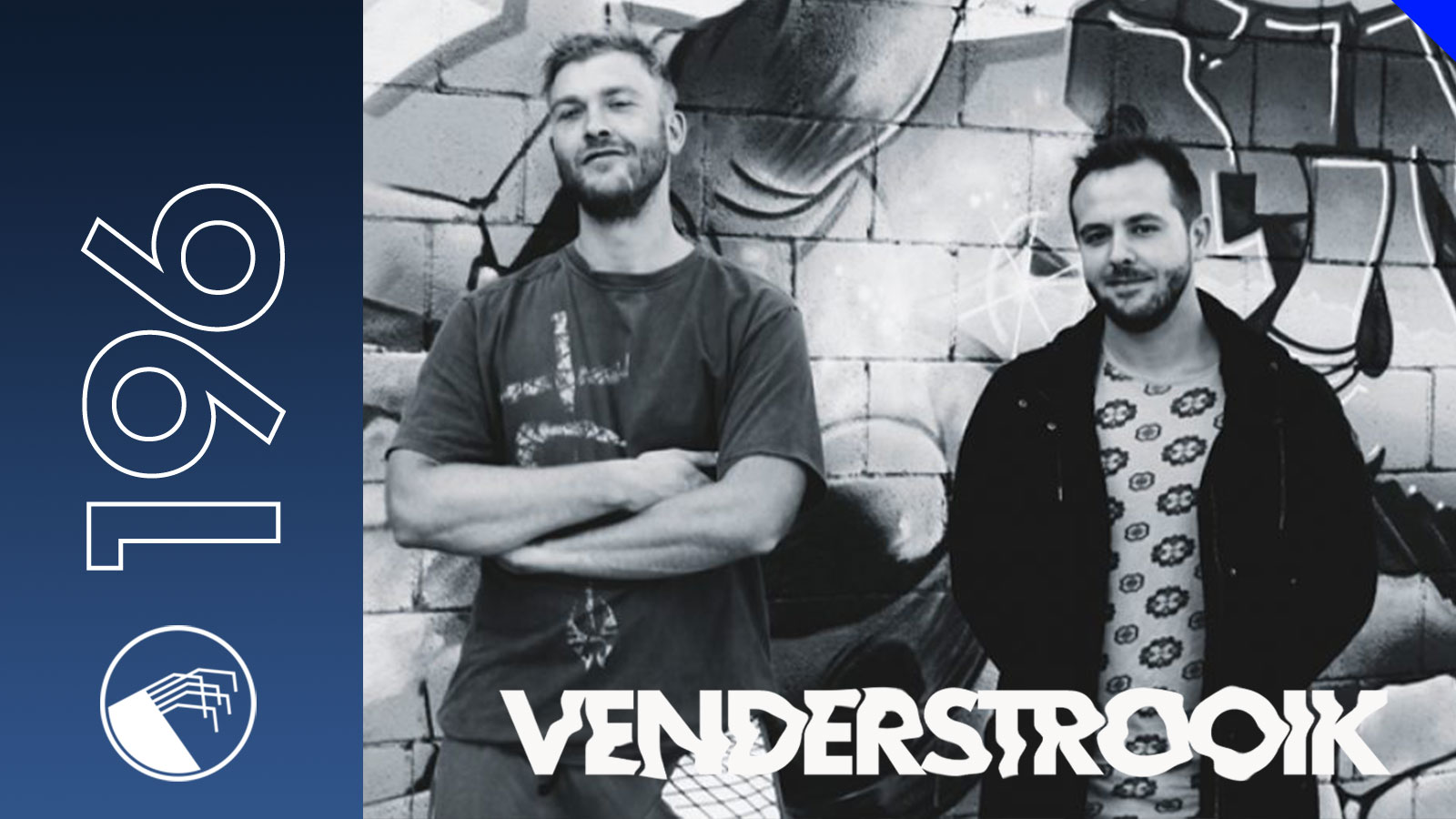 Tracklist:
01. Venderstrooik - Minimale Destructie (Unreleased)
02. Venderstrooik - Cola Bar (Unreleased)
03. Venderstrooik - Ik wil een rietje als ik dans (Unreleased)
04. Venderstrooik - Hasterlekke (Unreleased)
05. Venderstrooik - Het café (Unreleased)
06. Venderstrooik - Parallelweg Okapitaal (Unreleased)
07. Venderstrooik - Oempapa (Electronic Emergencies – Crustacean EP)
08. Venderstrooik - Pennelikker (Unreleased)
09. Venderstrooik - Jologhjost50 (Unreleased)
10. Venderstrooik - Mogadishu (Unreleased)
11. Venderstrooik - Obscure treinangst (Unreleased)
12. Venderstrooik - Praalwagen (Onrijn 006)
13. Venderstrooik - Goed roken op Tahiti (Hardlounge remix)
14. Venderstrooik - Espionage (Bar Records – BAR04)
15. Venderstrooik - Electric bricks tonight (Unreleased)
16. Venderstrooik - The Loop (Unreleased)
17. Venderstrooik - Wkwrxi (Unreleased)
18. Venderstrooik - Flux three (Unreleased)
19. Venderstrooik - Ouwe Rommel (Unreleased)
20. Venderstrooik - Nonraak (Unreleased)
21. Venderstrooik - Let Me Go (Onrijn 006)
22. Venderstrooik - Keyboard Lovers (Unreleased)
Chatting with Venderstrooik while the scenery outside looks really picturesque. Netherlands based duo draws the map of the scene and their own creative zone. Spicy stories, music links and list of gear down below. Venderstrooikish irony. What can be better. Enjoy!

How did Venderstrooik start and what inspired you to begin the project? In what trajectories is the project moving through time?

It started all one day after class when our highschool teacher took us aside and tried to wrestle with us. That was awesome. As the man was a professional korfball player, he was incredibly strong for his age (58). This experience made us the men we are today and all this creativity needs to go somewhere.

Many years later we were all in love with a football player (from Willem II) called Frank Van der Struijk. We fell in love with his cute cheeks but most of all his very elaborate way of playing football. He showcased a lot of fire and fury which went hand in hand with a lot of red cards and own goals. So we dedicated this to him, forever in our hearts. Sometimes we look at a picture of him and cry.

We also have a love for making music simultaneously and we go back and forth in time.

What are the dynamics of your duo? In your eyes, is there a recipe when creative partnerships work out well?

Total domination. The only thing that works. You don't want to be disturbed by anyone second guessing your work and disturbing your flow.

A small review of your Soundcloud. There you upload cool tracks - does music come up as a result of creative inspiration waves or simply the archives are seeing the daylight time by time?

During our dreams we are in contact with the order of the 7 waveforms from the Golden path of the translucent stallion. They tell us everything we need to know. We are just pawns in their games.

How are you archiving your music works? How many unreleased gigabytes there are and do you often re-use the ideas from the previous creative sessions, your own sample/drafts library?

We have a semi-secret hideout in the woods of the green heart. There we stash all our musical creations and relics. We go here a lot to get inspired. Pretty analogue so to say but we, as pre millennials grew up with the analogue stuff naturally. And then there is the digital archive Soundcloud, there we put almost everything we make and which is public. Of course we also have a semi-digital archive. You can find it in the Atari ST (with some alterations here and there) we have in the back of my aunt's hardware store. There is a lot of unused stuff in there but once a while we grab something out of it and turn it into something new.

We have to please all the tech geeks - how does your set up look like now and what potential purchases are you keeping an eye on?

Boss BX-8 mixer
Fostex 812 mixer
Soundcraft EPM8 & Signature 12 Tascam 1608 interface
Texas Instruments Speak & Spell M-Audio midiman 4x4
Casio Tone VL-1
Presonus R80 monitors Behringer K10 Sub
Waldorf 2 pole filter
Dreadbox Epsilon
MFB-Tanzbar
Korg ER-1 (MK1)
Yamaha PSS-780
Roland system 1
Behringer RD-6, RD-8 & TB3 Behringer VC340 Vocoder Korg Volca Keys
Novation Basstation
Yamaha YS200
Yamaha CS1X
Arturia Beatstep
Nakamichi BX-2
Akai MPX16
TC Helicon Voicelive Play Boss VE-20
DBX 160 compressor Tal-sampler

Right now We do not have anything on the wishlist. Soon we have to move to a new studio.

Yours EP 'Children of Dracula' was released on ONRIJN RECORDS a year ago. It has a variety of different sounds and textures - an exciting part of any acid-y electro. Do you collect sounds in some particular way? Are you interested in field recording or any other sound capturing practices?

Just synths, vocals & some drums. And yes, we like field recording as well, but for this EP we didn't.

What real or virtual place would you call the 'diggers delight' these days? Where do you often find good records and what's the last find you are proud about?

My 96 year old neighbor has a cool collection of dutch "smartlap" music as they call it. Just hot & sexy is what I would call it. Takes you to another level. Pulsating cosmic dolphin space waves of splashing coconut passion is how he describes it himself. Often he wanks off when he is showing me his latest findings. This is a banger he showed me lately.

Curious about the Netherlands scene. Which direction, in your opinion, is it moving towards? Do cities, as many of them have significant cultural layers, are very different from each other in terms of club life and music scene action?

Back in the old days there were certain cities with specific scenes/genres. Amsterdam was more mellow and Rotterdam/Den Haag more raw. Nowadays it's more mixed up and a symbiotic fusion/potpourri of genres and subgenres.

Could you name artists whose musical legacy you could call influential to Venderstrooik? In your eyes, does anyone in today's electronic music could potentially become legendary? Or maybe a label.

Osaka Muller, Legowelt, Francois, IF, Dave van Klei, Zanger Rinus, Dr. Cokkie Snoei.

Do you have some rules which you apply in the process of making music? As many experience the difficulty to finish the projects that seemingly are worth finishing, making them ready for, let's say, release - how do you deal with this?

There are no rules. We can't make decisions of our own because eventually also we are controlled by a higher force. The niche we are hovering around is perhaps scattered in a way and considered to be experimental. Thus, we are trying to find a balance between our rampant demonic expressions, which can be experienced as agonizing, and the more politically engaging statements we try to convey through our music, subconsciously. We are using a very old technique which makes people hypnotized.

Naturally, the following question should be about your upcoming releases and things that you are working on. Tell us!

Pure clowning. That's all we can say about it right now.

To end our conversation: share the best one hit wonder you know.