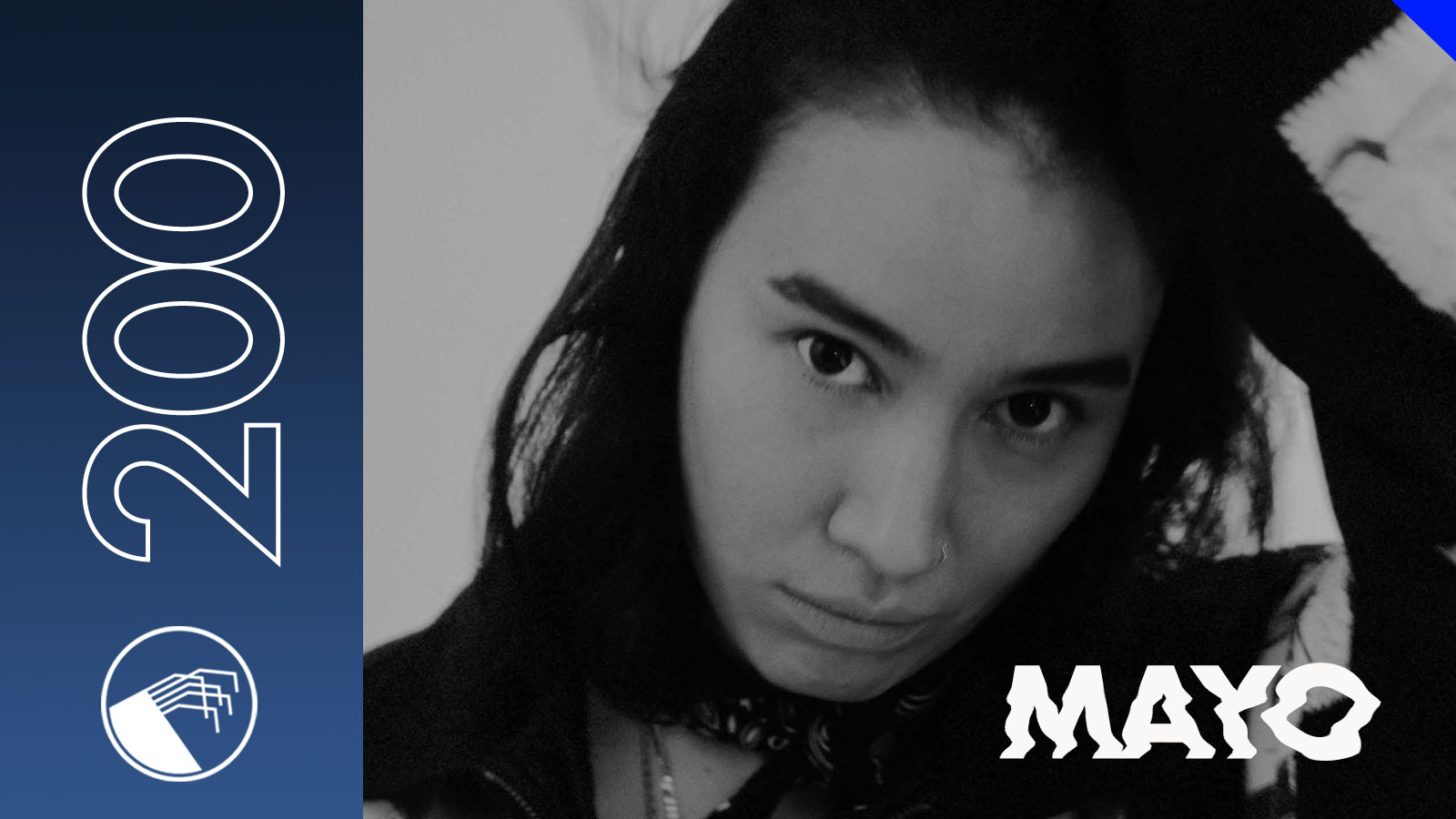 Tracklist:
01. C.P.I. - Walking And Falling
02. Last Life - Theorem
03. J:Kenzo - Righteous
04. Blue Soul - Saturn Devouring His Sun
05. Schaltkreis Wasserman - Lux (Benedikt Frey Remix)
06. TAPAN - Samo Prolaznost
07. Metallic Means - Vivid (Tassilo Vanhöfen Remix)
08. Mars Man Mutant - Extraterrestrials
09. Kincaid - Pipe Up (Stevie R & Parisinos Remix)
10. Rambal Cochet - Saga Zunn
11. Soft - Crash - Unusual Poses
12. Aurat - Ilzam
13. Poperttelli - Merditocraty
14. MCL - New York (Double-New York-Mix)
15. Lennart - Drift Momentum
Digital Tsunami podcast series has now reached a second centenary of episodes. And we're thrilled to have Mayo, a trailblazing producer and inspiring selector from Amsterdam, for this occasion. One could state that her style is rooted in gritty strains of EBM and techno, but you can hear a great influence of punk, acid, and other genres that reflects a punk attitude. The power of accentuated and multi-layered character is felt across her releases – on United Identities, Fides Records, Marguerite Records and Brokntoys labels, to name a few – either it is a downtempo chugger or electro stomper. Mayo's DT #200 mix is an example of entrancing storytelling speaking to different influences, leading you from a slow prelude to a sweaty ending.

Hi Mayo, and welcome to DT podcast! How's life in Amsterdam in winter so far?

Heya, Thanks for having me! To be honest, winter is passing by extremely quickly this year, life, in general, is flying by since the past year since everything is fairly back to normal again, it feels good.

What's the latest thing (or things!) you are happy about these days?

Making music is always one of the nicest things, that never bores and will always make me happy during good and bad times. Besides that, a jar of 2 kilo kimchi that's fermenting in my fridge is also giving me quite some joy I must say. Also petting dogs not to forget.

You've been playing saxophone, guitar, and drums at a young age, later turning on to music production. Do you remember the breaking point when you decided to move on and have a go at it?

Well, not really. Those are things that coexisted next to each other for a while. Music production felt like a steeeep learning curve so it took me a couple of years to really give a serious go at it. I went from opening Ableton once a month during the first couple of years to doing it every day when I finally got a grasp of it.

I've read that you've been working with self-made synth modules, that's quite a unique approach. How did the idea come up to build it?

As a kid I always liked electronics. Playing around with them but also just the looks, for example, I had a bunch of toys with the transparent case where you could see the PCB and other electronics that were inside, a Tamagotchi, Gameboy, and also my little watch for what I remember, there might even be more. When I started to get into modular synths I didn't have a big budget so I built the case and power supply myself and then found out it's also not too difficult to solder and built your own modules which also saves some money and is really fun to do.

Speaking of the creative process, what's your starting point when you get into the studio session? Or is it arbitrary?

Usually, I just start with a nice kick and maybe some more drums, from there I just start messing around with the modular for a bit and take it from there. Sometimes I like to do everything in the box where I would start with a synth (I'm a big fan of the Roland Cloud series), drums that I have previously recorded, or some random samples I have on my computer.

Scanning through your music discography, I was hooked by the variety of styles and different approaches both to downtempo and high-tempo tracks. I might be wrong, but one can sense lots of energy, a no-compromise attitude, and an invitation to some kind of emotional cleansing. Is there anything, in particular, you love to transmit through your music?

It would make me super happy to know it would make people feel a certain way listening to my music. For example, some tracks are more raw and aggressive and I like to listen to that type of music from other artists when I feel that way, it will give me some sort of relief. Other tracks are more experimental and follow a certain groove which can work meditative, also calming. I just want people to feel good and lose themselves in the music maybe distract them from daily life which is not always as much fun as you'd want it to be.

DJing is also part of your ongoing journey. Can you recall your first DJ gig experience?

Ha! Yeah! It was TERRIBLE. I didn't have cdjs/technics or friends with these things so I never got to practice or someone teaching me how to do it. But I really wanted to DJ so I just said that I knew how to do it. You can all guess how that sounded..

What does DJing mean to you in contrast with music production?

It means freedom in a different way. It's so nice to be able to play around with different genres and sounds and step away from my own productions a bit. Also to feel the connection with a crowd, if a night is that good I can go on that high for days. Being in the studio it's quite a solo thing which I love a lot but having a bit of balance and not turning into a total hermit is best I feel.

Producing and DJing aside, what do you enjoy listening to lately? Any album or track that has been on your mind?

I am a massive sucker for anything Trojan Records related, so most of the time when you'd swing by my house there's something from that playing in the background. I love the positive vibes of those songs. Besides that, I have been murdering Shygirl's album for the past months as well.

What would be the perfect soundtrack to describe your 2023 so far?

Oh, a vibey one! It would be this EP by Blue Soul where I've included one of the tracks in the mix.

Looking forward to 2023, what are you excited about the most?

On a short note, there is a 7" Inch coming out on Brokntoys one of my all-time favorite labels, on the 27th of February. Next to that, my live set that I have a lot of fun working on at the moment should be ready to go in a couple of months. Besides all the music-related stuff I just can't wait for spring/summer to have some sun and spend a lot of my free time in nature.