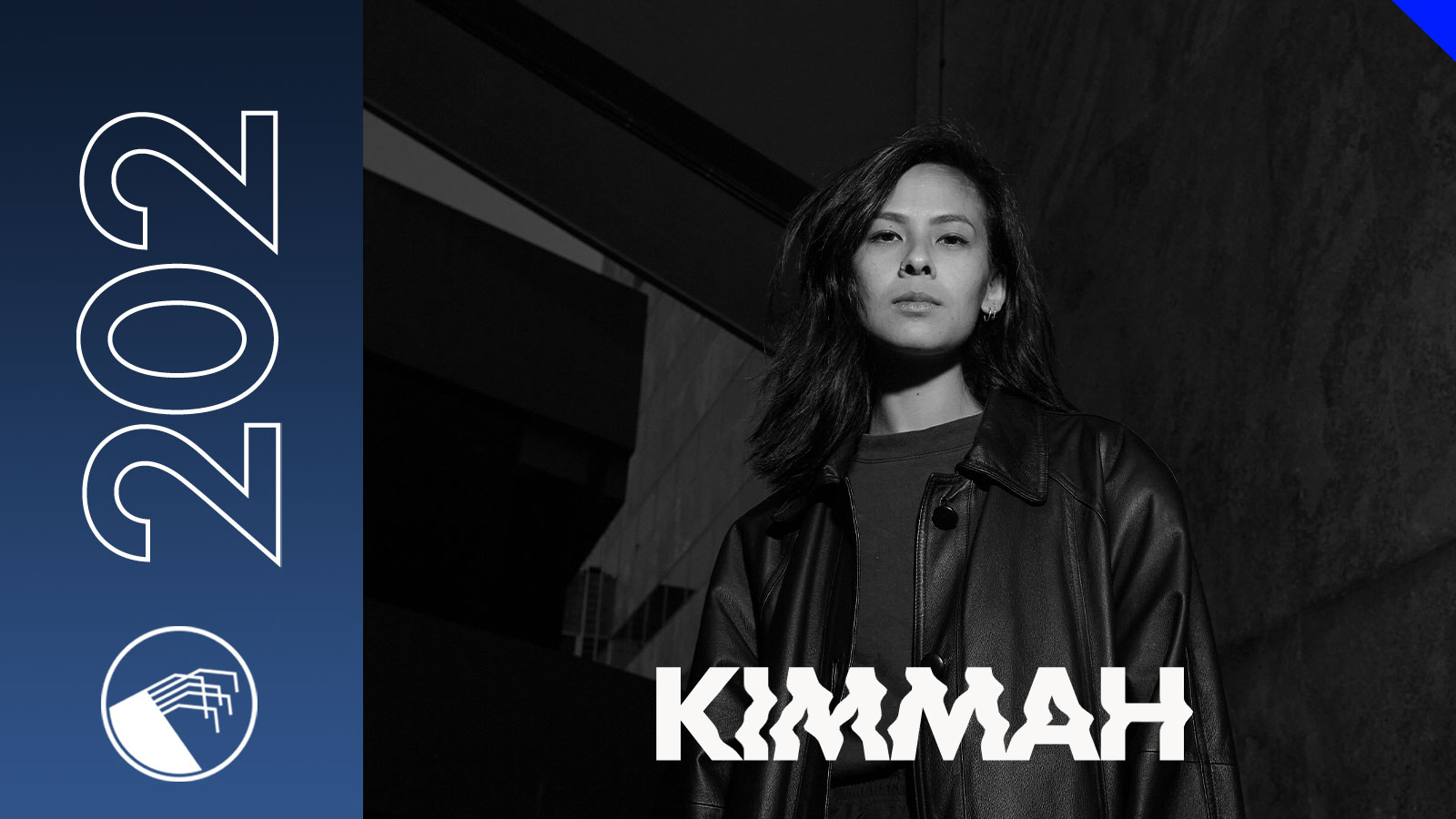 Tracklist:
01. R?n C?p ?uôi Collective - Straws
02. Animistic Beliefs - Unspoken Truths
03. Max Durante & Keith Tucker - Digital System
04. Fabio Vinuesa - Numbers (Legazpi VIP Mix)
05. Structure of Magic - Dystopia Dimokratia
06. Chino - Shiny Leather
07. Dirk Wiertz - Cyberflex (DarkDive Mix)
08. Finalversion3 - Old Age Should Burn And Rave
09. Alex Gordiy - Fear Of The Night
10. Florindo - Puppet Master
11. The Hacker - The Storm
12. Years of Denial - BB Kills
13. Soft Crash - Spritzkrieg
14. RLGN - Narcoalco (Umwelt Remix)
15. Locked Club - Doschitai (Sirdsapes Edit)
16. TR_9009 - Detox
17. High Fidelity - Catchin' a case
18. Dagga X Manao - RJ Tool
19. Dez Williams - Carkrash Vikdim
20. The Prodigy - Out Of Space (Edit)
21. Plump DJs - Mad Cow
You might know Kimmah (a.k.a Kim Nguen) as an up-and-coming DJ who's making waves in the Netherlands and beyond. Her sonic perception is distinguished by high-energy ventures through breaks, acid, bass, and surprising bridges that connect. She's representing a versatile approach behind the decks while keeping the dancefloor experience real and conscious. Kim has been an inspiring figure in developing guidelines for safer dancefloor ethics and is a strong advocate for increasing the representation of women in the music scene. And we are thrilled to have Kim on board for our DT Podcast series, as we eagerly await her debut performance at DT Camp 2023. While you're jamming to the mix Kim recorded for us, dive deep into our interview with her. We've discussed her upbringing, Vietnamese roots, creative process, experiences in the music scene, and perspectives on the industry's current state.

Hi, Kim! It's a pleasure to welcome you to DT Podcast. What's the best thing that's happened to you recently?

Hey, thanks for having me! I recently learned how to take time for myself and say no to stuff. I was a bit too busy with gigs, my master's thesis, volunteering, freelancing and personal stuff, so it felt like I was working for 9 days a week for the last few months, which was a bit too much (no shit). Being able to pause some projects and focus on the things that bring me joy, felt like a huge relief, so I spend a lot of time climbing, producing, playing, and digging vinyl lately!

Memory is a such precious thing, and some of them can help to put the missing piece of the puzzle for everyone. Can you recall your first music memory? And what were you hyped about most when you were growing up?

Both my parents grew up in Vietnam, so we often had traditional and modern Vietnamese music playing in the living room. My parents told me that as a little kid, I knew all the lyrics of Vietnamese and Dutch pop music for children, which I listened to on videocassettes, tapes, DVDs, and CDs. Later in middle school, I learned how to rip pop music from shady websites and share it with friends by Infrared and Bluetooth, so we could all listen to them on our flip phones. This was around the same time that I started taking piano lessons as a kid, where I mainly played pop and classical music. I still regret that I didn't pick up on jazz around that time. As a teenager, I got more into hip-hop, indie pop/rock, house, and techno, which all really influenced my current sound.

You've grown up in the Netherlands. How your life looked like before you embarked on a DJ journey a few years ago?

Once I discovered electronic dance music around the age of 16, I just fell in love with the freedom and free expression on the dancefloor. I loved to discover new music and places, and meeting new people, mainly in Rotterdam and Amsterdam. I used to collect all the music that I discovered, organize them in playlists, and share it with friends, but I actually never had the thought of starting with DJ'ing, as I barely saw any females or Asian people behind the DJ booth.

The pandemic hit everyone in different ways. As it turns out now, that was the breaking point for you too – how that happened?

The year before the pandemic hit, I was studying architecture and urban design at the technical university in Berlin, which felt like one big crazy adventure for a 21-year-old, as I barely studied. When I returned to the Netherlands, I felt like I didn't enjoy going out anymore, as I had the feeling that something was missing. When the pandemic hit, it wasn't long before I started to miss getting triggered by new music, so I decided to buy a set of secondhand CDJ400s and a DJM400 mixer and just play around in my living room and dig for electronic music online. About half a year in, I decided to spend the curfew hours learning how to play vinyls. Vinyl stores, such as the Pinkman Recordstore and Clone Records, were the only places that were open during that phase of the pandemic, where you could discover new music. I remember that I was nervous as fuck when I uploaded my first set on Soundcloud in 2021. It wasn't long before Ampfeminine and FOMO, two collectives from Rotterdam, found this set and invited me to do guest mixes at underground radio stations and gigs where we were not allowed to dance due to the pandemic restrictions. Towards the end of the lockdown, I was playing at a lot of different radio stations around the Netherlands, which was a good warmup for the moment the clubs reopened.

I understand, your involvement in FOMO collective in Rotterdam played a big part in your growth as an artist and a person too. What is the FOMO collective, and how you've contributed to building that community?

FOMO Rotterdam is a collective that combines music and art to create unique club experiences with a good combination of upcoming and settled artists. The collective is built around five very passionate, funny, and sweet guys, that have been supporting me from the beginning, as I played my very first gigs with them. Together we created the sound and the experience of some crazy club nights, which played a huge role in shaping the post-pandemic clubbing experience and club ethics in Rotterdam. Clubbing in Rotterdam always used to have these rough edges, that felt a bit uncomfortable or unsafe for females and queers. I've been involved on many different levels apart from the DJ'ing, such as writing door policies for creating safer dancefloors, programming upcoming artists, and the spatial design of club spaces.

I've been listening to your sets, and you can find everything in there – from ghetto breaks to hard-hitting bass – seamlessly connecting into a high-energy narrative. How do you prepare for the sets in the club? And what messages do you want to communicate to the dancers and listeners?

I'm always organizing my music by feelings, energy level, and kick patterns, instead of genres. This helps me in creating a journey through different emotions, from dreamy and uplifting to mysterious and dark, with some surprises along the way. When I'm playing, I like to surprise dancers and listeners with unexpected elements and introduce them to new sounds that they've never heard before.

It's been almost two years since you've been DJing. I think this period of time has to be special in terms of the memories, the formation of attitude to club experience, and the expanding of music horizons for yourself. The question might be too general, but what experiences so far have been the most memorable for you?

One moment that I'll never forget was when I played at Spielraum at Garage Noord, a queer party in Amsterdam. I played my last track, which was the DnB edit of "Halo" by Beyonce, and everyone from the smoking area and toilet queue came rushing in, to the point where people couldn't enter anymore. The vibe was so emotional and beautiful as people started to either make out with each other or screamed along at the top of their lungs. My friends and I all lost our voices that day, but it was all worth it, the atmosphere was wholesome as fuck, and I almost cried.

Another moment worth mentioning was when I had around 900 Italians screaming at me (sidenote: I don't speak a word of Italian, so it was pretty confusing) and moshpitting when I closed a set with "Doorman" by slowthai and Mura Masa. There was so much happening around me, Kris Baha was climbing the stage behind me, as Marsman was running around making TikTok videos.

One can notice that you pay tribute to your heritage by incorporating sounds from Vietnam into your sets. Can you talk more about your cultural background and how it influences your music?

I've always been drawn to the creative industry, but growing up in the Vietnamese culture makes it pretty hard to follow that journey. So instead of going to art school, I ended up studying architecture, which was kind of a loophole to still do something creative. Nowadays when I'm digging for music, I found out that it's pretty hard to find Vietnamese tracks that fit the energy of my sound. This also triggered and motivated me to explore the possibilities of the sound of my heritage when making music.

You have an educational background in urban design and I've noticed your future aspirations to see nightlife become part of the long-term planning in Rotterdam and beyond. Can you elaborate on your vision (or ideas) for the intersection of urban design and the music industry?

By studying urban design, I found out that cities are just money machines, with little to no attention to what actually happens to and with people, especially minorities. As many clubs where I'm playing, act more like community centers for young creatives, they fall victim to processes like gentrification. I found a huge knowledge gap between applying urban design to the regeneration of urban wastelands, where the creative industry is often situated. This is also why I started to volunteer for the nightlife council of Rotterdam, in order to create the city of the future, where nightlife and night culture are appreciated for their values in wellbeing, community building, co-creation, and shaping identities.

You've been vocal about using your platform to motivate more women of color, sexualities, and genders to pursue careers in music. It's now 2023, what's your take on inclusivity right now, and what can be done more to achieve meaningful outcomes?

When I started to go out, I had no female or Asian DJ to look up to, so seeing more diversity in lineups is at least a step in the right direction. I still often find myself on lineups that are predominantly white cis hetero male, where I kind of feel a bit alien. So I would say: bookers, get your lazy ass out of your comfort zone and be more open to other sounds and other artists.

I must say I was in a pretty toxic environment that did not support me in becoming a DJ. Comments such as "She only gets gigs because she is [insert characteristic that I was born with]." are still comments that I, and many others, need to deal with. The same counts for positive racism, which is quite annoying, as it makes it seem like it's just about my heritage, and not about my skills and selection. I got to be honest with you, I had no idea what I signed up for when I decided to become a DJ. There are quite some struggles out there that femme and queer DJs encounter more frequently, such as the lack of access to professional gear, but also the increased exposure to incidents such as sexual harassment and unsafety in general, which are often overlooked aspects. Every year on International Women's Day, Operator Radio hosted workshops for women to try out gear, talk to each other, and share experiences and feelings. Getting together with other women in the music industry felt like a really effective, but also warm and empowering, therapy session in a way.

Rotterdam's scene is very rich in quality music. What artists deserve more spotlight?

Alberta Balsam and Gamma Intel their productions are sick and create the perfect atmosphere for the club, in my opinion. The selections of Krismika, Mowgli, OG Karin, and DJ Shahmaran can keep me dancing till dawn.

Shoot your guilty pleasure, whether it is a music track, TV show or any activity that gives you a sense of satisfaction!

For some reason, I keep discovering new things every time I rewatch Rick and Morty. Also, I got a sweet spot for UK garage pop edits, I really can't help it.

If you could go back in time and attend any gig or music festival, which one would you choose and why?

A concert by The Prodigy when Keith was still there. Or just a club night at Parkzicht Rotterdam in the days of gabber.

Not a secret anymore, this summer you're coming to DT Camp for your debut performance and we are excited about that! You've already experienced the festival as a dancer last year – how was your time in Lithuania last year?

A year before I went to DT, I was traveling around in Poland and Ukraine before the war, when Patrick told me about this sick festival in Lithuania. A festival, where you didn't need to spend the whole day running between different stages and only catch the first or last part of a set, sounded ideal. I initially decided to join my friends to support Marsman, Ofra, and Genyten, who were playing but ended up discovering and getting so inspired by so many other artists as well, such as Olivia, NVST, and Jing. I danced my butt off last summer and I had a great time out there in the forest!

Tell us more about the set you recorded for DT Podcast series, what was the idea behind it?

I wanted to share a mix of some recent findings that had me mesmerized and give a sneak peek of the sound that you can expect this summer. Also, you asked a stoner to record a set on 4/20, so there is a little surprise if you make it till the end of the set.

Last but not least, what are your plans for the future?

First, I really need to finish my master's degree, after that, I'll have more freedom to move around. I'm planning to go to Vietnam and travel around Asia with my USB and analog camera, meeting up with old and new friends while sharing the best music and food.

Thanks!