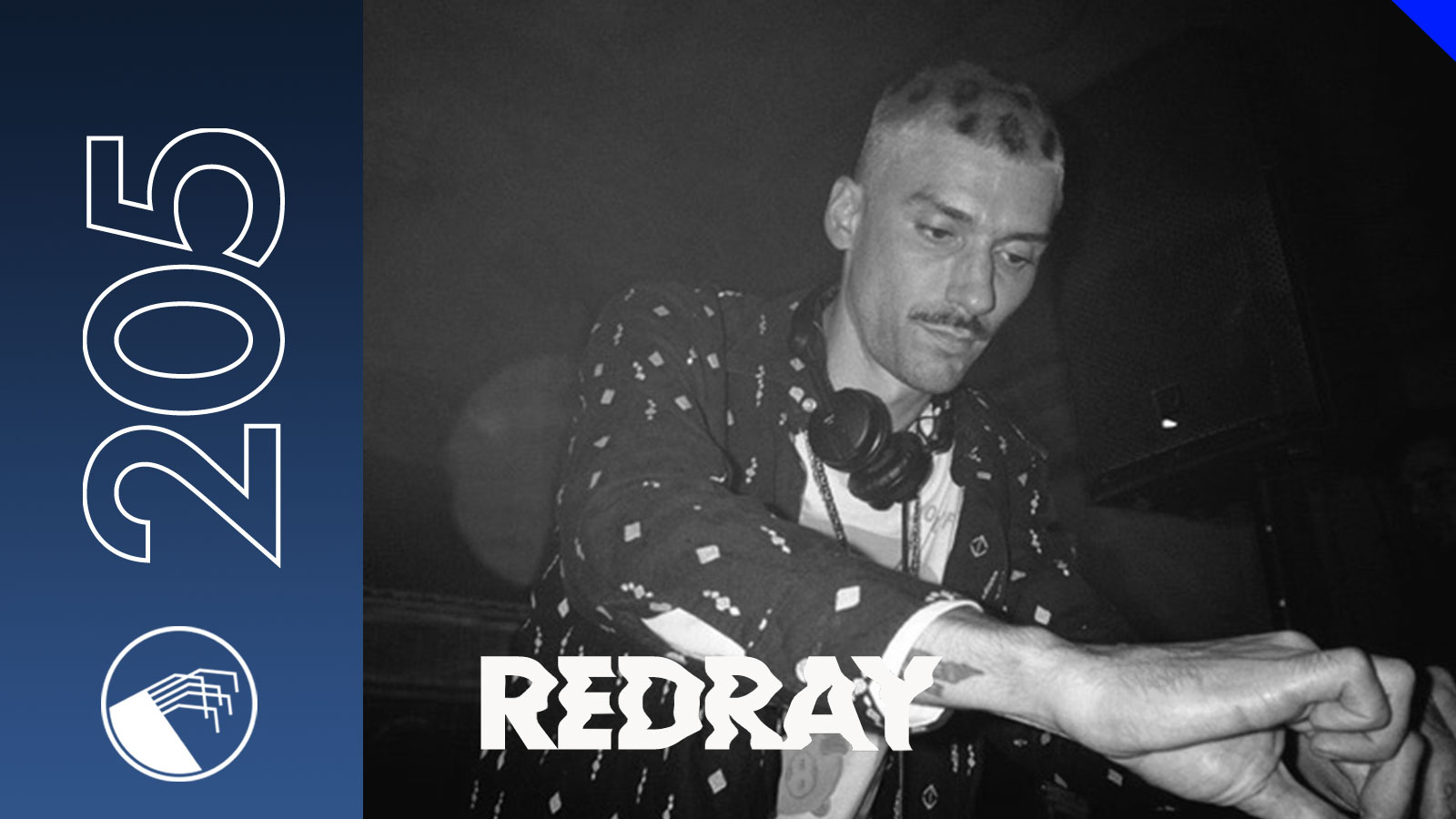 Tracklist:
01. Gavin Guthrie - Palm sunday
02. The It - Donnie
03. Mark Grusane - essence of life
04. Rudy Rugar - pazuzu
05. Marcus Mixx - untitled
06. William S - I'll never let you go
07. Virgo - my space
08. The house master boys - trax u lost
09. Trak this - I'm happy
10. Janice Christie - One Love
11. Doctor Derilict - Dance doctor
12. Jessie's Gang - Real dub
13. Chevere - dog house (mix)
14. Craig Peyton - programmed soul
15. Frank Hatchett - dance crazy
16. Civi - ride the beat
17. Cindy volzing - Fresh
18. James jack rabbit Martin - only wanted to be
19. Kenny k. Collins - beat my house
20. Gene Hunt - Wild
Passionate crate digger, a producer with a penchant for analogue sound, an owner of tattoo shop. Tomas Eriksson a.k.a. Redray is the Amsterdam-based artist who for a long time stayed away from commercial spotlight yet always managed to captivate those who know with his raw and authentic approach. Redray's sound creates a distinct sonic tapestry that transports listeners to a different era. Listening to his new DT Podcast and interview we prepared might be what you need in this dawn of summer.

Hi Tomas. How are you doing these days?

Hey. I'm doing very good, thanks.

I read that during your teenage years, you were a regular listener of Radio Centraal, particularly enjoying programs like Beatscapes, Ziplock, and Pierre Elitair, which sparked your interest in electronic music. What aspects of these platforms, whether related to music or otherwise, attracted and captivated you, leading to further involvement?

That's true, the radio was my only source at the time to discover music, and Radio Centraal was the only non-commercial radio station on the Antwerp airwaves at that time (still is!) where you had volunteers making radio shows, bringing you the music they loved without any commercial pollution. For instance, "Beatscapes", a show which is going on weekly for over 25 years, already focused on electro & early Rap and would soon become one of my favs. Later I would come to get to know the makers of the show "Jan & Johan" and occasionally join them on the radio. Jan would later release my first records with his label "Jack Playmobil", so these first encounters definitely played a huge role in my musical development and involvement.

Your productions and DJ set recordings clearly demonstrate your affinity for analog sounds. Could you delve into the origins of your passion for analog and how it developed over time?

I guess the genres I'm into stem from a time when there was no other way to produce these than analogue, and electronic instruments were becoming accessible to the normal person. And so, music evolved alongside its technological possibilities. I suppose, I'm just attracted to a lot of music that embodies that early feel, sound & attitude. Also, my dad had a TR-606 as a metronome to play his banjo. So, already back then, my interest focused to the drum machine, not the banjo.

Let's explore your production process. When did you realize your passion for jamming and creating your own music?

Probably around my 20s when I got my first electronic gear. It all started with just a TR-707 and an MC-202, and everything grew from there.

What is your current studio setup like? Do you frequently update your collection of hardware?

For the moment, I rely heavily on TR-707, 727, and RZ-1, with house music sitting on my mind mostly. I feel that I have most of the machines I need to make the music. If I were to acquire new equipment, it would likely be focused on effects and practical gear. But then again, this obsession never really stops.

There are different rituals and approaches to the studio (or working space, whatever it fits) process. How do you typically begin a jamming session? Do you believe there is a specific strategy that influences the potential satisfaction derived from constructing your sound?

I usually start by creating a bassline and then build from there. But there's no real plan or strategy in my mind. Most of the time, it's about jamming and seeing where the music takes me.

The impact of the Chicago and Detroit scenes is clearly evident in your music. Could you name some artists who have played a significant role in shaping your personal taste and sonic vision?

For my initial record, it was quite apparent that James Stinson and Gerald Donald had a strong influence on my sound. Nowadays I listen more to house, disco and funky stuff, so I feel that my productions tend more to go this direction as well. Labels like Trax, Underground, Mitchbal released a lot of stuff I'm very much into.

You recently released two LPs, "Ions of Anna" on Rotterdam Electronix and "Cosmic Knowledge" on Unlimited Knowledge. What is the idea behind these compositions and what they mean to you?

In the end, these EPs are just a selection of tracks that work well together, which doesn't necessarily mean that they were specifically made to be part of the same record. "Ions of Anna" is more of a follow-up on my previous works in the electro style. "Cosmic Knowledge" might be the transition to more danceable music that would come out in the future.

You've mentioned that you have been collecting records since the age of 18. Imagine that you have to relocate to a desolate island with little to no human connection indefinitely. Which five records would you choose to take with you, considering there would be a turntable available on the island, of course?

Hmm,..ye that ain't eazy, but a couple I think of straight away are:

Steve Elliott - Completion of a Miracle
Elecktroids – Electroworld
Chris & Cosey – Sounds of lust & love
Delroy Edwards – Rio Grande
Young Ed – Time to Stack

What is the most recent album that deeply resonated with you, and what was it about this album that touched your heart?

I'd get goosebumps from a song very rarely. I had it the first time listening to "More Bounce" from Zapp, and it occurred once again with the music of Steve Elliott. The "True Image" album is one of those that just really moves and touches me. t captures the essence of true love in a way that only Steve Elliott can achieve

I noticed on your Instagram profile that you share many photographs of your work from Brabo's Hand, the tattoo shop you co-founded. How did this venture become such a significant part of your life, and what does this place mean to you?

Drawing has always been a passion of mine, and tattooing emerged as one of the few mediums where I could freely create and design stuff unconditionally. So, getting into tattooing almost felt natural. Now, it has become my bread & butter, and a place I consider my second home – the tattoo shop. However, in recent years, I'm trying to dedicate time to my music. That's probably why there was such a big gap between my first and 2nd records. For some years, my focus was solely on tattooing. Nevertheless, now it's a blessing to have time for both passions and to do what I love.

As both an artist and an owner of a tattoo shop, how do you perceive the connections or similarities between the creative process of composing music and the artistry involved in tattooing? Do you find that these two forms of artistic expression influence and inspire each other in any way?

I'm not sure if they truly influence each other, but I try to approach them in the same way. Building on what has been done before me, paying homage to the pioneers, and adding my own best without making any concessions.

Could you tell us more the idea behind the mix you recorded for Digital Tsunami?

For my mix, I collected some records from my recent visit to NYC. A lot of house records from the late 80s and some disco as well. Just the stuff I really enjoy listening to, I hope you enjoy them too.

And finally, looking ahead, what are you most excited about for the future?

I'm not sure. I guess, I'll just keep doing what I do - working on new paintings and tracks. There are some new jams on the way. I got something coming out any day now on "Grafiti Tapes" that I'm pretty pumped about. Something different and funky. And, let's see what's coming up next.